MNF Pick: New England Patriots vs. Buffalo Bills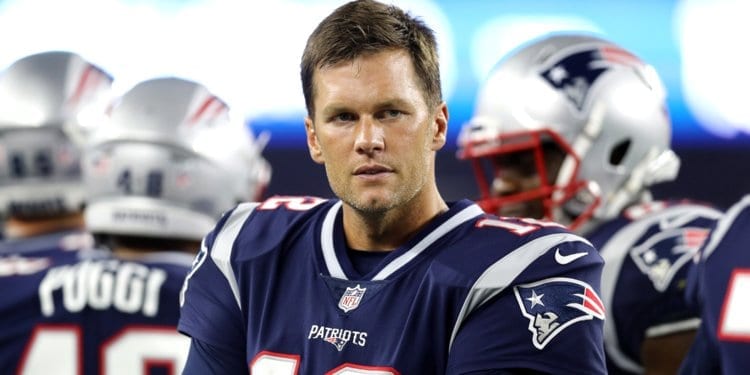 New England Patriots (5-2 SU, 4-3 ATS) vs. Buffalo Bills (2-5 SU, 3-4 ATS)
Date/Time: Monday, October 29th, 8:15 PM
Where: New Era Field, Orchard Park, NY
TV: ESPN
By Mike Mann, NFL Football Handicapper, Predictem.com
Point Spread: NE -13/ BUF +13 (Bovada)
Over/Under Total: 44
The Patriots travel to Buffalo to take on the Bills in a prime time showdown on Monday Night Football. New England has dominated the series in recent history, having gone 26-3 in the last 29 games between the teams.
This weeks' foes come into the game with near opposite momentum. While the Patriots have won four straight and scored at least 38 points in each, the Bills are on a 1-3 slide and have scored only two touchdowns in their last 19 quarters of play. It's no wonder Buffalo ranks dead last in the league in points per game with just 11.6, unlike New England which comes in at fourth in both points and yards per game.
QUARTERBACK ISSUES
For the Bills there are issues throughout the offense, but none more so than at the quarterback position. Rookie Josh Allen had shown promise, especially making plays with his feet, but an elbow injury has knocked him out for the time being. Unfortunately this leaves just the interception machine that is Nathan Peterman and newly signed Derek Anderson, who certainly showed signs of rust in a four turnover performance in their 37-5 blowout loss to the Colts. With Allen out until at least Mid-November, there appears to be no end in site for the time being when it comes to the Bills quarterback woes.
BACKFIELD PROBLEMS AS WELL
Backfield issues are starting to build up as well for the Bills, with LeSean McCoy currently in concussion protocol after being knocked out of their last game in the 1st quarter due to a head injury. This leaves just Chris Ivory, who followed McCoy's lead late in the game and ended up leaving due to an ankle injury and was seen being carted off for x-rays after the game was over. Neither was averaging over 4 cards per carry on the season and combined they had scored just one touchdown between the two of them, but even so they will be ill prepared to take on a Patriots offense with glaring holes at both the quarterback and running back positions if McCoy and Ivory are not able to make a go of it against New England.
BANGED UP
Buffalo isn't the team with backfield issues as the Patriots already depleted unit got even more banged up on Sunday. They had already lost Rex Burkhead and Jeremy Hill for the season to previous issues and now Sony Michel is out for an undetermined amount of time after spraining his MCL in the first half against the Bears. This leaves just James White and Kenjon Barber as the only active running backs on the roster, which leads some to believe the team could attempt to resign former back Mike Gillislee who was recently released by the Saints. White is already the teams leading receiver with 45 catches on the season so far, and considering how clutch he has been late in the season/playoffs in recent years, they can ill afford the possibility of losing him as well and will need to keep his usage in check to make sure he will be there all year long.
GRONK'S BACK
Michel isn't the only Patriots player facing a malady issue as Rob Gronkowski was a late scratch from last Sunday's game after tweaking a persistent back injury in practice on Friday that caused him to not even travel with the team. With Jacob Hollister also missing the game that left just Dwayne Allen as the only tight end on the roster and Gronk's availability against Buffalo and further down the road remains to be seen. New England recently cleared over $3 million dollars in cap space after restructuring Stephon Gilmore's contract, and with that extra money it would not be a surprise to see them pursue another pass catching option, especially considering the success they have seen thus far from Josh Gordon.
FLASH GORDON
The emergence of Gordon has been a key reason for the Patriots offense breaking out of their early season slump, and he has emerged as a clear starter after playing 95% of the snaps on Sunday against the Bears. He has his first 100 yards game for the team and was instrumental in setting up their final touchdown after a 55 yard catch and run late in the fourth quarter. For just a fifth round pick, Gordon is proving to be one of the best personel moves the Patriots and Belichick have made in some time.
THE FINAL DECISION
Some may be scared off by the large number of points the Patriots are laying this week, but keep in mind they are 11-2 in their last 13 games against the spread as a double-digit favorite. They have also dominated the Bills of late not just in the standings but also versus the number, as New England has covered in their last three games overall against the Bills and also the last four in Buffalo. I expect all of those trends to continue on Monday with the Patriots getting a comfortable win and cover on the road at New Era Field.
Mike's Pick to Cover the Point Spread: New England -13
<aside><!-- [et_pb_line_break_holder] --><div class="widget105"><!-- [et_pb_line_break_holder] --><h4 class="cash">Biggest Sportsbook Bonuses</h4><!-- [et_pb_line_break_holder] --><div class="widgetlist"><!-- [et_pb_line_break_holder] --><div class="col1"><!-- [et_pb_line_break_holder] --> <a href="https://www.predictem.com/out/Bovada"><img src="https://www.predictem.com/wp-content/uploads/2018/04/bovada.png" width="" alt="Bovada" /></a><!-- [et_pb_line_break_holder] --></div><!-- [et_pb_line_break_holder] --><div class="col2"><!-- [et_pb_line_break_holder] --><span class="list"><b>50% Cash</b></span><br><!-- [et_pb_line_break_holder] --><span class="list">5x Rollover</span><!-- [et_pb_line_break_holder] --> </div><!-- [et_pb_line_break_holder] --> <div class="col3"><!-- [et_pb_line_break_holder] --><a href="https://www.predictem.com/betting-sites/bovada/"><button class="btn-widget">Review</button></a><!-- [et_pb_line_break_holder] --></div><!-- [et_pb_line_break_holder] --></div><!-- [et_pb_line_break_holder] --><div class="widgetlist"><!-- [et_pb_line_break_holder] --><div class="col1"><!-- [et_pb_line_break_holder] --> <a href="https://www.predictem.com/out/Intertops"><img src="https://www.predictem.com/wp-content/uploads/2018/04/intertops.png" width="" alt="Intertops" /></a><!-- [et_pb_line_break_holder] --></div><!-- [et_pb_line_break_holder] --><div class="col2"><!-- [et_pb_line_break_holder] --><span class="list"><b>50% Cash</b></span><br><!-- [et_pb_line_break_holder] --><span class="list">4x Rollover</span><!-- [et_pb_line_break_holder] --> </div><!-- [et_pb_line_break_holder] --><div class="col3"><!-- [et_pb_line_break_holder] --><a href="https://www.predictem.com/betting-sites/intertops/"><button class="btn-widget">Review</button></a><!-- [et_pb_line_break_holder] --></div><!-- [et_pb_line_break_holder] --></div><!-- [et_pb_line_break_holder] --><div class="widgetlist"><!-- [et_pb_line_break_holder] --><div class="col1"><!-- [et_pb_line_break_holder] --> <a href="https://www.predictem.com/out/Gtbets"><img src="https://www.predictem.com/wp-content/uploads/2018/05/gt-bets.png" width="" alt="GtBets" /></a><!-- [et_pb_line_break_holder] --></div><!-- [et_pb_line_break_holder] --><div class="col2"><!-- [et_pb_line_break_holder] --><span class="list"><b>150% Cash</b></span><br><!-- [et_pb_line_break_holder] --><span class="list">4x Rollover</span><!-- [et_pb_line_break_holder] --> </div><!-- [et_pb_line_break_holder] --> <div class="col3"><!-- [et_pb_line_break_holder] --> <a href="https://www.predictem.com/betting-sites/gtbets/"><button class="btn-widget">Review</button></a><!-- [et_pb_line_break_holder] --></div><!-- [et_pb_line_break_holder] --></div><!-- [et_pb_line_break_holder] --><div class="widget-footer"><a href="https://www.predictem.com/best-sportsbooks/bonuses/">See all sportsbook bonuses</a></div><!-- [et_pb_line_break_holder] --> </div></aside>
<h4 class="widgettitle">NFL Picks</h4><!-- [et_pb_line_break_holder] -->