[et_pb_dcsbcm_divi_breadcrumbs_module hide_homebreadcrumb="off" homebreadcrumbtext="Home" separator="sep-raquo" hide_currentbreadcrumb="off" homebreadcrumborientation="left" _builder_version="3.8″ fontsbreadcrumbs_font="Lato||||||||" fontsbreadcrumbs_text_color="#000000″ fontsbreadcrumbs_font_size="15px" fontsbreadcrumbs_line_height="16px" fontsseperator_font="||||||||" fontsbreadcrumblinks_font="||||||||" fontsbreadcrumblinks_text_color="#2567cf" custom_margin="25px|||" custom_margin_phone="30px|||" custom_margin_last_edited="off|desktop" custom_css_main_element="font-family: Helvetica Regular;" disabled="on" global_module="3641″ saved_tabs="all"][/et_pb_dcsbcm_divi_breadcrumbs_module]
Milwaukee Bucks vs. Toronto Raptors Pick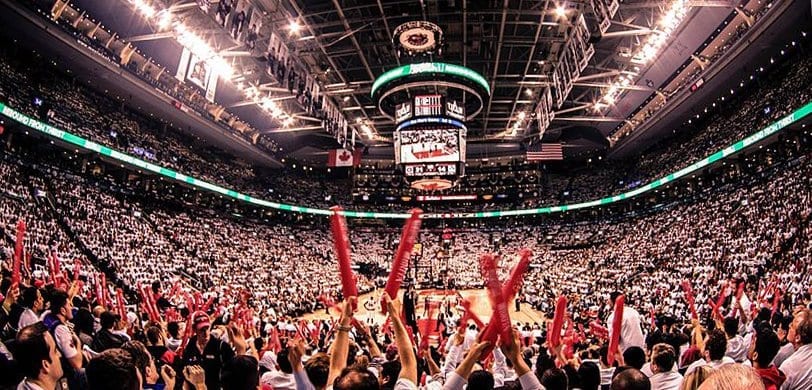 Milwaukee Bucks (16-8, 12-11-1 ATS) vs. Toronto Raptors (21-6 12-14-1 ATS)
When: Sunday, December 9th, 2018 – 6:00 pm ET
Where: Scotiabank Arena – Toronto, Ontario
TV: NBATV
By: Kyle Cash, NBA Basketball Handicapper, Predictem.com
Point Spread: MIL +5/TOR -5 (Choose The Best Line before betting)
Total: 229.5
NBA Advent
To celebrate the holiday season, let's countdown with a fun NBA fact or statistic related to the number of days left until Christmas:
17 – It semi-hurts me to do so, but I have to pay homage to the winningest franchise in NBA history. Boston has had an embarrassment if riches in its city for the past 20 years, and their out-of-nowhere 2008 title ranks right up there with one of the best stories in sports. I wish the Celtics nothing but poor fortune, but in honor of Larry Legend's birthday this past weekend, I'll put my bias aside for a moment to recognize Boston's greatness. Now go away.
Last Night in the NBA
What a strange night in the Association. The scoring boom continued, and yet there was no one standout scoring performance from a single player. Harden chipped in his usual 35 and sophomore John Collins kept up his strong play, but everybody else received equal contributions from their teams. Even without a superstar showing off, we still were privy to a 56-point Boston explosion, a Luka Doncic outburst in the clutch after getting to listen to a live performance of his new theme song, and an on-the-money prediction by yours truly put a few more presents under the Christmas tree this year. Double shout-out to me on the college basketball landscape – my first 2-0 day ever. I'm now announcing my formal resignation.
Do you parlay your NBA plays? Get the most Parlay ROI
Okay, I'm back. The NBA has reeled me back in with a Sunday evening showdown that no one in the Philadelphia region will be watching except myself (on a second screen). The Toronto Raptors are playing host to the Bucks of Milwaukee, and we're finally going to get the Kawhi-Giannis showdown we were robbed of in November. Toronto currently sits as a 5-point favorite over the visiting team with the total set at a blistering 229.5 points.
Mil-walk It Out
The Bucks predictably fell to the Warriors on Friday night, and there's something slightly odd about their team right now. Maybe it's the heavy reliance on Pat Connaughton and lack of a center, but I'm not thrilled with their overall roster. Basketball-Reference, on the other hand, can't get enough of them. According to their Playoff Probability Tracker, the Bucks are destined for 58 comfortable wins with a ceiling of a 69-13 record, and are the prohibitive favorite to win the title. My word! Let me alert the presses – the Milwaukee Bucks are going to dethrone the Warriors in the NBA Finals. Forgive me if I'm a bit hesitant to buy in too much to basketball-reference's playoff proba – what's that? They have the Lakers missing the playoffs? I'm all in!
In order to have the chance to play for an NBA title, the Bucks are going to have to get through tonight's opponent – the number one seed Toronto Raptors. A top-5 offense and defense is enough to get Milwaukee over the jump against 95% of the NBA, but the Raptors are the exception to the rule. Instead, we have to try to find exploitable match-ups. Kyle Lowry and Kawhi Leonard are out immediately. Pasc-erge Ibak-am does a great job at limiting opposing bigs, so say sayonara to Brook Lopez. The one chance Milwaukee has is with Khris Middleton's ability to win out against Danny Green. With a lifetime average of 14 points in that match-up, I'm not feeling too optimistic about Middleton's chances of becoming Giannis' Scottie Pippen for one night. Time to do your thing, Freak.
T-Dot's Tots
Yucky. After dispatching the Sixers in a Wednesday night battle, the Raptors were too busy nursing their hangovers to notice that the Brooklyn Nets were giving them the business. Losing to Brooklyn isn't as bad as it sounds on paper; they have a variety of young, hungry athletes, and for a team that hasn't drafted in the lottery for five straight years because of their dumbass owner, they have a sneakily talented roster. Regardless, Toronto is on a mission to play Game 7 of the NBA Finals in the frozen North, and taking Milwaukee down a peg should be high on their to-do list.
With nearly all of his health regenerated, Weapon X Kawhi has his sight set on a new target: the 6'11" Greek Freak of nature himself. We were robbed of a showdown in their last meeting, but both titans are good to go and ready to do battle. While they do their best to cancel each other out, Toronto will be busy ruining the day of Milwaukee's underwhelming supporting cast. Kyle Lowry would rather root for Georgetown than let Malcolm Brogdon or Eric Bledsoe get the best of him, and their Three-Headed monster front court might send poor Brook Lopez into witness protection. When Toronto is firing on all cylinders, there's no one in the league that can stop them. This is the new normal, so you better get used to it.
Best Bet
You know I love looking at the statistics to find an edge, but unfortunately, the numbers have been flattening out a bit lately. Even when a team outranks an opponent in rebounding by 10 spots, it's still only 1 or 2 rebounds a game, so it may not be as big of an indicator of success as we originally hoped. While we re-tool our future analyses, let's not fix it if ain't broke. I'll forego my typical statistics analysis in favor of a few trends that I like, so here we go: the Milwaukee Bucks are 6-19 SU in their last 25 versus Toronto, and they are 3-11 ATS in their last 14 road games. Meanwhile, Toronto has been on 3 losing streaks this season, and their average margin of victory in the win after the loss is 22 points. Some quick math leads me to see that 22 is, in fact, greater than 5. I like this game to stay semi-competitive, but in the end, Toronto will slip away like a stranger in the night. Also, go Birds.
Final Score Prediction: Toronto Raptors 117 – Milwaukee Bucks 110