NBA Pick: LA Lakers vs. Minnesota Timberwolves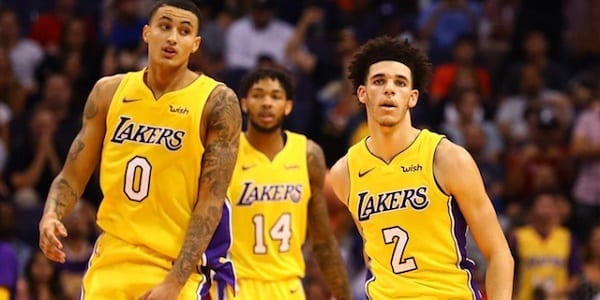 Minnesota Timberwolves (23-24, 24-23 ATS) vs. Los Angeles Lakers (25-23, 21-26-1 ATS)
When: Thursday, January 23rd, 2019 – 10:30 pm ET
Where: STAPLES Center – Los Angeles, CA
TV: TNT
By: Kyle Cash, NBA Basketball Handicapper, Predictem.com
Point Spread: MIN -1.5/LAL +1.5
Total: 229
Last Night in the NBA
Not a perfect start to the Denver-Utah game, but the Nuggets are still within striking distance, so I'm not too worried yet. More importantly, Jokic may have stepped onto the court from the bench during a scuffle, which after the Malice at the Palace, is a big no-no in the NBA. Be mindful of a possible suspension heading into their next game.
Elsewhere in the NBA, J.J. Redick buried the Spurs with an impressive 4-point play with a minute to go, R.I.P to Victor Oladipo and Indiana's playoff semi-final dreams, and James Harden…I'm not talking about him anymore. I refuse. There's no need anyway. The venn diagram of people who read this article and who know about the James Harden story is 100% of the people. Let's move on.
To either continue our streak or start a new one (Denver pending), let's take a peek into a Thursday TNT showdown. The TNT games have been, for the most part, lackluster, and this one may follow suit. The funky Minnesota Timberwolves are heading into STAPLES Center to attempt to mercy-kill the ailing Lakers. Currently, the Wolves sit as 1.5-point favorites with the total set to a decent 229 points. Hey! I'm handicappin' here!
A Note on Bitcoin Sportsbooks: Most people who find a nice line often aren't able to grab it when they already have a balance at their main sportsbook. Enter bitcoin sports betting where you can deposit and withdraw right before and after game time. Predictem breaks down how bitcoin sports betting works and how long it takes to process. 
Bad Moon Rising
It doesn't take much of a slide to find yourself staring up from the bottom of the barrel in the Western Conference. The Butler-free Timberwolves were able to string together a couple of Ws on the back of Karl-Anthony Towns, but the problems lies within the rest of the team. Robert Covington caught a terrible case of Thibs-itis (before his firing) and is now probably going to be hobbled for his career, and it turns out that Dario Saric is, uh, not good at basketball? Derrick Rose is rejuvenated to about 75% of his former MVP-self, but in a Conference that features Steph, Harden, Russ and Dame, there isn't much room left at the All-Star guard table. Take solace in being the people's champ, Derrick. That's about all I have for you.
If you are looking for a team to kickstart your playoff push, it's hard to find a better team than the injury-plagued Lakers. LA is down to a Kuzma-Ingram star duo, and let's just say that you aren't going to be able to find your way home in the darkest of nights using the light provided by their starpower. They are – let's say – developing? At best? The Lakers rotating cast of centers isn't easy on the eyes, and despite their efforts, the Lakers aren't great at defending talented bigs. These two teams matched up once already after LeBron's injury, and KAT torched them for 28 points and 18 rebounds.
Minnesota has a tough little schedule run coming up over the next week, including a trip to Utah on Friday night following tonight's game. With Memphis, Utah and Denver on the mind, there's some slight concerns that this team, under the tutelage of a new, young coach, may be overlooking an opponent they dispatched with ease in their last get-together. Injured as they are, LA at home is always a dangerous proposition, and I would urge Minnesota to tread lightly.
The Hart of the Lakers
Anžejs Pasečņiks. If you don't know who that is, don't feel bad. You shouldn't, and you probably never will. Josh Hart was a four-year player at the University of Villanova, and he was one of the best players on a team that went 67-9 and won a national title in his junior and senior years. To anybody with a pulse and two eyes, he was a clear-cut NBA impact player, and the only knock on him was that he played four years in college, was 22 when he got drafted, and had decided to forego millions of dollars in favor of actually learning how to play the game of basketball. What a pretentious thought. And yet Bryan Colangelo, that dumb son of a bitch, drafted Anžejs Pasečņiks, a backup center who is two years away from being two years away and will probably never play a meaningful minute in the NBA, over Josh Hart. But I'm not bitter. I swear.
Now that I've gotten that off of my chest, we can tackle the matter at hand. You'll have to excuse my lack of enthusiasm, because a team that heavily features Kentavious Caldwell-Pope and Michael Beasley is not one that is going to be a) fun to watch or b) easy to predict. It's much easier to find gambling angles in teams that have consistency, and with the bevy of wildcard talents and personalities that the Lakers currently employ, that's simply not possible. KCP and Kyle Kuzma can go for 15-15 or 0-15 and I wouldn't blink, and Michael Beasley is just as likely to uncork a highlight reel dunk as he is to forget to put on the correct color game shorts.
On the court, we don't have a lot that we can point to in order to properly handicap this game. In their blowout loss to Golden State, the Lakers trotted out 13 different guys, and only Kuzma and Ingram topped 30 minutes. Luke Walton is likely to ride the hot-hand, but on the 3rd worst 3-point shooting team in the NBA – who is that going to be? It'll be a total team effort on both ends for the Lakers in this one, and if someone – literally anyone – gets remotely hot, a W is not outside of the realm of possibility.
Best Bet
You can't see me right now, but I'm shrugging my shoulders. I pride myself on my ability to read the NBA tea leaves, but I'm not a miracle worker. The Timberwolves are a perfectly average team, and the Lakers are an injury-riddled mess. I wish I had some more hard-hitting evidence for you, but I really don't. The over is an interesting proposition, because then you can just shut your mind off and root for basketball things to happen. But if you force my hand, I'm going to roll with history and side with the best player, which should (emphasis on "should") be Karl-Anthony Towns. Scale of 1-10, I'm at about a "3" in terms of confidence, and at about an "8" in terms of I'll probably be sleeping during this one.
Final Score Prediction: Minnesota Timberwolves 121 – LA Lakers 115
Bovada Sportsbook launched in 2001. From the beginning, priority was given to the user experience. Most online sportsbooks used one of three out of the box software platforms for their user interface. Bovada spent millions creating its own from the ground up. Its support team was also a focus and offer bettors what they wanted. They were one of the first bookmakers to publish NASCAR odds and driver prop bets like individual matchups. It was so good and friendly, that customers would routinely call to chat about the races when they didn't really need any assistance. Bovada eventually had to incorporate limiting casual conversation into their employee training because players enjoyed using customer service for the social element. To this day, Bovada remains focused on a fun experience for their NASCAR bettors. That includes simple bonus plans like the current offer of 50% CASH Bonus to start your race betting.