New Orleans Pelicans vs. OKC Thunder Pick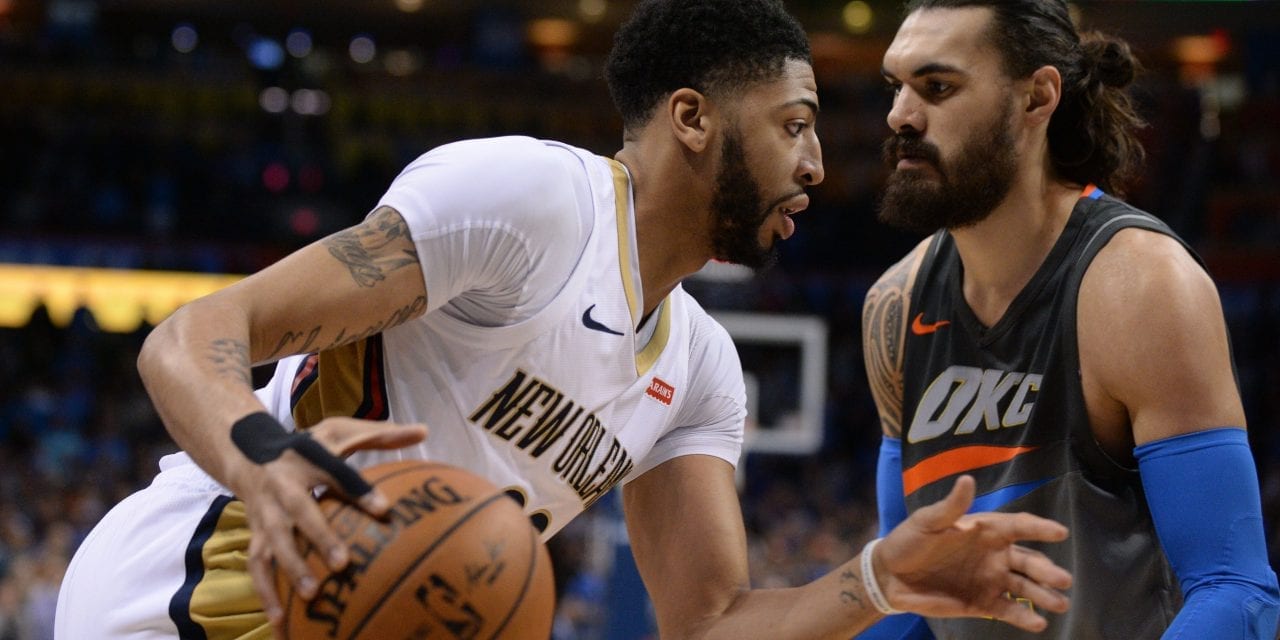 New Orleans Pelicans (4-5, 4-5 ATS) vs. Oklahoma City Thunder (4-4, 4-4 ATS)
When: Monday, November 5th, 2018 – 8:00 pm ET
Where: Chesapeake Energy Arena – Oklahoma City, OK
TV: NBATV
By: Kyle Cash, NBA Basketball Handicapper, Predictem.com
Point Spread: NOP +4.5/OKC -4.5
Total: 238
Last Night in the NBA
What do I have to do? Every single night, I pour over game streams and highlights and twitter threads and beat writers and injury reports and fantasy advice and this is the reward I get? A Devin Booker game winner? I started to have some regrets when I realized a W would make the Grizzlies the current Western Conference 3-seed, but I figured I would be safe against a team that heavily relied upon Elie Okobo and Isaiah Canaan to run their offense. Screw you, Memphis.
Let's soldier on to a game that features two of the world's greatest athletes: Alex Abrines and Jahlil Okafor. This game will also involve a showdown between these two guys named Russell Westbrook and Anthony Davis. Apparently, one of them is really into fashion, and the other has some distinct thoughts on male grooming practices. To each his own, I guess. Abrines is currently favored by 4.5 points over Okafor, with a projected total of 238 points. That's a lot of spot-up 3s and back-to-the-basket artistry from our two superstars. Let's dive right in.
You Can't Randle The Truth!
And the truth is: New Orleans is in trouble. The injury bug has already hit the Pelicans hard; Elfrid Payton has been sidelined for more than a week, and AD is going to need to be rebuilt like Robocop if he ever wants to play a full season. The Western Conference takes no prisoners, and New Orleans has too small of a margin of error to be punting games due to injury concerns. To make matters worse, the Pelicans three most effective players can't play together in crunch time: AD, Julius Randle, and Nikola Mirotic. Instead, Gentry is forced to sit one of them in favor of someone like Solomon Hill or E'Twaun Moore, and all of a sudden, New Orleans is at a disadvantage. Unless Randle or Mirotic can magically figure out how to defend opposing wings, their best course of action is to flip Julius into a more serviceable, traditional 3-and-D player to allow maximum space for the Brow to dominate. Just food for thought, New Orleans!
I hate to tip my pick Woj-style before we get to the Best Bet section, but Monday's matchup is the last game in the Pelicans five-game road trip, and the subsequent four have all been losses. Even if Anthony Davis is at full capacity, I'm not sold on his ability to destroy worlds in his usual way. OKC makes their bones on the defensive end, and they have enough bodies to throw at Anthony Davis to make him have to work for his buckets. Jrue Holiday, meanwhile, has been carrying the team in Davis' absence, and his reward is a date with Russell Westbrook. Swipe left, please. If you look at the individual matchups on paper, it's hard to imagine one single Pelican getting the best of their rival outside of AD, and with their road trip ending, I wouldn't be surprised to see a sleepier Pelicans team than usual.
MNF Pick: Titans versus Cowboys!
Their one chance, however, is to do what they do best: run, Forrest, run. OKC ranks in the bottom-10 in fast breaks points allowed, and the only thing scarier than Anthony Davis streaking down the floor in transition is Anthony Davis AND Julius Randle streaking down the floor in transition. There's also the possibility that the clean-shaven Mirotic burns OKC to the ground, as he is wont to do. Don't blame me if he does.
Thunder and Lightning
In year's past, I would've argued that Russ himself was the thunder and the lightning; the yin and the yang; the Alpha and the Omega; the Jacob and The Man In Black (LOST reference – take a drink!). But this year, Paul George might actually be the Bonnie to his Clyde. PG13 has proven out to be a sub-par number one option, but he may be an overqualified number two, and he's the type of player that OKC badly needs in order to succeed.
Since their 0-4 start, OKC has taken advantage of their soft schedule to right the ship and get guys back on track. However, New Orleans ain't the Wizards, and it's a team that the Thunder need to take seriously. Despite OKC's length and versatility on the defensive end, they have yet to surrender less than 107 points in any winning effort. If you expect OKC to take control of this game, you can go ahead and pencil them in for 115 points; it's what they need to score in order to thrive. AD has historically fared well against Steven Adams, making him look more like Khaleesi than Khal Drogo to the tune of 30 points and 10 rebounds per game. If Steven Adams' Drogon aka Russell Westbrook can breathe fire down his opponent's back, it won't matter what Davis does. OKC's fringe players aren't anything that you're writing to your pen pal about, but New Orleans's bench looks like the Washington Generals in comparison. The Thunder should be able to dictate the pace in their home environment and ride their 6th ranked defense to a comfortable double digit victory. New Orleans needs time to regroup and catch their breath, but Westbrook is Freddy Krueger. 1-2, Russ is coming for you.
Quick Match-Up Notes
• Russell Westbrook has recorded a triple-double in 5 of his last 6 games versus Jrue Holiday
• Both teams rank inside the top-7 in Pace
• OKC ranks 6th in Defensive Rating; NOP ranks 25th
NBA PICK:
If you've been paying attention, you'll notice a couple of important things: 1) OKC is riding a 4-game win streak 2) New Orleans is playing their 5th road game in a row 3) Anthony Davis doesn't look fully healthy 4) Oklahoma City is a better team. Where I come from, 1+2+3+4= a two-team teaser to take OKC down to a pick 'em and the over down to 233.5. I refuse to get screwed over by another 135-point half, so let's root for the points this time. Russell Westbrook is my guy, and he's gonna make us the big bucks. Thunder up, baby!
Final Score Prediction: Thunder 126 – Pelicans 111
Bovada Sportsbook launched in 2001. From the beginning, priority was given to user experience. Most online sportsbooks used one of three out of the box software platforms for their user interface. Bovada spent millions creating its own from the ground up. Its support team was also a focus. It was so good and friendly, that customers would routinely call to chat about the games when they didn't really need any assistance. Bovada eventually had to incorporate limiting casual conversation into their employee training because players enjoyed using customer service for the social element. To this day, Bovada remains focused on a fun experience for their bettors. That includes simple bonus plans like the current offer of 50% CASH Bonus to start the football season.