[et_pb_dcsbcm_divi_breadcrumbs_module hide_homebreadcrumb="off" homebreadcrumbtext="Home" separator="sep-raquo" hide_currentbreadcrumb="off" homebreadcrumborientation="left" _builder_version="3.8″ fontsbreadcrumbs_font="Lato||||||||" fontsbreadcrumbs_text_color="#000000″ fontsbreadcrumbs_font_size="15px" fontsbreadcrumbs_line_height="16px" fontsseperator_font="||||||||" fontsbreadcrumblinks_font="||||||||" fontsbreadcrumblinks_text_color="#2567cf" custom_margin="25px|||" custom_margin_phone="30px|||" custom_margin_last_edited="off|desktop" custom_css_main_element="font-family: Helvetica Regular;" global_module="3641″ saved_tabs="all"][/et_pb_dcsbcm_divi_breadcrumbs_module]
Memphis Grizzlies vs. Phoenix Suns Pick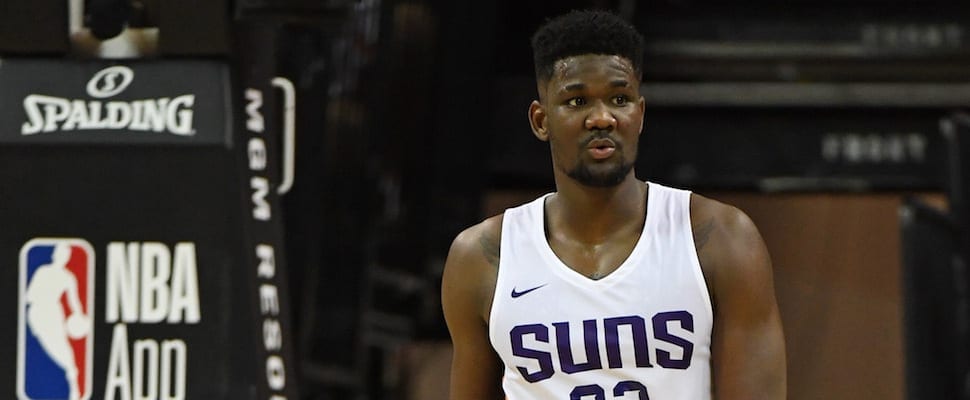 Memphis Grizzlies (5-2, 5-2 ATS) vs. Phoenix Suns (1-7, 3-5 ATS)
When: Sunday, November 4th, 2018 – 8:00 pm ET
Where: Talking Stick Resort Arena – Phoenix, AZ
TV: ESPN
By: Kyle Cash, NBA Basketball Handicapper, Predictem.com
Point Spread: MEM -4/PHX +4
Total: 210
Last Night in the NBA
It's nice to be wrong sometimes. My reverse jinx of the Boston Celtics worked brilliantly, and I think it's officially time to be looking elsewhere for an Eastern Conference favorite. Elsewhere in the league, DeMar DeRozan continued his best He-Who-Shall-Nor-Be-Named impression, LeBron and the Lost Boys are inching closer to 0.500, and Joel Embiid punked his mortal enemy Andre Drummond into next week. #Bum!
With no national TV games on our Sunday slate (apparently there's a marquee NFL game tonight – yawn!), let's head out to the desert for our first look at two teams with one way tickets to the NBA Draft Lottery. The Memphis Grizzlies are currently giving 4 points on the road to the young Suns, and the total is set at 210 points. Let's get this show on the road.
Grit 'N' Grind 4 Life
While Tony Allen is no longer the most lovable headache in the NBA, the ethos that he imparted on the Memphis Grizzlies lives on through his predecessors. Mike Conley and Marc Gasol are the two most overlooked star players in the NBA. If not for the wizardry of Nikola Jokic in Denver, Gasol would remain the best passing big man in the league, and Mike Conley routinely makes his opposing point guards look like fools. With them at the helm, Memphis will remain relevant in the playoff conversation for the foreseeable future.
The Grizz are back to their old ways; they are the slowest paced team in the league by a mile, and have a top-5 defense because of it. Against the young, run-and-gun Suns, Memphis has the perfect counter. Conley and Gasol remain among the best individual defenders in the league at their respective positions, and Devin Booker and Deandre Ayton are going to have their "Welcome to the League" moment on Sunday evening. This game will be won by whichever dynamic duo can get the job done on the offensive end. Forgive me if I err on the side of caution and go with the grizzly vets (pun intended) on this one.
The House of the Rising Suns
The complete list of rookies to average 16 points, 10 rebounds, and shoot 60% or better from the field: Deandre Ayton. The Arizona big man has been everything that everyone thought him to be: an offensive force and a defensive sieve on a team that wins 18 games. So far, so good!
The rest of the squad, minus Devin Booker, is pretty unimpressive. Mikal Bridges doesn't play for some reason; Josh Jackson has regressed in his sophomore campaign; TJ Warren would have a hard time guarding some guys in my Rec league; and Ryan Anderson and Trevor Ariza make no sense being on a rebuilding team. Phoenix is running the same script that Sacramento ran last year. How did that turn out for them?
In order for Phoenix to come away with a W that they don't even want, they are going to have to rely on their superstar Devin Booker. Despite his early health problems, Booker has looked like he's ready to make the leap, and he's a legitimate go-to scorer/playmaker. Phoenix's season should be dedicated solely to improving the careers of guys like Ayton and Booker, but splashing in a win here or there wouldn't hurt them either.
Quick Match-Up Notes
• Memphis ranks last in the NBA in Pace
• Phoenix is ranked in the bottom 3 in both Offensive and Defensive Rating
Best Bet
Home team usually dictates pace, and Memphis has the talent to be able run with the Suns and juice up the score. I wouldn't be surprised to see this game go over – I'm just not laying my money against the Grizzlies' defense. Instead, I'm just going to do the sensible thing and stick with experience over talent. There are a handful of teams that Phoenix will be able to beat this year, and Memphis may eventually prove to be one of them. But with Conley and Gasol firing on all cylinders, and rookie Jaren Jackson Jr. contributing in spots when he's not in foul trouble, Memphis is not a team to be rolled over quite yet. Fire up the Grizzlies with confidence, and let's start this week off with a winner.
Final Score Prediction: Memphis Grizzlies 111 – Phoenix Suns 100
<aside><!-- [et_pb_line_break_holder] --><div class="widget105"><!-- [et_pb_line_break_holder] --><h4 class="cash">Biggest Sportsbook Bonuses</h4><!-- [et_pb_line_break_holder] --><div class="widgetlist"><!-- [et_pb_line_break_holder] --><div class="col1"><!-- [et_pb_line_break_holder] --> <a href="https://www.predictem.com/out/Bovada"><img src="https://www.predictem.com/wp-content/uploads/2018/04/bovada.png" width="" alt="Bovada" /></a><!-- [et_pb_line_break_holder] --></div><!-- [et_pb_line_break_holder] --><div class="col2"><!-- [et_pb_line_break_holder] --><span class="list"><b>50% Cash</b></span><br><!-- [et_pb_line_break_holder] --><span class="list">5x Rollover</span><!-- [et_pb_line_break_holder] --> </div><!-- [et_pb_line_break_holder] --> <div class="col3"><!-- [et_pb_line_break_holder] --><a href="https://www.predictem.com/betting-sites/bovada/"><button class="btn-widget">Review</button></a><!-- [et_pb_line_break_holder] --></div><!-- [et_pb_line_break_holder] --></div><!-- [et_pb_line_break_holder] --><div class="widgetlist"><!-- [et_pb_line_break_holder] --><div class="col1"><!-- [et_pb_line_break_holder] --> <a href="https://www.predictem.com/out/Intertops"><img src="https://www.predictem.com/wp-content/uploads/2018/04/intertops.png" width="" alt="Intertops" /></a><!-- [et_pb_line_break_holder] --></div><!-- [et_pb_line_break_holder] --><div class="col2"><!-- [et_pb_line_break_holder] --><span class="list"><b>50% Cash</b></span><br><!-- [et_pb_line_break_holder] --><span class="list">4x Rollover</span><!-- [et_pb_line_break_holder] --> </div><!-- [et_pb_line_break_holder] --><div class="col3"><!-- [et_pb_line_break_holder] --><a href="https://www.predictem.com/betting-sites/intertops/"><button class="btn-widget">Review</button></a><!-- [et_pb_line_break_holder] --></div><!-- [et_pb_line_break_holder] --></div><!-- [et_pb_line_break_holder] --><div class="widgetlist"><!-- [et_pb_line_break_holder] --><div class="col1"><!-- [et_pb_line_break_holder] --> <a href="https://www.predictem.com/out/Gtbets"><img src="https://www.predictem.com/wp-content/uploads/2018/05/gt-bets.png" width="" alt="GtBets" /></a><!-- [et_pb_line_break_holder] --></div><!-- [et_pb_line_break_holder] --><div class="col2"><!-- [et_pb_line_break_holder] --><span class="list"><b>150% Cash</b></span><br><!-- [et_pb_line_break_holder] --><span class="list">4x Rollover</span><!-- [et_pb_line_break_holder] --> </div><!-- [et_pb_line_break_holder] --> <div class="col3"><!-- [et_pb_line_break_holder] --> <a href="https://www.predictem.com/betting-sites/gtbets/"><button class="btn-widget">Review</button></a><!-- [et_pb_line_break_holder] --></div><!-- [et_pb_line_break_holder] --></div><!-- [et_pb_line_break_holder] --><div class="widget-footer"><a href="https://www.predictem.com/best-sportsbooks/bonuses/">See all sportsbook bonuses</a></div><!-- [et_pb_line_break_holder] --> </div></aside>
<h4 class="widgettitle">NFL Picks</h4><!-- [et_pb_line_break_holder] -->
<!-- [et_pb_line_break_holder] --><div class="widget-footer"><a href="https://www.predictem.com/nfl/">See all the NFL picks.</a></div><!-- [et_pb_line_break_holder] --><hr><!-- [et_pb_line_break_holder] --><style><!-- [et_pb_line_break_holder] -->ul.postsbycategory {list-style-type: none; margin:0; padding: 0; margin-left: -3px}<!-- [et_pb_line_break_holder] -->.postsbycategory li {padding: 5px 0px; display:block; clear: both; border-bottom: 1px solid #ccc;line-height:16px!important; min-height: 50px;}<!-- [et_pb_line_break_holder] -->.postsbycategory li a{color: #000; font-size: 14px!important;}<!-- [et_pb_line_break_holder] -->.postsbycategory img {width: 85px!important; height: 40px;<!-- [et_pb_line_break_holder] -->float:left; <!-- [et_pb_line_break_holder] -->padding:0px;<!-- [et_pb_line_break_holder] -->margin: 0px; margin-right: 8px;<!-- [et_pb_line_break_holder] -->border: 1px solid #EEE;<!-- [et_pb_line_break_holder] -->}<!-- [et_pb_line_break_holder] --> .widget-footer a {color: #666;}<!-- [et_pb_line_break_holder] --> .widget-footer a:hover {padding-top: 2px;}<!-- [et_pb_line_break_holder] --></style>
<div style="width:340px; margin: 0 auto;"><!-- [et_pb_line_break_holder] --> <a class="twitter-timeline" data-width="340" data-height="500" data-link-color="#008156" href="https://twitter.com/PredictemPicks?ref_src=twsrc%5Etfw">Tweets by PredictemPicks</a> <script async src="https://platform.twitter.com/widgets.js" charset="utf-8"></script><!-- [et_pb_line_break_holder] --></div>