Denver Nuggets vs. Golden State Warriors Pick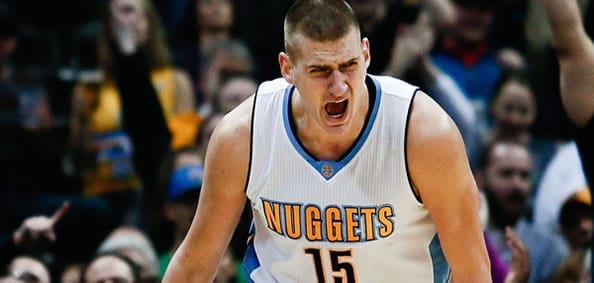 Denver Nuggets (51-25, 39-37 ATS) vs. Golden State Warriors (52-24, 32-43-1 ATS)
When: Tuesday, April 2nd, 2019 – 10:30 pm ET
Where: ORACLE Arena – Oakland, CA
TV: TNT
By: Kyle Cash, NBA Basketball Handicapper, Predictem.com
Point Spread: DEN +8/GSW -8
Total: 221.5
Last Night in the NBA
I haven't lost an NBA bet since way back when I was 25 years old (I turned 26 this weekend), and I don't intend on starting now in my Chase Utley year. I've left all of my preconceived notions about the state of the NBA in the past. Westbrook and his lackluster shooting, Luka's Rookie of the Year campaign, my "Embiid is All-NBA 1st team" argument – all of those hang-ups that may have clouded my analysis have been left in the past, and I'm ready to move forward and become the basketball handicapper I was always meant to be.
While I was hard at work on my liver this weekend, the NBA world continued to sidle towards the playoffs. The Eastern Conference race for the 8th seed is coming down to the wire while the New York Knicks go the other way and fully embrace the tank. Meanwhile, the Bucks have all but secured home-court advantage throughout the playoffs, and the only drama in the West is who is going to earn the right to get beheaded by the Golden State Warriors in Round One.
Tonight, we get to check in on those very Warriors as they find themselves in the unfamiliar position of having to fight to secure their top seed. Nikola Jokic and his Nuggets' squad are marching into Oakland one final time to try to take the Iron Throne from the reigning champs. Jamal Mediocrity – I mean, Murray – is listed as probable after rolling his ankle on Sunday, and as a result, the Nuggets are an 8-point underdog with the total set to an unsatisfying 221.5 points.
Silver Linings Playbook
I usually spend this little intro section for Nuggets games berating their lack of big-game chops, but I think that is important that we at least acknowledge the breadth of their accomplishments this year. They, along with the Raptors, are the only teams to lead a division that has four total playoff teams in it, and the Nuggets have outlasted Portland, Utah, and Oklahoma City to get there. Meanwhile, their best playmaker is a doughy 6'11" point guard in a center's body and their rotation has been littered with ankle, hip, and wrist injuries for the better part of the season. A team whose best five-man lineup by net rating that consists of two guys named Torrey Craig and Malik Beasley is going to be a top-3 seed in one of the most loaded Western Conferences in recent memory – think about that for a second. The 76ers can trot out three All-Stars, a 20-and-7 star masquerading as a role player, and one of the 10 best shooters who ever lived in crunch time and they still have not accomplished as much as Denver has. For the love of God, Denver – do something in the playoffs! Prove yourselves!
Securing the one-seed would go a long way in extending the life of this Denver team. A buzzsaw named James Harden currently lies in waiting in the second round for this Nuggets team and leapfrogging the Warriors into 1st place would benefit them immensely.
They can do so by ramping up their pressure on the defensive end. Golden State sported an Offensive Rating of 100 in their 100-98 defeat to the Nuggets in the fall but have beat them like a drum to the tune of O-Ratings of 147 and 119 in their last two beatdowns. To quell GSW's offense, Denver is going to need to rely on the defensive prowess of their guards. Gary Harris and Will Barton have the physical tools to harass the Splash Brothers, and Denver was able to make them work for their points in their lone victory this year. With the Nuggets 1st-ranked 3-point defense, they can make it harder for the Warriors to play their revolutionary outside-in offense that is so effective. If Denver can force them to adjust, then all the Nuggets have to do is stop Kevin Durant, arguably the best isolation scorer in NBA history… from scoring… at will. Piece of cake.
Boogie Wonderland
Okay, so the Warriors may have a few hot heads on their team. Boogie gets ejected more often than he double-doubles, Draymond is one technical away from an automatic one game suspension, and KD, Steph, and Iggy launched a straight up smear campaign against the referee who blatantly screwed them over against Minnesota. While I support the last one, the first two are an issue that is going to have to be addressed sooner rather than later. There's no LBJ this season to become an undeserving NBA champion, but Draymond nut punches are not outside of the realm of possibility if the Warriors play a wily team in the NBA Finals. Like, say, a wily no-nonsense team featuring notable Twitter troll Joel Embiid, for example. Just sayin'.
But to get back to the promise land, the Dubs have a bit of work left to do. They can start by polishing off the only threat remaining in the playoff race and condemning Denver to a second-round blood feud with the Rockets. Coming off of a 47-point shellacking of Charlotte in which they buried 21 3-pointers, the Dubs should be looking to carry over their recent form to their match-up against Denver.
The Nuggets are an improved defensive squad, but they've offered little resistance to the Warriors in their last two affairs. Steph and Klay are enough to worry about for Denver's guards, but the only option they have to cover KD is the aging Paul Millsap who was never quick enough to guard Durant in the first place. Steph has been reminding everyone just who the King of the NBA is as of late, but we feel prime for a KD superstar game before the playoffs begin. Most importantly, Denver has a more winnable game tomorrow night versus San Antonio, so if things start to go awry, don't be surprised to see Mike Malone pull the plug and live to fight another day.
Who else wants $60 of FREE member picks & predictions?
Best Bet
Could tonight be the night? Is Denver finally going to pick up an impressive win in a game in which I have provided analysis? Feel free to fact check me on this, but I believe they are 0-4 ATS in games that I broke down, and I'm sorry to tell the fine people of Denver that the trend will continue tonight. Even though Golden State hasn't exactly been setting the world on fire as of late, they have no choice but to put their cards on the table for tonight's match-up. Despite owning the tiebreaker against Denver, the last thing they need to worry about is falling down a spot and risking a Round Two match-up against their arch-rival Rockets. Nobody, including Denver, wants to play Houston in the playoffs, but unfortunately, the Nuggets' fate is in Golden State's hands – and they are not a merciful God. Dubs by a billion – yet again. Sorry, Denver.
Final Score Prediction: Golden State 126 – Denver 111