OKC Thunder vs. Portland Trail Blazers Pick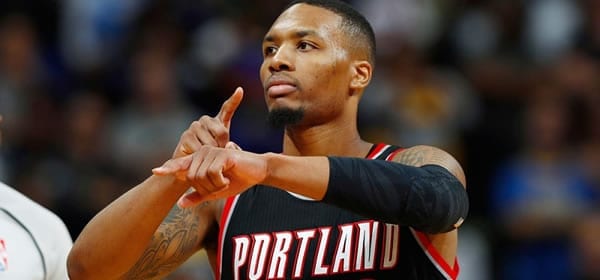 OKC Thunder (49-33, 42-40 ATS regular season – 0-1, 0-1 ATS playoffs) vs. Portland Trail Blazers (53-29, 45-36-1 ATS regular season – 1-0, 1-0 ATS playoffs)
When: Tuesday, April 16th, 2019 – 10:30 pm ET
Where: MODA Center – Portland OR
TV: TNT
By: Kyle Cash, NBA Basketball Handicapper, Predictem.com
Point Spread: OKC +2/POR -2
Total: 221.5
Situations: NBA Western Conference Playoffs – Round 1, Game 2 – Portland leads 1-0
Remember everything I said about the Sixers before Saturday afternoon game? Just retroactively apply that to last night's affair and pretend that we won some money. I'm an East Coaster with a 9 to 5 job, so I will unfortunately be fast asleep during this Warriors-Clippers game. I'm going to go ahead and assume the Warriors played like hungover frat boys and the Clippers were able to cover the number. Fingers crossed.
Tonight, we head back to the Land of the Soccer Moms as the Portland Trail Blazers look to take a commanding 2-0 lead over the OKC Thunder. With a close Game 1 in the books, sportsbooks have lowered the spread from 3.5 to OKC +2 with the thought being that OKC will play hungrier this time around. A projected close game with a 221.5-point total? Sign me up, plea– crap, it's at 10:30 pm. I may have to quit my job.
Limping to the Finish Line
Paul George "says he's healthy as Thunder take on Blazers" is the headline on ESPN.com. You know what, Paul George? You're a dirty liar. The man who was in the running for the MVP in mid-January has completely and utterly fallen off of a cliff, and he's hiding a serious shoulder injury. Whispers around the league indicate that it may be as bad as a torn rotator cuff, and his 4-15 performance from 3 would certainly indicate something being very, very wrong. Then again, the one criticism of Paul George throughout his career has been his inconsistent and nonexistent playoff and clutch performances (at least post-traumatic leg injury). Maybe it's time for Russ to go supernova after all.
NBA Playoffs Game 2: Spurs vs. Nuggets Pick
If there's one note that OKC can take away from Game 1, it's this: shoot better. Five made 3s in 33 attempts isn't going to get the job done against one of the better offensive teams in the NBA. The Russ/Schroder PG combo managed to go 0-11 from downtown, and while neither one of them is known for their outside shooting prowess, they need to make a few to keep the defense honest and open up their deadly driving lanes.
Another area of focus is going to have to be on stopping Portland's biggest threat: Enes Kanter? Redemption: thy name is Enes! The big fella skewered his former team for a 20 point-18 rebound performance, and Steven Adams and Co. are going to need a better job at keeping him off of the glass (7 offensive boards). And with a capable big man, Portland's guards were able to run amok. Dame may be sinking deep threes anyway and it won't matter, but if OKC can stop Enes' drives and put-backs on pick-and-roll action, the offense will collapse in on itself. It's their best counterpunch for Game 2. That, and, you know, make some freaking shots.
A Worthy Impersonator
One take I've seen more and more this season from NBA nerds (not like me – even nerdier) is that Damian Lillard on GSW would look exactly like, if not better than, Stephen Curry. Interesting point – probably an exaggeration. There's just something about Curry's game that feels more elegant to me. Lillard is an amazing athlete and shooter and playmaker, and he's as deadly in the clutch as any guy in the NBA. He has limitless range and can get into the teeth of the defense to finish or to kick it to open teammates. But there really is something supernatural about Steph's ability to get to spots and knock down jumpers and pump up a crowd and demoralize an opponent. Lillard's game feels more visceral, like a dagger in the heart: you see it coming. What's that line in The Bourne Identity? "We could've had anyone kill him. I don't send you to kill. I send you to be invisible. I send you because you don't exist." Ipso facto: Stephen Curry is the Jason Bourne of the NBA. Wait, this was supposed to be about Portland, wasn't it? My bad.
Luckily for PDX, a dagger in the heart can kill a man just as easily as a pen, a magazine, or a hand towel. Seriously – go watch the Bourne trilogy. And Dame stabbed OKC right in the chest on Sunday afternoon. Not the most efficient night for him and his backcourt compatriot, but they got it done in the guts of the fourth when it mattered most.
But Portland is not going to be able to rest on their laurels to secure another victory. OKC is a dangerous counterpuncher, and Coach Stotts is going to need to devise a plan to keep the Thunder off the glass. Even with all of the damage that Kanter caused, Adams was still a problem for Portland's rotation of bigs, and the Thunder are likely to try to exploit that match-up even more. With a limited Paul George, Portland is likely to face the full wrath of Russell Westbrook, and that is one storm that you don't want to be standing in the way of. Ask anyone.
Best Bet
While OKC could easily go home and take care of business, I always feel like it's imperative for the road team to steal one of the first two games. A 2-2 series means the Thunder would have to win either a road Game 5 or Game 7 in this series, and as I said before, Portland's home arena is no joke. The Blazer fans are amongst the most impassioned that we have in the NBA, and they love their team – warts and all. For the simple reason that I believe that this is the playoff series that we are going to remember from this first round of games, I'm picking the Thunder to seal the deal down the stretch and steal a game – or come damn close. This series is too evenly matched and there's too much bad blood for it to be over in 5 games. This thing is going 7, and it starts tonight. Don't fail me now, Russell.
Final Score Prediction: Oklahoma City 113 – Portland 111
Who else wants $60 of FREE member picks & predictions?