San Antonio Spurs vs. Denver Nuggets Game 2 Pick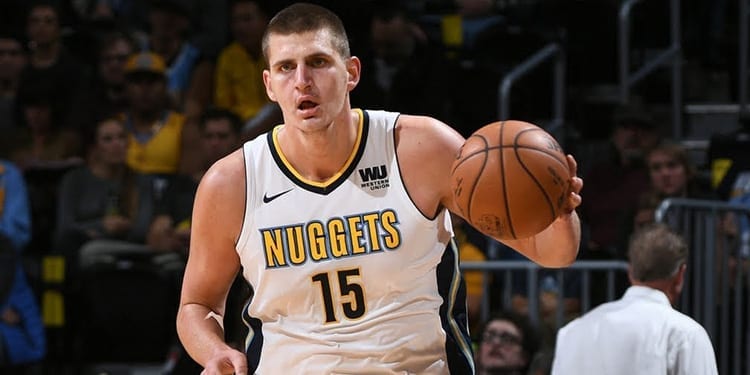 San Antonio Spurs (48-34 SU, 43-38-1 ATS, Regular Season) (1-0 SU, 1-0 ATS, Playoffs) vs. Denver Nuggets (54-28 SU, 42-40 ATS, Regular Season) (0-1 SU, 0-1 ATS, Playoffs)
When: Tuesday, April 16th, 2019 – 9:00 p.m. ET
Where: Pepsi Center, Denver, Colorado
TV: NBATV
Point Spread: SA +7 / DEN -7 (MyBookie Sportsbook)
Total: O/U 208
Last Time Out: San Antonio won game one 101-96 and now lead the series 1-0.
Recapping the Opening Weekend:
What a wild weekend to open the 2019 NBA playoffs. We had three lower seeds win outright (Orlando, Brooklyn and San Antonio), one of the lowest scoring games in the NBA this season (Indiana vs. Boston), a surprising win coming from the Trail Blazers and the Bucks, Warriors and Rockets, who made their opponents look like High School teams in their blowout wins.
If you have been following my picks, you know that I covered game one in this series. I picked San Antonio since they have much more playoff experience and was happy to get the win. Now game two will be tricky, given that the Nuggets cannot afford to travel to San Antonio down two games to none.
More Game 2 Action: Thunder vs Blazers Pick
Let's first look at how each team fares after having had one day of rest to adjust for game two. The Spurs are 31-20 straight up and 24-26-1 against the spread in this situation. The Nuggets are slightly worse, as they have posted a 30-24 record straight up and a record of 24-30 against the spread with just one day to heal up. Given these trends alone has me on the Spurs to stay competitive in game two and cover the spread.
Come on You Spurs:
So, I decided to borrow this phrase from the EPL club, Tottenham Hotspurs, because America loves an underdog and are sure to be rooting for this Spurs team to win. Okay, maybe not Denver, but in general, the Spurs have the public backing them. That said, let's take at look at what the Spurs need to do to steal game two on the road.
Most importantly, the Spurs will need to play lockdown defense. As a quick note, the Spurs held the Nuggets to 6 of 28 from behind the arc (21.4%) and 37 of 88 from the field (42.0%) in game one. Remember the Spurs' still have Popovich on their sideline and his coaching will be huge in this regard because he knows exactly how to set up his defense. I see no reason why the Spurs will not play with the same intensity and I expect them to play elite defense once again in Denver.
As a side note, I mentioned in my game one article that LaMarcus Aldridge vs. Nikola Jokic would be the most important matchup and I am still standing by that statement this time around. Aldridge held Jokic to 10 points on 4 of 9 shooting from the field and 0 of 3 behind the three-point line. This is an All-Star player we are talking about and the guy who is known for being one of the best centers in the entire league. Now I am not saying Jokic is the only reason the Spurs won, because the rest of their team shot very poorly as well but taking Jokic out of the game severely hindered Denver's chances. That said, there is no doubt in my mind that if San Antonio can limit Jokic for the second straight game, they will fly back home with a commanding 2-0 lead.
Rocky Start:
The Nuggets clearly were not ready for their first playoff game in seven years, and it showed as they quickly gave away home court advantage in a matter of hours. It is like when a baseball player is hitting .330 in Triple A and then gets called up and must face a guy like Max Scherzer in their MLB debut. The Nuggets are the guy getting called up in this scenario and the Spurs are Max Scherzer. Playoff basketball is just a different animal and the Nuggets are going to have to adjust very quickly before things start to get ugly. But what can they do to get their offense going against the Spurs?
Want Kevin West's Picks for Free? Predictem Premium Plays! 
First off, the Nuggets bench was terrible on Saturday. My biggest key for them to turn things around, is getting help outside the starting five. Just as a reference, the bench scored just 22 points, while the starters scored 74. After doing some digging, I believe Malik Beasley will be the key player to a Denver win. Before you say anything, let me give you some numbers. Including the playoffs, Beasley has scored 87 total points against the Spurs this year. That is an average of 17.4 points per game, which is crazy to me because he almost exclusively comes off the bench. Bouncing off that fact, Beasley is out-playing Jokic against the Spurs this season. Jokic now has 77 total points (an average of 15.4 per game). Now I am not saying that Beasley is going to score 25 to 30 points, but if he goes out an scores 15 to 20, it will help take the pressure off the starting five an allow them to relax. It also should be noted that Beasley has quietly had a productive season. He has improved his average from 3.2 points per game last season to 11.3 points per game this season. Whether you believe me or not, Malik Beasley is the guy the Nuggets need, and he will prove it by playing a huge role in game two.
Best Bet:
 The Nuggets are still finding their feet in this series, which is worrying because the Spurs will be going for the kill shot. I believe the Spurs' defense is too good, and they will hold this Nuggets' offense in check. However, given the stakes, I like the Nuggets to win straight up to even the series, but the Spurs' defense allows them to keep this game in reach and they cover the spread.
NBA Playoff Pick: San Antonio Spurs +7
TIRED OF YOUR CREDIT CARD NOT WORKING AT SPORTSBOOKS? IT WILL AT MYBOOKIE+ GET a $1000 Free Play!
Who else wants $60 of FREE member picks & predictions?