OKC Thunder vs. Toronto Raptors Pick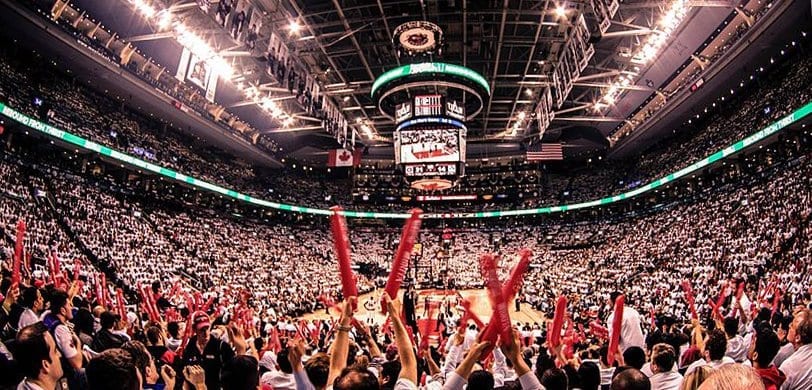 OKC Thunder (42-30, 36-36 ATS) vs. Toronto Raptors (51-21, 31-40-1 ATS)
When: Friday, March 22nd, 2019 – 7:30 pm ET
Where: Scotiabank Arena – Toronto, Ontario
TV: NBATV
By: Kyle Cash, NBA Basketball Handicapper, Predictem.com
Point Spread: OKC +2.5/TOR -2.5
Total: 226.5
Last Night in the NBA
Indiana's time of death: 12:24 EST. I'm calling this one. Well done, Warriors – you kicked a team while they were down. I hope you're proud of yourselves. No, really – I hope you're proud. You just won us some money!
Elsewhere in the NBA – no, let's forget about that. Elsewhere in the world of basketball, Ja Morant had a triple-double and did a triple-lindy in the Round of 32, Auburn and New Mexico State had a competition to see who could lose the game more, and the first day of March Madness saw my wife go 14-2 and me, who writes about basketball every day, go 12-4. Because of course.
The best 48 hours in sports continues tomorrow, and if you can find the time to break away from the NCAA tournament for a second, feel free to pop in and place a bet on our marquee NBA matchup. The Thunder are traveling up to the 6 to take on the Toronto Drakes in the second leg of their home-and-home set. Kyle Lowry is still on ice for the moment, but the Raptors still carry a 2.5-point advantage at the sportsbooks with the total set to a satisfying 226.5 points. Get ready for a kick-ass breakdown that I am totally not going to half-ass as I keep both eyes on the tournament!
Now or Never
The Thunder are playing a dangerous game. Westbrook's shooting has steadily improved over the last month or so, but Paul George's shoulder woes have brought him back down to Earth. We've already seen the version of the Thunder that heavily rely on Russ' individual offense to create points; it's a 46-win team that loses in the first round of the playoffs. But the Thunder where Paul George is an All-NBA level defender and offensive superstar? That team harkens back to the days of old when Kevin Durant's rare offensive talents helped to guide the Thunder to a 3-1 series lead over the 73-9 Warriors. If this is your first time checking in with me, you should know that I am one of the biggest Russell Westbrook defenders on the internet. But his lack of outside shooting puts a cap on the success of teams led by him. They need the PG-13 from December to come back soon, or else another first round exit looms large on the horizon.
But when it comes to narratives, the NBA is as fluid as the tide. When Boogie came back for the Dubs and they looked unstoppable, everybody jumped on the bandwagon. And now that he's been a little up-and-down in terms of his defensive and agility, the narrative is that he's unplayable in certain series. That's what OKC can do here tonight – flip the narrative.
A win tonight would do just that. But how do they go about doing that? Toronto is an excellent and talented offensive team, but OKC's defense is where their bread is buttered. They force the most turnovers, allow the 4th-fewest points per 100 possessions, and they rebound the living shit out of the ball. The best way for OKC to topple the Drakes is through some good old fashioned bully ball. Westbrook's maniacal attack's to the rim create passing lanes for open shooters, and when the defense is scrambling to close out, offensive rebounding becomes a much more profitable affair. Between Adams, Grant, and Crazy Russ, they can punish Toronto on the offensive glass and create second-chance opportunities – they're third in the NBA in offensive rebounding. If you can't beat 'em, beat 'em up.
TIRED OF YOUR CREDIT CARD NOT WORKING AT SPORTSBOOKS? IT WILL AT MYBOOKIE+ GET a $1000 Free Play!
Kawhi 2.0
Coming into this NBA season, the big question about the Raptors surrounded their new superstar's health: was Kawhi going to be 100% after his quad issues that forced him out of San Antonio? Without him, the Raptors have managed to stay afloat. And how, you ask? Allow me to point you in the direction of the NBA's Most Improved Player: Pascal Siakam. I used to think that the Spurs were manufacturing Euro guards and shooters from a machine in a hidden factory somewhere in the Alamo, but we might need to start investigating the Toronto area for such a facility too. Kawhi 2.0 is here to stay.
And the aforementioned tandem is the biggest cause for concern for the Oklahoma City Thunder. Siakam's length and defensive intensity was enough to throw Russ and PG for a loop, and Kawhi's deathly defense and deadly midrange pull-ups were the ultimate reason for the Thunder's eventual demise.
To bury OKC one final time, the Raptors would be wise to employ more of the same. Toronto has no shortage of ball handlers, shooters, and long-armed defenders, and Nick Nurse used them to their full abilities on Wednesday. With home-court advantage, a day's rest, and Kawhi rounding into playoff form, I see no reason why this game should be anything but a re-run from Wednesday night.
Best Bet
You would think that the team that just won this exact match-up by 9 points less than 48 hours ago on the road would be more than 2.5-points, wouldn't you? There's only two possible explanations: 1) the oddsmakers see the Raptors as an inferior team without Lowry's services, and they respect the hell out of the Thunder, or 2) they were so wrapped up in March Madness that they totally forgot to properly handicap this game. Usually, with a line this fishy, I steer far, far away – there are plenty of other ways for me to lose my money tonight. But you're forcing my hand, and I can't see any logical reason why the line is only 2.5 points. So, what do we do? We ignore the hook and bite the bullet. Toronto, despite their team record, has been one of the worst ATS teams in the NBA, and this seems like the sports books trying to throw them a bone. But they forgot about one thing, and his name is Russ. Westbrook's revenge! Book it.
Final Score Prediction: OKC Thunder 118 – Toronto 114
Who else wants $60 of FREE member picks & predictions?