Philadelphia 76ers vs. Orlando Magic Pick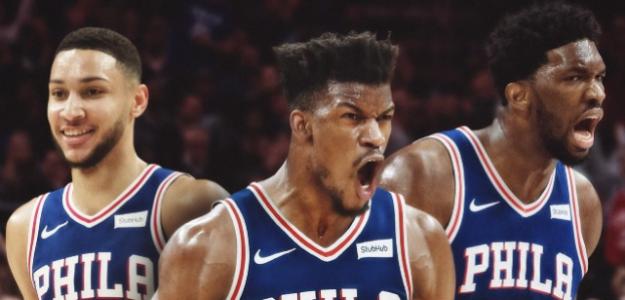 Philadelphia 76ers (47-26, 34-39 ATS) vs. Orlando Magic (35-38, 37-34-2 ATS)
When: Monday, March 25th, 2019 – 7:00 pm ET
Where: Amway Center – Orlando, FL
TV: NBATV
By: Kyle Cash, NBA Basketball Handicapper, Predictem.com
Point Spread: PHI -2.5/ORL +2.5 (5Dimes)
Total: 221
Last Night in the NBA
Welcome back, everybody! I know, I know – we all had Gardner-Webb in the Final Four to take on Abilene-Christian, so it's tough to deal with a broken bracket. But the NBA is a place where money can be made daily and in months other than March, so come on over to the dark side with me – we have cookies and expert gambling advice.
While the kids were playing amateur basketball all weekend, the professionals were still hard at work. LaMarcus Aldridge vaulted up 4 spots in my favorite players ranking by dropping 48 on the Celtics, and giving Mr. Franks a rare loss of late. The Knicks and Cavs enjoyed dueling blowouts to further secure their Zion odds, and Jeremy Lamb brought some of that UConn magic back with one of the most ridiculous game-winning shots you'll ever see. Insane NCAA Buzzer Beaters this weekend – 0. Insane NBA Buzzer Beaters this weekend – 1. Check out this poor bastard's night…
Tonight, I finally get to return to the motherland as we break down the Philadelphia 76ers' road trip down south to take on the Orlando Magic. The Magic trail Miami by 1 game for the right to get slaughtered by Milwaukee in Round One, and with only 9 games remaining, every second counts. Philadelphia, meanwhile, decided to take some PTO on Saturday and join in on the onslaught that occurred against Philadelphia sports teams all day. With potential playoff-seedings on the line, the sportsbooks expect a closer affair with the Sixers only a 2.5-point favorite and the total set to a disappointing 221 points. Cue the Vucevic #RevengeGame in 3…2…1…
Hello, Old Friends
How I've missed you. My beloved 76ers have been in my heart and on my mind, but I've been unable to wax poetic about this incredible team in quite some time. To save you from such a fate, I've compiled my hot takes from the post-Tobias trade Sixers into a nice little list: Brett Brown is the 76ers' version of Andy Reid, we should have traded Jimmy Butler straight up for Tobias at the dead line, I wish we were the 4-seed so that we could play Milwaukee instead of Toronto, trading Landry Shamet/not getting back Patrick Beverley probably cost us a title, and lastly, and most importantly, no one wants to play us in the playoffs and this team is going to go to the NBA Finals. Full disclosure: I've softened on my Jimmy take. It's a love/hate thing, but Clutch Jimmy is one of my favorite Sixers ever.
People like to pick apart the Sixers' "chemistry issues" on all of the talking head shows, but from what I've seen in person, most of that is overblown. Up until the snafu at Atlanta on Saturday night, the Sixers were 7-1 with their new starting five on the court together, and aside from a bit of uncertainty surrounding Ben Simmons' best possible role, the offense is humming along like a drum. Go ahead and make your snide remarks, but just remember: Joel Embiid is an unstoppable force (and an immovable object), Jimmy Butler can go from Andrew Wiggins to Michael Jordan over the span of a TV timeout, Ben Simmons shoots with the wrong hand and still has a better field goal percentage than your favorite player, and Tobias Harris is the Elmer's Glue that holds it all together. Oh, and also they have one of the 5-10 best shooters to ever walk this Earth. Do you need more analysis on why it's fun to bet on the Sixers?
7 March Madness Bonuses Ranked by Predictem!
Okay, time for some negatives. Aside from a Mike Scott heat check, a James Ennis put-back, or a TJ McConnell stolen inbound pass, the bench leaves something to be desired. The Sixers can blow a lead as easily as they can build one, and their +3.2 Net Rating indicates that they don't usually blow the doors off of teams. In fact, they only have one double digit victory since the All-Star break, and it is not outside of the realm of possibility that they hit the snooze button through this one and lose straight up. Hard work beats talent when talent doesn't work hard, and the Magic are certainly hard at work after winning four in a row. A small spread is reason enough to heavily consider the Sixers, but don't come crying to me if we get a Jimmy Butler temper tantrum and an Aaron Gordon career game. That's just the kind of stuff that happens to Philly.
Welcome to the Party, Pal
Hello, Magic fans! It's nice to have all 13 of you present at once. The last time the Magic had a pulse this late in the season was somewhere between the Dwight Howard-era and the Hedo Turkoglu PED scandal, but this is a welcome change up to the monotony of skewering LeBron's Lakers every night. Then again, there is a lot more meat on the bone when it comes to Big Baller Brand's collapse or LeBron's impending executive producing disaster then there is when talking about a Vuc-Aaron Gordon high-low game and the worst collection of guards in the NBA. Ultimately, Orlando's ultimate destiny is to come up just short of the playoffs, trade or let go of their collection of veteran talent that allowed them to peak this year, and then enter into a soft rebuild led by…Markelle Fultz and Mo Bamba. Yikes. I hope you Orlando fans aren't anticipating any June basketball any time soon.
But before they kick the tires on their roster, the Magic are trying to perform one final trick to make the Miami Heat disappear and steal the division. To do so, they'll need to start tonight by taking down the 76ers and hoping for some luck along the way. On the season, Steve Clifford's team has hovered around league-average for most of the important statistics, but they've recently been able to use their pace and size to their advantage and have climbed all the way up to 7th in Defensive Rating. With an above-average centerpiece in Vucevic, the Magic's backline is a legitimate problem for my son Joel to deal with.
And if history is any indication, Orlando has a better chance of stealing this game than you would think. The Sixers tend to play down to their competition, and the Magic are just frisky enough to make them pay for it. Orlando owns a 1-2 record against Philly this year with both losses coming by a combined 9 points, so the small spread is warranted. However, assuming that no one on Philadelphia decides to take the night off, this will be the first time that the Magic have been subjected to the full power of the Sixers' new regime. If you start to go through the individual match-ups, you're left with more questions than answers, and I wouldn't feel too confident punching the betting ticket in favor of Orlando. Do so at your own risk.
Best Bet
The problem with the Philadelphia 76ers is that they can sometimes display a "Holier than Thou" mentality that they haven't fully earned yet. When you're the Warriors and you have won 3 of the last 4 championships and own one of the most talented rosters in NBA history, you get a pass when you sleepwalk through a March game against a crappy opponent; Philadelphia does not. Orlando is not a crappy team (and Atlanta might not be that bad, either), but they're still the Orlando Freakin' Magic. The home team may be chomping at the bit for a playoff appearance, but the Sixers still need to put together a win or two down the stretch to secure the 3-seed in the Eastern Conference playoffs (assuming that is something that they want). Lose to Atlanta once? Shame on you. Lose to Orlando the next game? Cost us money.
Final Score Prediction: Philadelphia 111 – Orlando Magic 106

-105 Reduce Pricing
---
Pay less per bet &
get largest betting menu