Philadelphia 76ers vs. Utah Jazz Pick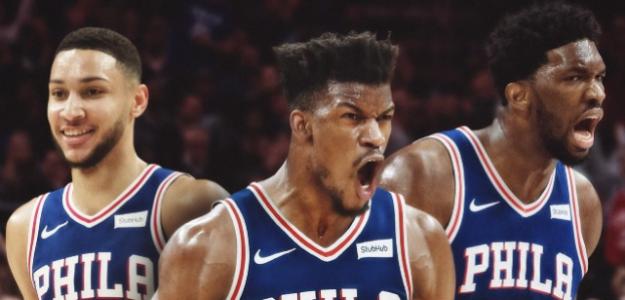 Philadelphia 76ers (22-13, 16-19 ATS) vs. Utah Jazz (17-18, 17-17-1 ATS)
When: Thursday, December 27th, 2018 – 10:30 pm ET
Where: Vivint Smart Home Arena – Salt Lake City, UT
TV: TNT
By: Kyle Cash, NBA Basketball Handicapper, Predictem.com
Point Spread: PHI +5/UTA -5 (5dimes Sportsbook)
Total: 218.5
Last Night in the NBA
Final Score Prediction: Toronto Raptors 106 – Miami Heat 104
Apparently, this guy is just giving out exact scores these days. Kyle Cash-tradamus has correctly predicted his last six in a row, and he reserves the right to speak in the third person until his win streak comes to an end. In terms of major life events of 2018, Kyle ranks this win streak second – right below when he won $200 with a score of 212 points in Daily Fantasy Football and right above his wedding. Thank God his wife already forgot the name of the website that he writes for.
Elsewhere in the Association, the Spurs continued their Undertaker-esque resurrection with their 8th win in 10 games, Luka assassinated Anthony Davis with a near triple-double and a couple of game-clinching free throws, and the Nets-Hornets game was far and away the most entertaining one of the evening. When two of your four most boring teams play a double OT thriller, you know your league is in a great spot.
Tonight, I have the great misfortune of breaking down the first game of my least favorite part of every season: the 76ers Christmas Break West Coast road trip. I didn't check the exact numbers, but I believe we've lost 100 out of our last 100 games in this stretch of the season, and they catch the Jazz fresh off the heels of a Portland Trail Blazer beatdown on Christmas Day. Betting sites currently have the rising Jazz favored by 5-points over the visiting Sixers with the total set to a middling 218.5 points. Time to put on a late-night pot of coffee and settle in – it's going to be a late night in the Cash household.
Ben-Jammin' Doin' His Thing
Ugh. Do I really have to do this? I have to relive my Christmas Day nightmare? My stockings were hung by my chimney with care, but no sugar plum fairy dreams danced in my head – just crippling anger and depression. Melodrama aside, the 76ers were one J.J. Redick semi-open 20-footer away from slaying the beast, and it finally gave Philadelphians a sliver of hope that there's a light at the end of this tunnel. To me, it just showed that the East playoffs really are a five-horse race, and if the Sixers want to rise above Toronto, Milwaukee, Boston or Indiana, we're gonna need J.J. to make that effing shot.
I've already lamented the historical merits of the Sixers on their West Coast road trips, but this Jazz game is a legitimate test. Utah has looked more like the team that we all expected them to be this season, and they've climbed all the way up to 5th in defensive efficiency. There are maybe a handful of people on planet Earth qualified to contain Joel Embiid in the low-post, and Utah happens to employ one of them. Utah hasn't been as good at home this season, but there's always worry that the crazy Jazz-faithful will turn up for this game and get excited.
Luckily for Philly, they have the actual 2017-18 Rookie of the Year on their team, and he's been stellar as of late. Shooting woes aside, Simmons has averaged 18 points, 11 rebounds and 8 assists with two triple-doubles on 63% shooting one that before. Most importantly, Ben Simmons is a mean Aussie at heart, and he hates Donovan Mitchell as much as I do. A little bit of extra juice never hurt anybody, and Simmons' 3-0 record versus the Jazz gives me life.
Dono-Man, You Hate Passing
I'm pretty sure that this is the first time I've unveiled it, but bear with me if you've heard my made-up statistic before. I call it the Kiki – a game when you have 20+ points but 3 or less rebounds and 3 or less assists. Its namesake is obviously the great Kiki Vandeweghver his last 5 games. I don't need to run Play Index on Basketball-Reference to tell me that not many NBA players have doe, who surprisingly has the 3rd most amount of Kikis in NBA history but is the only player to hit those averages over the course of a season. It's a very roundabout way of calling someone a ball-hog, and it pops up mostly in scoring guards – think Klay Thompson, Eric Gordon and J.J. Redick. But 3rd most on that list over the last two seasons is the supposedly great Donovan Mitchell, who is the best basketball player of all time (according to him). For a guy who wants to be (and thinks he already is) the best player on a championship team, you would think Donovan would focus more on team success than getting his own shots up. By the way – I have another stat I like to watch called the J.R. Smith: 8 or more 3-point attempts in a game with 1 or less makes. Tied for 2nd on that list? Donovan Mitchell and Lonzo Ball. Sometimes, Kyle Cash knows what the eff he's talking about.
In order to take down the visiting Sixers, the Jazz are going to need to hone in on their defense. The Jazz have yet to hold Philly under 104 points in the Ben Simmons-era, but a healthy Gobert should be able to change that for them in this one. On the offensive end, Philly has had a hard time containing scoring guards over the course of the season, and Kyrie lit them up like a – well, like a Christmas tree, and it's a trend that I hope ends sooner rather than later. With Rubio clicking on all cylinders, Joe Ingles shit-talking dudes as he cans 3s in their faces and Donovan Mitchell at least returning to the scoring form that he flashed a season ago, Utah has the ability to turn defense into offense. Against the team that ranks in the bottom-six in turnover percentage, Utah may be able to up their pace and capitalize on a sleepy Sixers team. Or, hopefully not.
Best Bet
Man, I am torn. The Sixers were already one of my picks on Saturday as part of my win streak , but that was a much easier game to handicap. I really, really love the 76ers' chances tomorrow. Sometimes, you just own a team – there's really no shame in it, Utah. Joel Embiid thinks he was the Defensive Player of the Year last year, Simmons knows he was the true ROY, and Jimmy Butler should have no problem generating some bad blood with Jinglin' Joe Ingles. Unfortunately, this team is just different when they are forced to go on the road. I've seen firsthand the damage that a Philly crowd can do to an opponent; two years ago, we Jedi mind-tricked DeAndre Jordan into four straight airball free throws, and the place was reacting like if Jennifer Aniston had just done a striptease in the middle of half-court. It was an absolute madhouse. With the lack of Sixers transplants in the greater Salt Lake City area, and the Sixers abysmal splits (6-10 ATS as a road team, 4-7 ATS as an underdog), I'm going to hold my nose and ride the Jazz and the points in this one. And in case you're wondering – no, I am not above reverse jinxing my team while sabotaging my own win streak. I am not a strong man.
Final Score Prediction: Utah Jazz 107 – Philadelphia 76ers 98