Toronto Raptors vs. Miami Heat Pick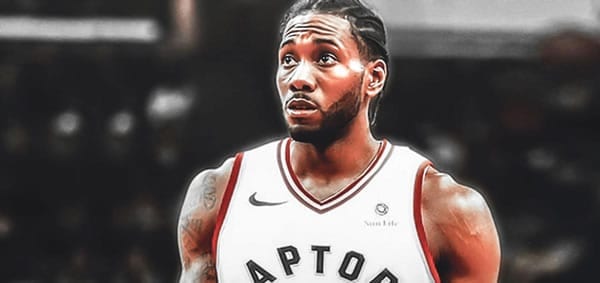 Toronto Raptors (25-10, 15-19-1 ATS) vs. Miami Heat (16-16, 18-14 ATS)
When: Wednesday, December 26th, 2018 – 7:30 pm ET
Where: American Airlines Arena – Miami, FL
By: Kyle Cash, NBA Basketball Handicapper, Predictem.com
Point Spread: Toronto -4
Total: 210.5
Last Night in the NBA
Talk about a triple nut punch directly to mine and LeBron's groin. Sixers lose in overtime, Warriors get blown out and LeBron gets hurt, and then the one game I can watch uninterrupted by Christmas festivities turns into a blowout. I'm not mad, Christmas – I'm just disappointed.
In all honesty, the Sixers-Celtics game was potentially the game of the year so far, but I had the misfortune of watching it in a room full of non-NBA people who continue to spout the rhetoric of "NBA teams don't play defense." It's not their fault – they're just a little behind the times. I'll say this once for everyone in the back: hustle is not the only aspect of defense. Just because some Communications major from Arizona State dives over the front row for a loose ball does not mean he is playing more defense than an NBA guard. Work smarter – not harder.
With the holiday season behind us, let's look ahead to the end of 2018 with a match-up between the Toronto Raptors and the Miami Heat. Since there's a possibility that Toronto's starting five could consist of Drake, Justin Bieber and Prime Minister Trudeau, Vegas has neglected to create a line yet for this contest. Let's break it down anyway, eh?
Raptor's Extinction
About a month ago, the Sixers were struggling to incorporate Jimmy Butler, Boston's best five included neither of Kyrie Irving or Gordon Hayward, and Giannis' lack of a jump shot was keeping the Bucks down. Today, Philly's Big 3 is becoming a real problem for opponents, the Celtics (and more importantly, Kyrie) are back in action, and…Giannis still can't shoot. But the East is as wide open as I can ever remember It (I'm 25, so I can't remember that much) and there are four – or five, or six – legitimate threats to the crown. Now may be the time for Toronto to get done licking its wounds and start separating themselves from the pack.
TIRED OF YOUR CREDIT CARD NOT WORKING AT SPORTSBOOKS? IT WILL AT BOVADA + GET A 50% BONUS!
In order to do so, they'll first have to travel to the fabled South Beach and dispatch an equally injured Miami Heat team. As far as I can tell, Toronto should be near full strength on paper, but their scrapes and bruises parlayed with their full Christmas tummies may inhibit their success tonight. The Heat have a hodgepodge of underperforming talent, but Spo has them playing slow and dirty as they rank near the bottom in pace and top-10 in team defense. Miami has been particularly stour in its last 5 contests, allowing a league-low in points in the paint and allowing the second-lowest 3-point percentage. With Coach Nick Nurse's run-and-gun style of offense that relies heavily on outside shooting, Toronto may find their usual buckets harder to come by in this one.
Turn Up The Heat
It's getting colder outside, but the action is hotter than ever inside! One of these days, I may just speak entirely in NBA announcer cliches until someone notices. If a color guy was going to describe this Heat team, it would be something like: gritty, tenacious, tough, hard-nosed. Dwyane Wade is the "savvy veteran," the "leader in the locker room," or maybe even "the glue guy." Tyler Johnson is "surprisingly" athletic (read: white). Justise Winslow is "going to be a problem for a very long time." Hassan Whiteside is "a colossally overpaid lazy pain in the ass." You get the picture.
Betting this game 100 times at -110 instead of -105 could be the difference between winning and losing. Always price shop for the best line. A half point in the NBA can be worth anywhere from 4 to 12 cents in vig. Get both with a reduced juice book and your'e in the advantage column. 
As they take on the Raptors, it's almost as if the Ghost of Christmas Future came to visit the Heat to show them what their lives could be. Miami lacks a superstar talent, and they have more non-max contracts than I even knew was possible. They've gone past the basketball egalitarianism and turned it into straight up communism; every guy makes roughly the same. The Raptors are similar in that regard – at least, if Kawhi is less than 100%. But they are the best-case scenario: a do-it-all defense combined with athletic wings, sharpshooters, and multiple playmakers. Miami has the Dollar Store versions of all of Toronto's players, and they would be wise to avoid a shootout. But Coach Spo knows what he's doing, and the Heat are going to make this one fugly. Think "Pistons-Pacers 2003" levels of fugly. Think: under.
Best Bet
When I sat down to fill out my football pool on Saturday afternoon, I nearly choked on my chocolate covered pretzel when I saw that the Titans were favored by 11. Tennessee couldn't score 30 points on the Ridley Raiders, let alone another warm-bodied NFL team. Thus, my thesis was formed: less points = less possibility of a wide margin. And that's how I view this game. I would assume that, at full strength, Toronto will be favored by around a touchdown, and that's all the Heat and I are going to need. The NBA season starts on Christmas Day, and so does my win streak as the Heat give Toronto all they can handle – and maybe even gift them an L for Boxing Day.
Final Score Prediction: Toronto Raptors 106 – Miami Heat 104