LA Lakers vs. Golden State Warriors Pick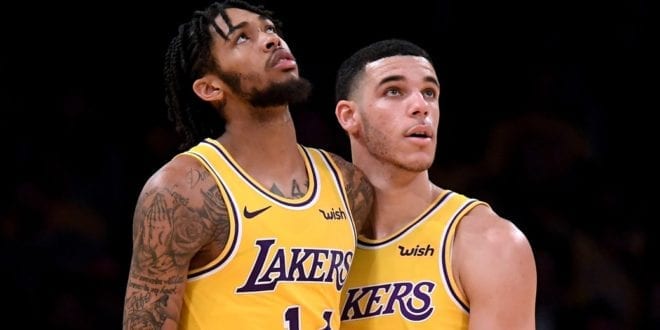 LA Lakers (19-14, 14-19 ATS) vs. Golden State Warriors (23-11, 14-20 ATS)
When: Tuesday, December 25th, 2018 – 8:00 pm ET
Where: ORACLE Arena – Oakland, CA
TV: ABC/ESPN
By: Kyle Cash, NBA Basketball Handicapper, Predictem.com
Point Spread: LAL +9/GSW -9 (Bovada Sportsbook)
Total: 235
NBA Advent
To celebrate the holiday season, let's countdown with a fun NBA fact or statistic related to the number of days left until Christmas:
1 – I could go micro for this tidbit and detail some of the number 1 draft picks, or best players that wore number 1, or how J.J. Redick led the league in 1st quarter scoring for a few seasons in a row. Instead, let's take a look at the macro and give ourselves a nice pat on the back. The NBA is far and away the biggest competitor to the NFL's crown, and for my money, NBA fans are the #1 fans in the world. The social media engagement and knowledge of the salary cap and the draft picks and the player movement combined with the on-court product of threes and dunks and incredible athletes and personalities is catapulting the league into the stratosphere. Enjoy your time in the spotlight, NFL – the NBA is coming for you and will be the number one sport in America soon. To me, it already is.
Last Night in the NBA
With the NBA allowing Christmas Eve to be a day of familial merriment as opposed to gambling degeneracy, let's forego the full NBA breakdown in lieu of a closer inspection of the Lakers and Warriors previous games.
LeBron signed his name, licked a stamp and mailed in the Lakers' match versus the Memphis Grizzlies as Jaren Jackson Jr. casually drained a step-back game-icing 3-pointer in his face. Most notably, Lonzo Ball was relegated to the bench in crunch time as Luke Walton decided his 0-7 shooting from deep (now 30.9% for the season) wouldn't be needed in order to help the Lakers stage a comeback. Keep buying up that Lonzo Stock, idiots – I'll be shorting that and sipping pina coladas on my own private island while you do.
Meanwhile, Stephen Curry shimmied and flexed his way to 42 points and a game-winning layup against the lively Clippers. After being publicly shamed by ESPN talking heads for making 1 three-pointer in his previous nine games, Draymond Green has canned two triples in back-to-back contests, and there's signs of life in the 28-year old big man out of Michigan State. Take that, Stephen A.              
TIRED OF YOUR CREDIT CARD NOT WORKING AT SPORTSBOOKS? IT WILL AT BOVADA + GET A 50% BONUS!
I'll be three drinks, two slices of pie, and hopefully one Sixers victory into my Christmas evening by the time this game rolls around, but it's the premiere draw of the festive slate. The defending champs are sitting comfortably in their home arena as a 9-point favorites over LeBron and Co. with the total set to a scorching 235 points. Chestnuts and Lonzo being roasted on an open fire – my kind of holiday.
Big Trouble in Little LA
Uh-oh, Lakers. No more Cleveland, or Phoenix, or Atlanta, or Miami, or Charlotte or Washington. It's time to take on the champs, and win or lose (lose, probably), this game is going be the headliner for sports outlets for the next week straight. It's been an up-and-down LA experience so far with LeBron, but his season begins today, and don't be surprised to see the Lakers make a couple of moves in the weeks following this one. A Christmas date versus the Warriors is the ultimate battle simulator for Computer LeBron to see what he has and what he needs in order to keep pace in the Western Conference. If I were Lonzo, Ingram, or Kentavious Caldwell-Pope, I would be renting – not buying.
Against the Warriors, there's a very effective blueprint that the Lakers can follow, and it's called "The 2015-16 NBA Finals Cavaliers Team." Slow the ball down, bang bodies, make it ugly. The last thing that the Lakers need is for this game to turn into a 3-point contest. With their lack of outside shooting, LA has been forced to be dominant elsewhere, and they take and make more shots in the restricted area than almost anyone else. Unfortunately, without JaVale McGee, their list of hyperactive bigs is down to 0, and the Warriors struggle more versus the Tristan Thompsons of the world than the Tyson Chandlers.
In order to take down the champs, LeBron is going to have to enter into his Super Saiyan mode, and even that may not be enough. Brandon Ingram is built like Durant but can't hang with him; Lonzo has developed his body (if not his jumpshot), but I shudder to think what Steph can do to him when properly motivated; and Kyle Kuzma is giving up 50 pounds and 100 CCs of testosterone to the pitbull Draymond Green. Luckily, the Dubs are dead-last in the NBA in opponent's field-goal percentage in the restricted area, and the Lakers will need to trade a lot of 2s for 3s to keep pace. The only question is – is LeBron motivated to do so?
Christmas All-Season For Warriors Fans
Man, it must be nice to be a Warriors fan. Don't get me wrong – they are one of the more loyal fanbases in the country, and it's amazing the team that they have constructed largely through the draft. This was my hope for the Sixers, but unfortunately, Markelle Fultz is not exactly Stephen Curry 2.0. A team comprised of peak Steph (which were in the middle of right now), Klay Thompson and Draymond Green alone is probably already a Finals Contender each and every year. In fact, they were just that! One less nut punch by Draymond and we're not living in this world. But adding Kevin Durant is, quite frankly, redundant, and I hate them forever for it. I like my Stephen Curry free and clear of any other ball-dominant players, and we were forever robbed of another insane Steph year. Please leave, Kevin. PLEASE!
On their best day, the Warriors should be able to dispatch the Lakers with ease. On their average day, it should still be a W for the champs. But how much better are they really? Stylistically, Portland and Washington (LOL) are probably the closest comparisons for the Steph-Klay backcourt, and the Lakers struggled mightily with both of them – and that's not even including Kevin Durant. Statistically, the Dubs are up to their typical ways: 1st in offensive rating, 1st in true shooting, 1st in effective field-goal percentage. Steph is even nearly replicating his unanimous MVP season. And yet – their point differential has decreased the last two seasons from 11.6 to 6.0 and now down to 4.2. In a word: they aren't blowing teams out anymore. They've always struggled with LeBron-led teams, and all of their offensive wizardry may end up being for naught if the King is fully engaged. Tread lightly, Warriors fans – this may not be the blowout you're looking for.
NBA Pick
LeBron v. Warriors – Christmas Day results:
2015: Golden State 89 – Cleveland 83
2016: Kyrie Game-Winner 109 – Golden State 108
2017: Golden State 99 – LeBron 92
Sensing a trend? Despite winning 3 out of the last 4 championships, the Warriors have struggled to put any distance between themselves and LeBron's disheveled teams – at least in the Christmas Day game. Maybe, on such a family-oriented holiday, Kevin Durant's bachelor-dom versus LeBron's Dad-strength plays more of a factor than we can possibly know, and I've made it a point in my career not to gamble against mystical unknowns. More importantly, this LA team is a largely unknown commodity – is Brandon Ingram good? Can Lonzo truly share the court and space it for LeBron? Does The King even like these guys – or is he DM-ing Anthony Davis and Damian Lillard every night while his teammates are asleep in bed? In my professional opinion, I would say that the line is fair. The Warriors are clicking on nearly all cylinders, while the Lakers are, well, not. But I'm no Scrooge, and I refuse to let the Ghost of LeBron's Christmas' Past ruin my holiday. Let's side with history, close our eyes, and take the points that have been gifted to us. The last thing I need is a big lump of coal from the Grinch-ly Kevin Durant. Merry Christmas to all, and to all a good ROI!
Final Score Prediction: Golden State Warriors 108 – LA Lakers 101