Portland Trail Blazers vs. OKC Thunder Pick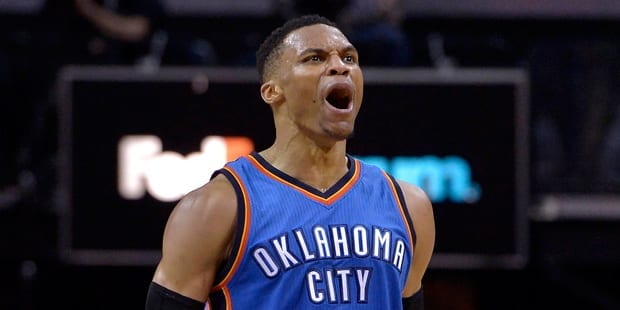 Portland Trail Blazers (53-29, 45-36-1 ATS regular season – 2-0, 2-0 ATS playoffs) vs. OKC Thunder (49-33, 42-40 ATS regular season – 0-2, 0-2 ATS playoffs)
When: Friday, April 19th, 2019 – 10:30 pm ET
Where: Chesapeake Energy Arena – Oklahoma City, OK
TV: ESPN
By: Kyle Cash, NBA Basketball Handicapper, Predictem.com
Point Spread: POR +7.5/OKC -7.5
Total: 222
Situations: NBA Western Conference Playoffs – Round 1, Game 3 – Portland leads 2-0
They said I was too close to the team involved. They said that everything that I bet turns to mush. They said that every time I pick the Sixers to win, bad things happen. They talk a lot; we don't listen. Sixers in 5! 
Let's keep our momentum going as we head into our Friday night slate and take a deeper dive into the most important game of the night: Portland @ OKC. The Thunder have their backs against the wall and one foot out the door. They need a convincing victory to breathe some life back into this series. As such, sportsbooks like Bovada have OKC as a 7.5-point favorite over the leading Blazers with the total set to a measly 222 points. There is no way OKC loses in the first round again – is there?
Redemption: Thy Name is Dame
Virginia Cavaliers who? Portland suffered an embarrassing sweep at the hands of Jrue Holiday and E'Twaun Moore last year, and they were nearly at the point of splintering. I was wholeheartedly invested in a Lonzo-Hart-1st round pick-for-Dame reddit conspiracy theory and was fully prepared to hit the eject button on this Portland season. But despite a mid-season malaise and an unwelcome visit from the Injury Gods, they managed to scrap and claw their way back to relevancy, and guess what? I think they're going to play the downtrodden victor of a Houston-GSW second-round bloodbath in the Western Conference Finals. How's that for a redemption story?
Please excuse me while I finish counting these chickens. Perhaps we should take a minute to acknowledge the age-old wisdom of someone somewhere: a series doesn't start until a team wins on the road. By that logic, Portland hasn't even played a playoff game yet, but I bet they would like to start the series tonight.
In order to do so, the Blazers need not do a thing differently. "Run it back," as the kids say. Whether it be luck, scheme, or self-inflicted wounds, PDX is forcing the Thunder into a disastrous shooting performance through two games. Meanwhile, Dame and CJ are dropping dueling 30-point outings and carving up the young, inexperienced wings on OKC. Unless PG13 or Russ show a flash of their All-Defense potential tonight, it's going to be more of the same for Portland. You can't counterpunch if the opponent hasn't even taken a swing yet, right?
National Brick-Layers Association
I mean, what do you want me to do? Lie to you? It's looking bad. OKC couldn't throw a rock into the ocean at this point. They are 10-for-61 from downtown through 2 games, and both of them were sub-20% from 3 efforts. In the regular season, there were 100 instances where a team shot 20% or worse from 3-point land, and that team lost 89 of those games. Do you need me to spell it out for you? THIS IS BAD.
If you're still on the Russ Bus like myself at this point, you're clearly a masochist. But we still believe; we still think that the world rewards those who give their all. And let me tell you something: Russ might be giving us too much. Maybe focus less on getting up shots and more on stopping Lillard, comprende?
But what is a guy to do? Paul George's arm is hanging by a thread like Sheriff Woody in Toy Story 2, and there's no Al from Al's Toy Barn to stitch him up in time. The only option left for OKC is to ramp up their drives and use their length and athleticism to try to turn some defense into offense. NOLA was able to overpower PDX last year through just that, and OKC is, on paper, just as long and athletic (minus AD in the middle). If the Thunder can use their elite turnover skills to push the pace and muck up Portland's half-court flow, they should walk away with a W. It's kitchen sink time, fellas.
Best Bet
Just as a side note: I don't have the numbers in front of me, but just know that betting the first half spread on a team that is down 2-0 in a series hits like 80% of the time. That's not even something I looked up – I just have random bits of information like that because I have a problem. It's even reflected in the line; OKC is -7.5 for the game and -6 for the first half. Even still, there's one winner for you. From there, it follows that we would like OKC to cover the full game spread. This is going to play out one of two ways: 1) Portland comes out swinging in the third and we get some last-minute buzzer-beater action, or 2) OKC buries them coming out of the half and Portland lives to fight another day. My affinity for Russell Westbrook has my heart leaning towards the latter, but Portland is running red-hot and I think that they aren't taking anything for granted this year. Big Game Dame is going to really, really floor us in one of these playoff games, and I think they have the gumption to make this thing close. But ultimately, it's a must-win for a team with two All-NBA players, so OKC will prevail in a close one. The refs will see to it – I promise.
Final Score Prediction: Oklahoma City 114 – Portland 110
50% Cash up to $250

Who else wants $60 of FREE member picks & predictions?