Philadelphia 76ers vs. Brooklyn Nets Pick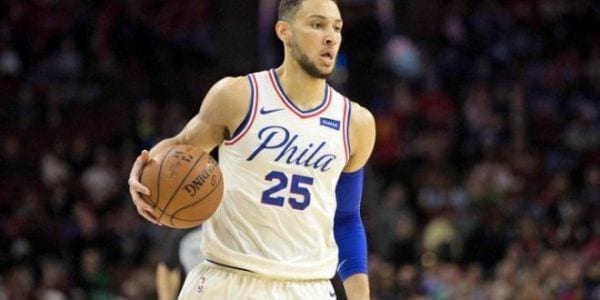 Philadelphia 76ers (51-31, 38-44 ATS regular season – 1-1, 1-1 ATS playoffs) vs. Brooklyn Nets (42-40, 45-37 ATS regular season – 1-1, 1-1 ATS playoffs)
When: Thursday, April 18th, 2019 – 8:00 pm ET
Where: Barclays Center – Brooklyn, NY
TV: TNT
By: Kyle Cash, NBA Basketball Handicapper, Predictem.com
Point Spread: PHI -2.5/BKN +2.5 (BetOnLine)
Total: 227.5
Situations: NBA Eastern Conference Playoffs – Round 1, Game 3 – Series Tied 1-1
When you're right, you're right. Harden did Harden things, Donny Mitch needed 19 shots to collect 11 points, and Houston polished off Utah by 20 points in the midst of a B- game for them. If Houston keeps this up any longer, we might need to replace Brigham Young with James Harden as the true owner of the state of Utah. Does JHU roll off the tongue? Would we have gotten Jimmer in a JHU uniform? I like to think so.
This financial analyst has a free day off for Good Friday, so you can catch me on the couch surrounded by basketball statistics and 76ers paraphernalia. The Brooklyn Nets host the Philadelphia 76ers on Thursday in a series with increasingly petty behavior from both sides. Philadelphia is currently a 2.5-point favorite (assuming Embiid plays) with the total points set to 227.5 and the total likes on Embiid's shit-talking instagram post set to 434,124. I did the research – that's a fair line.
Ben Giveth, Ben Taketh Away
The amount of criticism directed at a 22 year old kid in his second season who is an elite NBA athlete and is the second coming of Magic Johnson is head-scratching to say the least. Could Simmons be operating as more of a roll man in the half-court to unlock some of his playmaking and passing? Sure. I agree. But pick and rolls require spacing, spacing requires shooting, and the Sixers are a bit tight in that department. We have too many on-paper shooters; we need more game-time shot-makers other than our 7'5" backup center. I miss you, Shamet.
If the Sixers want a blueprint for how to beat the Nets, look no further than the 51-point 3rd quarter they enjoyed on Monday. Too much of the conversation around the Sixers revolves around, "Well, how are they going to defend small, crafty guards with their best five?" Um, bitch? Who is that small guard going to defend on the Sixers? Chase JJ through a sea of screens? Or do you want to try to stop our maniac 6'7" SG Jimmy Butler? Stop looking at our size as a negative – it's an overwhelming positive if used in the right way.
Unfortunately, the Sixers have a players' coach and they lack the X's and O's that you would expect from a high-level organization (I am SUPREMELY available to be hired). Through the first 1.5 games, Russell and Dinwiddie were getting whatever they wanted on offense and picking our big galoofs apart in the half-court. The bottom line is that the 76ers have allowed 117 points per game to this team, and defense isn't going to win this series; we need to outscore them. And that's easier said than done.
Bronx Bombers
If that's a trigger for any New York readers (of which I have none), I apologize. I'm not well-versed in the various nomenclature involving NYC's geography. Also, I hate you and your city and I don't care what you think (half-kidding). But your one not-too-shabby basketball team is crawling up the list of my least-liked NBA franchises. Not because I think they're bad or overrated; actually, I find them increasingly intriguing and deceivingly dangerous. In fact, of the 15 other playoff teams, they would come in 5th behind the Bucks, Raptors, Warriors, and Rockets in my "teams I don't want to play in Round One" ranking. Detroit couldn't have held on to that 6-seed for a few more days? Really?
Prior to the series, I found Brooklyn cute but ultimately harmless, but now I'm in full-on exterminator mode. This is a dangerous pest that I need to rid myself of immediately. Dinwiddie and D'Angelo play with a confidence that says, "I can get to wherever I want on the court," and it's making me think of the little kid in the Matrix that bends the spoon. They have a higher understanding of how to pick apart the Sixers than any guard I've seen not named Terry Rozier.
And that's the key to their success. Brooklyn still managed to manufacture open looks on Monday night, and they were a couple of Joe Harris 3s away from keeping that blowout competitive. Even with the full-force of a Sixers assault in the third, the game never felt 100% out of hand. Most of that danger comes from their willingness to chuck 3s; Brooklyn is 4th in the league in 3-point attempt rate and not slowing down any time soon. They've canned 26-of-62 3-pointers through 2 games (41%), and the Sixers' margin for error against a team shooting that well is razor-thin. Brooklyn can absolutely win this game, and maybe even this series – or they can regress to the mean and get swept from here. I prefer the latter.
Best Bet
I'm somewhere between, "We got 'em right where we want 'em" and "Only 143 more days until the Eagles' opening game." I'm okay with the Sixers coming out of this road trip in a 2-2 tie, but that doesn't mean it's not going to knock 6-8 months off of my life expectancy. Brooklyn apparently has sacrificed Mr. Whammy to a higher power because they make every goddamn shot against us. Sixers results in Brooklyn have been mixed at best and worrisome at worst, and as my guy @aaoharry points out, these teams have played to a virtual tie through 6 games: 3-3 each with the score locked up at 718-718. There's plenty of reason to like the home dog in this, and I won't be mad if the 76ers win by 1 on a Jimmy Butler step-back. But I have faith that the 3rd quarter is an indicator of things to come in the war ahead, and hopefully we've turned the corner. Boban forever.
Final Score Prediction: Philadelphia 126 – Brooklyn 120