[et_pb_dcsbcm_divi_breadcrumbs_module hide_homebreadcrumb="off" homebreadcrumbtext="Home" separator="sep-raquo" hide_currentbreadcrumb="off" homebreadcrumborientation="left" _builder_version="3.8″ fontsbreadcrumbs_font="Lato||||||||" fontsbreadcrumbs_text_color="#000000″ fontsbreadcrumbs_font_size="15px" fontsbreadcrumbs_line_height="16px" fontsseperator_font="||||||||" fontsbreadcrumblinks_font="||||||||" fontsbreadcrumblinks_text_color="#2567cf" custom_margin="25px|||" custom_margin_phone="30px|||" custom_margin_last_edited="off|desktop" custom_css_main_element="font-family: Helvetica Regular;" disabled="on" global_module="3641″ saved_tabs="all"][/et_pb_dcsbcm_divi_breadcrumbs_module]
NBA Slam Dunk Contest Predictions – 2019 All Star Weekend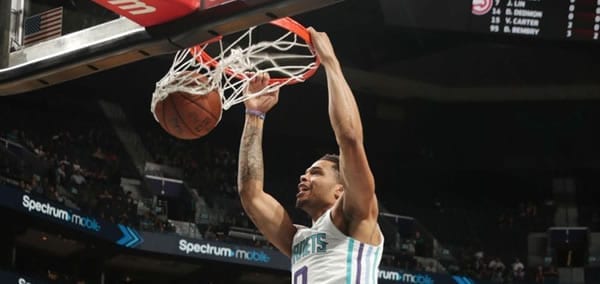 2019 AT&T Slam Dunk Contest – NBA All-Star Saturday Night
When: Saturday, February 16th, 2019 – 8 pm ET (3rd Event)
Where: Spectrum Center – Charlotte, NC
TV: TNT
After a star-studded and probably very entertaining 3-point contest, we'll end the night on a lower note as we head to the 2019 AT&T Slam Dunk Contest. If you're looking for star power, don't hold your breath. Long gone are the days when Michael Jordan and Dominique Wilkins gave us the NBA's version of Hagler v. Hearns. Depending on how you feel about Donovan Mitchell's long-term prospects (he sucks), the last time the dunk contest had a winner who had a conceivable chance at making an All-NBA team was 2011 with Blake Griffin. For every Paul George that participates, we get a Chase Budinger. For every Victor Oladipo, there's a James White.
If there's any hope for this year's – shall we say – underwhelming crop of potential victors, it lies in the memories of the 2016 Dunk Contest. The unexpected glory that sprung from an Aaron Gordon vs. Zach LaVine showdown was the singular example of two not-that-talented guys making the Slam Dunk Contest Great Again. And if we're talking about obscure names, look no further than 2019's list of participants. Nonetheless, let's take a closer look at each of the four wanna-be dunkers and see if we can weed out the "Jason Richardsons" from the "Mason Plumlees".
Hamidou Diallo: +300
That's right. I know that all of you at home are clutching your pearls and your Hamidou Diallo OKC alternate jerseys to your chest and cursing my name right now. Hamidou is, I'm sure, the favorite player of many of you. And what's not to like? He's extremely bouncy, was a five-star prospect in high school, and his YouTube montage of dunks features more two-handed running dunks than Julius Erving in Fast Break. But unfortunately for our friend Hamidou, that's pretty much all I've seen. If we're doing a power ranking of 3-and-D guys from the Oklahoma City Thunder that I would like to see in a Dunk Contest, it goes 1) Jerami Grant 2) Hamidou 3) Terrence Ferguson 4-14) Anyone else 15) Raymond Felton. The only way that Felton can be considered a 3-and-D is if we're discussing his current bra size. In short, Hamidou's performance in this year's dunk contest will be similar to his time at Kentucky: brief and underwhelming.
Most Likely Outcome: Back rims three times in his first dunk, brings out Steven Adams and Drake to jump over on his second before kicking Drake in the face
John Collins: +225
If we're pinning our hopes on one of these guys making multiple All-Star games in his life, I'm riding with John the Baptist. He has all of the makings of a consistent 20 and 10 guy for a very long time. As long as he has a point guard or primary ball-handler spoon-feeding him alley-oops, he'll be a quality second option on a good team for the majority of his career. But the dunk contest has historically been very unkind to the larger gentlemen. In fact, only two players 6'10" or above, Blake Griffin and Dwight Howard, have ever won it, and there are numerous Reddit conspiracy threads dedicated to the mystery surrounding Dwight's true height. I didn't have anything to do with them. I swear. (He's 6'9" in bare feet – you can't change my mind). Between his height disadvantage and the fact that I'm not 100% sure he can dribble a basketball, I wouldn't roll over all of your 3-point contest winnings into Mr. Collins.
Most Likely Outcome: Brings out Trae Young to throw him an alley-oop off the shot clock then takes off his shirt to reveal an Adam Levine-style "ATLANTA" tattoo on his stomach and daps up Migos
Miles Bridges: +225
A lot of people complain about being "overworked and underpaid" at their 9-to-5 jobs (present company included), but Miles Bridges is the exact opposite: overpaid and underplayed. I was hoping that Steve Clifford's exit would mean the end of Charlotte's insistence on having unofficial red-shirt years for their young guys, but Miles is only playing 19 minutes per game on an aggressively average Charlotte team. Play the man more! Even if the rest of his game hasn't yet rounded into form, Bridges has always been known for his Earth-shattering dunks. The Michigan State phenom uncorked a dunk in a Nike EYBL Bahamas game that nearly broke poor Jayson Tatum's brain. Seriously – go look it up. Bridges definitely has the power and the hops to uncork some thunderous jams on Saturday night, and if he can show a little bit of creativity, I think he's someone that the judges will look favorably upon. Miles doesn't seem like the kind of guy who misses dunks, and finishing on your first try is the most underrated required skill of the contest.
Most Likely Outcome: Makes it to the Finals, but had only planned three dunks, so he puts on a Michael Jordan jersey and repeats his first dunk over again
Dennis Smith Jr: +200
Finally, we've reached our Valhalla. Louisville took a 23-point lead over the Duke Blue Devils with 10 minutes to go the other night, and I was kicking myself repeatedly for not taking the Cardinals ML at +320. Thankfully, that betting slip ended up being as pointless as this anecdote is right now, but I'm just saying that DSJ at +200 is God's way of giving me a do-over. Of the four participants in this year's contest, Dennis the Menace is the only one who I have seen pull off any kind of dunk other than a two-hand power slam. I've been terrible at video games all of my life, but let's try an analogy. In a game like Street Fighter or Mortal Kombat, you have the finishing move, or your big power move – that's the other three dunkers. They'll rip your head off of your body and then throw it at your corpse. Miles Bridges is just as likely to mow through your body with a chainsaw as he is to clank a 3-pointer off of the side of the backboard. But Dennis Smith Jr. is the jab or the finesse move. He's another year removed from his ACL injury from high school, and he's been in this contest before. He's got a ton of bounce and a lot of wiggle, and he's got that Big D energy that you need to win this contest. If you don't believe me, ask him yourself. He's more than willing to share that on Twitter.
Most Likely Outcome: 2019 Slam Dunk Champion followed immediately by him sliding into Cardi B's DMs with his Johnson positioned next to the trophy.
That's all, folks! Another NBA All-Star Saturday night in the books, and as is the tradition with every All-Star weekend, it's time for me to go repair my relationship with my wife and make it up to her for choosing to watch this over a Valentine's Day candlelit dinner. At least I can count my winnings in the dog house.