Toronto Raptors vs. OKC Thunder Pick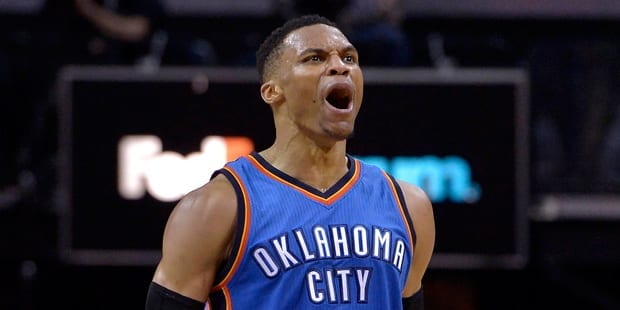 Toronto Raptors (50-21, 30-40-1 ATS) vs. OKC Thunder (42-29, 36-35 ATS)
When: Wednesday, March 20th, 2019 – 9:30 pm ET
Where: Chesapeake Energy Arena – Oklahoma City, OK
TV: ESPN
By: Kyle Cash, NBA Basketball Handicapper, Predictem.com
Point Spread: OKC -5
Last Night in the NBA
I sincerely hope that upon the news of LeBron James' absence, you immediately loaded up on the Milwaukee Bucks. I also hope that upon the news of Giannis Antetokounmpo's absence, you cancelled those bets post-haste. But thanks to some Pat Connaughton garbage time heroics, the Bucks did, in fact, cover the posted number. March Madness, indeed.
Elsewhere in the NBA, the Splash Bros turned in a throwback performance filled to the brim with 3-point bombs, D'Angelo Russell entered into a higher plane of existence to single-handedly erase a 25-point 4th quarter deficit, and the Sixers adhered to the mantra "C's Get Degrees" as they did the bare minimum to dispatch the Charlotte Hornets. With Boston on the schedule tonight (a game in which I will be in attendance), I applaud their decision to half-ass it in this one. Well done.
On the eve of my favorite sports day of the year, you can catch me crunching numbers from Ken Pom on a spreadsheet to try to fill out my perfect bracket. But while I toil away like a madman, you can watch another madman return from suspension as the Toronto Raptors travel into Oklahoma City to face Russell Westbrook's ire. With Kyle Lowry's status still up in the air, we are yet again left without a point spread. But with two good teams going head to head, we can assume a low point spread, so let's break this thing down the old-fashioned way and pick a winner. Four in a row – here I come.
Edge of Extinction
With a record of 50-21 on the season, you would think that the Toronto Raptors would have more fanfare and praise lauded upon them. For a team that is going to wind up as a 2-seed in a top-heavy Eastern Conference, I think it's only fair to mention their success in a positive light. But in reality, the depths of Toronto's success lie much deeper than the surface level of their record. They've gone all in with Kawhi as their savior, and yet he's missed ¼ of the season. Amazingly, they are 14-5 in games that he sits, and it's an indication that Toronto's organizational foundation is built upon a pillar of continued success. Everything is pointing to Kawhi leaving this summer, but fear not, Raptors fans: Toronto ain't going nowhere. Welcome to the Spurs of the North.
Sportsbooks: ASU -1.5 vs St John's 
Despite his reputation as a B-list star, Kyle Lowry is an important piece to this team, and his absence will not go unnoticed. Toronto's offense plummets from a Warriors-esque 117.8 Offensive Rating to a Pistons-esque 107.0 Offensive Rating whenever he leaves the court, and they're about 12.9 points per 100 possessions worse with Lowry out. Despite Lowry's shortcomings and Kawhi's superior talent, the Claw's impact isn't quite as great, and there are things that Lowry brings to the table that don't show up in a box score. Leadership, camaraderie, savviness, bitching at the refs – all the little things that make Kyle great.
But Toronto can cobble together a decent impersonator between Lin and Van Vleet, and two heads are better than one when facing off against Russell Westbrook anyway. Even if Russ gets his, the important duel lies between Kawhi and PG. Despite George's reputation as an elite defender, Kawhi's offense has been on point, and he's averaged 27.5 points per game versus PG in his last 4. Most importantly, Leonard's skills lie in the big picture rather than the microscopic view, and his teams have prevailed over George's in 6 of 8 career match-ups. If Paul George wants to be considered the best two-way player in the NBA, he's still going to have to go through Kawhi. Also, Giannis exists – so maybe second best.
He's Baaaaack!
Most is you probably didn't even know he left, but Westbrook's league-leading 16th technical foul landed him in timeout for Monday's game versus the Heat. Schroder does an admirable job in spot starts for our boy, but nothing compares to the real thing. Russell Westbrook's maniacal intensity is both his greatest asset and his greatest weakness; he is equally likely to ruin both his opponent and his own team with his on-court theatrics. Look no further than his surly attitude this season to see that something is bothering Russ, and we can't help him. The only thing we can do it sit back and watch the show unfold – whether it be good or bad.
Even if Russ flies off the handle again, OKC should be confident in their ability to live life without him. Westbrook takes them from good to great, but they may not need their "A" game to topple the Raptors. Toronto's elite defensive unit will be hampered a bit by the loss of Kyle Lowry, and Westbrook is much more likely to destroy the likes of FVV and Jeremy Lin than he is Villanova's finest.
But as stated above, the true match-up lies somewhere else. Paul George may be a bit dinged up, but Kawhi isn't exactly the picture of health either. For OKC to reclaim their status as the biggest threat to Golden State in the playoffs, they need one more buzz-worthy to make NBA pundits see them as the sexy upset pick. Toronto is in a vulnerable state right now, and OKC would be wise to do everything in their power to exploit that and pad their resume with another good win. And if not, they'll get another chance at Toronto on Friday. No harm, no foul.
Best Bet
As I dive into the exploits of Wofford's Fletcher Magee to explore his Kemba Candidate resume, a War of Several Kings will rage on without me. Westbrook will jack 3s, Paul George will shimmy his way through the lane, and Kawhi Leonard will lay siege to OKC's village with a stone faced demeanor that would put Michael Myers to shame. Round and round and round they'll go, and where will they stop? Nobody knows! But we do know that Toronto is trying to win a war – not a battle. I wouldn't be surprised to see Toronto conjure a road victory out of thin air, but depending on the spread, I'm much more inclined to side with the home team. OKC's conference is a blood bath, and while the rest of the NBA enters into Sleep Mode until mid-April, Westbrook has been awoken – and he's out for blood. Let's pray for something less than 4 points so we can make some money.
Final Score Prediction: OKC Thunder 114 – Toronto Raptors 108