[et_pb_dcsbcm_divi_breadcrumbs_module hide_homebreadcrumb="off" homebreadcrumbtext="Home" separator="sep-raquo" hide_currentbreadcrumb="off" homebreadcrumborientation="left" _builder_version="3.8″ fontsbreadcrumbs_font="Lato||||||||" fontsbreadcrumbs_text_color="#000000″ fontsbreadcrumbs_font_size="15px" fontsbreadcrumbs_line_height="16px" fontsseperator_font="||||||||" fontsbreadcrumblinks_font="||||||||" fontsbreadcrumblinks_text_color="#2567cf" custom_margin="25px|||" custom_margin_phone="30px|||" custom_margin_last_edited="off|desktop" custom_css_main_element="font-family: Helvetica Regular;" disabled="on" global_module="3641″ saved_tabs="all"][/et_pb_dcsbcm_divi_breadcrumbs_module]
Toronto Raptors vs. Philadelphia 76ers Pick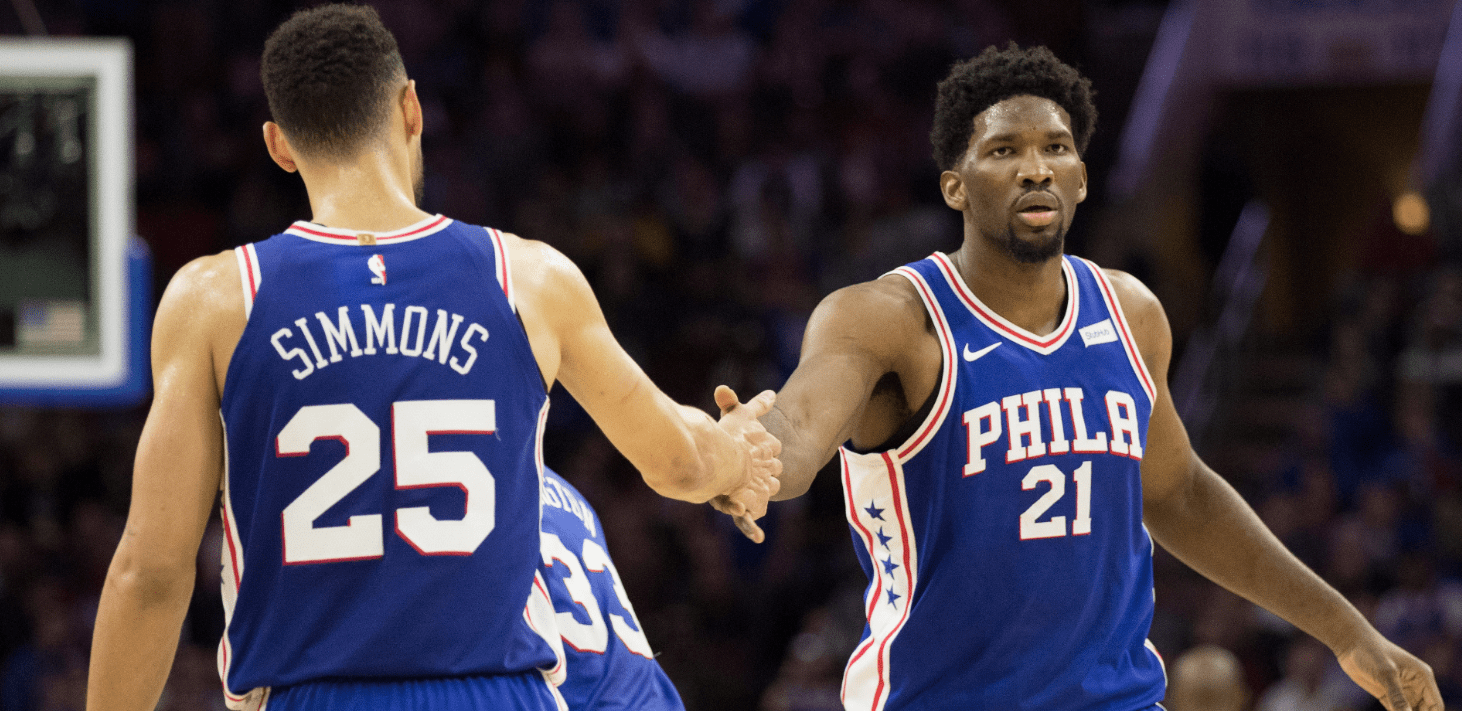 Toronto Raptors (25-9, 15-18-1 ATS) vs. Philadelphia 76ers (21-12, 15-18 ATS)
When: Saturday, December 22nd, 2018 – 7:30 pm ET
Where: Wells Fargo Center – Philadelphia, PA
TV: NBATV
By: Kyle Cash, NBA Basketball Handicapper, Predictem.com
Point Spread: TOR +4.5/PHI -4.5 (MyBookie)
Total: 220
NBA Advent
To celebrate the holiday season, let's countdown with a fun NBA fact or statistic related to the number of days left until Christmas:
4 – This is a bit of an odd one, but I think of it every time I watch either Justise Winslow or Frank Kaminsky play. It's too convoluted of a set-up to describe quickly, but just know that at one point prior to the 2015 NBA Draft, there was a trade package revolving around the Celtics' desire to trade up to draft Justise Winslow, and the end result was 4 future first-round picks for the Charlotte Hornets. Unfortunately, Michael Jordan – the greatest basketball player of all time – was enamored with taking Frank Kaminsky, and refused to come off of his pick. The two morals of the story are 1) great players don't necessarily become good owners and 2) get yourself a man who values you as much as Michael Jordan valued Frank Kaminsky. Just this once – I don't wanna be like Mike.
Last Night in the NBA
Slight miscalculation on the under, but my Milwaukee pick was right on the money, and the parlay was always optional. I'll can't that one as a moderate victory. Elsewhere in the Association, AD's 30-20 wasn't enough overcome LeBron's triple-double, Sacramento continues to secure their spot in the playoff race, and the Spurs annihilated the Timberwolves and look – dare I say it – a tad bit sleeper-y.
College hoops season is starting to pick up, and we've got two great games on between UNC-Kentucky (5:15 pm ET) and Kansas-Arizona State (9:00 pm ET). Luckily for us, the Sixers and the Raptors are sandwiched directly in between, and I've got myself a quality Saturday night lined up and ready to go. With no Kawhi, no Lowry, no Valanciunas, and maybe no Ibaka, the Raptors G-League team comes marching into Wells Fargo Center to take on a ready-and-willing 76ers squad. I've preemptively seen Philadelphia as a 4.5-point favorite, and if you can jump on that, go do it immediately. I suspect that the line will be closer to 7 or 8 by game time, and the total is set to an industry standard 220 points. Now or never, Sixers.
Toront-Oh No – This Is Bad
The main reason that teams shied away from trading for Kawhi Leonard last season wasn't his demeanor, or his quiet nature, or his psychotic laugh, or his Grinchiness – it was the concerns about his health. The list of guys who have missed entire seasons and come back healthy isn't particularly long, and the mystery of his injury only made it all the more worrisome. But for Toronto, so far, the gamble as paid off. With his current inability to play in back-to-back sets, there's virtually no chance that he can wind up as this year's MVP – at least not as long as Giannis and AD continue to destroy the league like Godzilla and Mothra. But his play so far has been MVP-caliber, and he still has the talent of a top-5 player in the world. For Toronto, the question now just becomes how best to use Kawhi now so that they have the opportunity to use him again next year. Time will tell (he's going to the Clippers – sorry Toronto!)
Read Today's Warriors vs Mavericks Pick
The injury Gods noticed Toronto's hot start, and they decided that enough was enough. I'm not even sure about Toronto's starting lineup, but I imagine it will involve Delon Wright, Fred VanVleet, OG Anunoby and Pascal Siakam – who have played together a total of 26 minutes this season, all of which came last night. To say that this team may lack some chemistry is an understatement. We can throw out all of their year-to-date statistics. Their 2nd-best offensive rating, their 7th-ranked defense, their 3rd-overall true shooting percentage – out the window. The 76ers are still figuring things out, but they know how to do one thing, and that's feed Joel Embiid the rock. The 7'2", 275-pound monster of a man is going to require some extra attention from Toronto, and I'm not sure they have the firepower for this one. Sorry, T-Dot.
Philly Special
You want Philly Philly? No, Foles – shut up and go beat the Texans, for God's sake. What I want is for the fricking Philadelphia 76ers to beat the fricking Toronto Raptors, and 21 of the past 23 times, that has not been the case. But not this day! This day we fight! Tell JJ to put down the podcasting equipment, Joel to pause his Instagram Live, TJ to stop writing and editing his Players' Tribune article, and Jimmy Butler to stop sub-tweeting Andrew Wiggins and Karl-Anthony Towns for two seconds so we can focus up and get this win. I don't care how tainted by injury and how much Toronto has conceded – I want it, and I want it now.
In order to do so, Philadelphia has to do little more than lace 'em up and go play. Ben Simmons and Jimmy Butler (the Headband Boys) are starting to develop some nice chemistry, and Joel is still putting up '01 Shaq numbers on offense. Brett has even popped the Kork lately, and Furkan has been surprisingly effective as a 3-and-D wing to space the floor around Embiid and Simmons. With Toronto's only big option being Greg Monroe, I expect a heavy dose of Embiid, and ideally, Ben Simmons can get out in transition and push the pace to tire out the thin Raptors rotation. Best case scenario: easy W, get the starters out of there early and we're on to Boston. Worst-case scenario: Fred VanVleet and Delon Wright act like a mid-major coming in to play Kentucky, and the unthinkable happens. Fortunately, Philly has – for the most part – taken care of business against inferior opponents, and they are 15-4 against teams with records currently at or below 0.500. Never fear, Sixers fans – this one might be over before it begins.
Best Bet
I mean – how could this have been set up any better? With all of Toronto's starters on the shelf, it would be an utter travesty for Philadelphia to allow this game to be anywhere near competitive. This is like when you let the 1st team scrimmage the scrubs and get some confidence before game day. Hopefully, Philadelphia will be able to establish a rhythm against Toronto's offense and be able to stymie it down the line when the Raptors' real players are in the game. But until that day, let's go ahead and talk to our mortgage broker and see if we can borrow against the house to lay some money on the Sixers tonight. Toronto has been a perennial thorn in the Sixers' side, and I can honestly tell you that I've never been this excited to drink in every second of a blowout. I'm giddy with anticipation. And shortly after, I'll be flush with cash too.
Final Score Prediction: Philadelphia 76ers 118 – Toronto Raptors 90