Utah Jazz vs. Dallas Mavericks Pick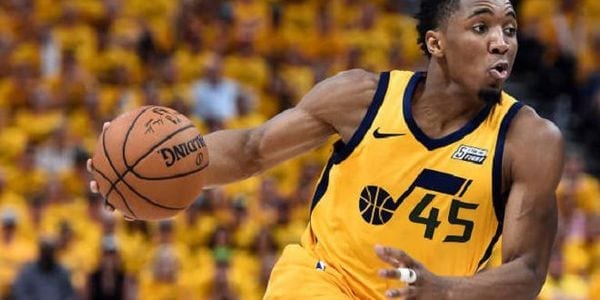 Utah Jazz (3-2, 3-2 ATS) vs. Dallas Mavericks (2-3, 3-2 ATS)
When: Sunday, October 28th – 7:00 pm ET
Where: American Airlines Center – Dallas, TX
TV: Local TV
By: Kyle Cash, NBA Basketball Handicapper, Predictem.com
Point Spread: UTA -4.5/DAL +4.5
Total: 216
Last Night in the NBA
At this point, things are completely out of my hands. At halftime, Portland and Miami were on pace for 198 total points, and then they went out and scored 132 in the second half and completely annihilated the under. I'm staring at the box score right now, and I still do not see where the 231 points came from. Elsewhere in the Association, the #ExposeDetroit party began with an ass-kicking by Boston, Giannis grabbed the MVP reigns back from Anthony Davis, and the Spurs handed the woeful Lakers their second loss of the week. Life isn't all bad.
NBA PARLAY Sportsbooks Ranked by Payout Odds!
Sundays are for God and football, so we have a small NBA slate to take a peak at tonight. Golden State in Brooklyn doesn't move the needle for me, and I am too mad at Oklahoma City and Washington to even think about them right now. Let's turn instead to the House That Cuban Built down in Dallas, where the Mavericks are currently getting 4.5-points from the soaring Utah Jazz with a total set at 216 points. Follow me, kids.
The Stifle Tower Looms
With the amount of smoke that has been blown up his butt in the last year, it's amazing that Donovan Mitchell has not exploded so far. Nobody will tell you how good he is at basketball more than Donovan Mitchell himself, and so far this season, his basketball aptitude can be brought into question. The Jazz finished last season on a torrid pace, and Mitchell garnered all of the attention and most of the credit. If you are looking for the Jazz' true source of success, look no further than their man in the middle, Rudy Gobert.
The 2017-18 NBA Defensive Player of the Year is up to his usual stuff, averaging nearly 3 blocks per game to go along with 17 points and 13 rebounds. Mitchell and his endless amount of shots and blow-hardiness is cute and all, but he is the garnish on top of Gobert's delicious pasta dish. Without Gobert (and to some extent, Jinglin' Joe Ingles and Ricky Rubio), this team wouldn't be enjoying anywhere near as much success as they currently do.
Against the Dallas Mavericks, Utah is going to be forced to play a bit up-tempo. Utah hasn't quite been the plodding, half-court driven, paint-drying offense that they were in year's past, but their ability to lock down on the defensive end is ultimately what will carry them far, and eventually, things are going to slow down to a crawl. That won't be an option with Luka Doncic controlling the pace on the other side, and this might be the opportunity for Donovan Mitchell to prove his worth. Ricky Rubio was out of his mind last night, and with an exploitable match-up against either J.J. Barea or Dennis Smith Jr., the Jazz' backcourt is going to be able to probe Dallas' medicore defense to the tune of buckets and dishes. If DeAndre Jordan is not at his sharpest on that end, Dallas might be in for a long night of terror by the 1-2 punch of Rick and Don.
Not Exactly a Barnes-Burner
Harrison Barnes finally made his much-needed return to the court on Friday night, and the rust was predictably evident as he trudged his way to 14 points on 17 shots. I'm sure that Kawhi Leonard had more to do with that stat line than Barnes' health itself, but Dallas is going to have to rely on Barnes' ability to get buckets if they want to compete for a playoff slot in the Western Conference Hunger Games.
It's hypocritical of me to praise Luka Doncic while chastising Donovan Mitchell when they carry nearly identical shooting splits, but you don't make the decisions around here. I do. And I say that Doncic has been every bit as advertised, and then some. In my NBA ROY predictions, I explained my hesitancy in Luka's candidacy due to his lack of House of Highlights potential. Boy, was I wrong! Doncic' basketball genius is captured in GIF form every single night. He's throwing fake passes behind guy's heads, which is the most disrespectful way of playing "made you look" in professional sports. His passing has been fun and inventive (and, at times, reckless) and his shooting is league-average, which is better than expected 5 games into the season. Luka is far and away the best rookie and the best bet for ROY, and I hope you ignored me and placed some money on him.
In tonight's matchup, however, I am dubious of the Mavericks' ability to generate offense. They still rank 12th in Offensive Rating, but that number is slowly on the decline, and Utah's defensive front is about as daunting as they come. The Jazz have multiple bodies to throw on Luka (Joe Ingles, Alec Burks, Jae Crowder) to attempt to mitigate his playmaking and put a cork in Dallas' offense. If the Mavericks can't get out in transition, I doubt their half-court offense is going to be able to outpace the Jazz, and this might get ugly quick.
Quick Match-Up Notes
In their last meeting, Donovan Mitchell generated 25 points, 6 rebounds, and 5 assists against Dennis Smith Jr. (7 points, 7 rebounds, 0 assists)
The Mavericks are 30th in the NBA in Opponent's 3P%
DeAndre Jordan is 10-3 lifetime vs. Rudy Gobert
MNF NFL PICK: Patriots vs Bills
Best Bet
I do not enjoy picking Donovan Mitchell to have a good game because I do not like Donovan Mitchell and he can go away for all I care. But if he cannot light up J.J. Barea and Dennis Smith Jr., then he shouldn't be considered one of the elite guards in the NBA. Gobert is both an unstoppable force and an immovable object at the rim, and it's hard to imagine Dallas being able to score enough to really give the Jazz any problems. Utah has been a C+ on defense for their standards, and eventually, we are going to see them holding teams to scores in the 80s. Hopefully, that is not the case tonight, especially with Utah coming off of a back-to-back, but I am dubious, and I don't want to bet against them. At worst, Utah will lose and I can blame Mitchell, which is a win for me anyway. Take the points and enjoy the much-needed W.
Final Score Prediction: Utah Jazz 108 – Dallas Mavericks 95
<aside><!-- [et_pb_line_break_holder] --><div class="widget105"><!-- [et_pb_line_break_holder] --><h4 class="cash">Biggest Sportsbook Bonuses</h4><!-- [et_pb_line_break_holder] --><div class="widgetlist"><!-- [et_pb_line_break_holder] --><div class="col1"><!-- [et_pb_line_break_holder] --> <a href="https://www.predictem.com/out/Bovada"><img src="https://www.predictem.com/wp-content/uploads/2018/04/bovada.png" width="" alt="Bovada" /></a><!-- [et_pb_line_break_holder] --></div><!-- [et_pb_line_break_holder] --><div class="col2"><!-- [et_pb_line_break_holder] --><span class="list"><b>50% Cash</b></span><br><!-- [et_pb_line_break_holder] --><span class="list">5x Rollover</span><!-- [et_pb_line_break_holder] --> </div><!-- [et_pb_line_break_holder] --> <div class="col3"><!-- [et_pb_line_break_holder] --><a href="https://www.predictem.com/betting-sites/bovada/"><button class="btn-widget">Review</button></a><!-- [et_pb_line_break_holder] --></div><!-- [et_pb_line_break_holder] --></div><!-- [et_pb_line_break_holder] --><div class="widgetlist"><!-- [et_pb_line_break_holder] --><div class="col1"><!-- [et_pb_line_break_holder] --> <a href="https://www.predictem.com/out/Intertops"><img src="https://www.predictem.com/wp-content/uploads/2018/04/intertops.png" width="" alt="Intertops" /></a><!-- [et_pb_line_break_holder] --></div><!-- [et_pb_line_break_holder] --><div class="col2"><!-- [et_pb_line_break_holder] --><span class="list"><b>50% Cash</b></span><br><!-- [et_pb_line_break_holder] --><span class="list">4x Rollover</span><!-- [et_pb_line_break_holder] --> </div><!-- [et_pb_line_break_holder] --><div class="col3"><!-- [et_pb_line_break_holder] --><a href="https://www.predictem.com/betting-sites/intertops/"><button class="btn-widget">Review</button></a><!-- [et_pb_line_break_holder] --></div><!-- [et_pb_line_break_holder] --></div><!-- [et_pb_line_break_holder] --><div class="widgetlist"><!-- [et_pb_line_break_holder] --><div class="col1"><!-- [et_pb_line_break_holder] --> <a href="https://www.predictem.com/out/Gtbets"><img src="https://www.predictem.com/wp-content/uploads/2018/05/gt-bets.png" width="" alt="GtBets" /></a><!-- [et_pb_line_break_holder] --></div><!-- [et_pb_line_break_holder] --><div class="col2"><!-- [et_pb_line_break_holder] --><span class="list"><b>150% Cash</b></span><br><!-- [et_pb_line_break_holder] --><span class="list">4x Rollover</span><!-- [et_pb_line_break_holder] --> </div><!-- [et_pb_line_break_holder] --> <div class="col3"><!-- [et_pb_line_break_holder] --> <a href="https://www.predictem.com/betting-sites/gtbets/"><button class="btn-widget">Review</button></a><!-- [et_pb_line_break_holder] --></div><!-- [et_pb_line_break_holder] --></div><!-- [et_pb_line_break_holder] --><div class="widget-footer"><a href="https://www.predictem.com/best-sportsbooks/bonuses/">See all sportsbook bonuses</a></div><!-- [et_pb_line_break_holder] --> </div></aside>
<h4 class="widgettitle">NFL Picks</h4><!-- [et_pb_line_break_holder] -->
<div style="width:340px; margin: 0 auto;"><!-- [et_pb_line_break_holder] --> <a class="twitter-timeline" data-width="340" data-height="500" data-link-color="#008156" href="https://twitter.com/PredictemPicks?ref_src=twsrc%5Etfw">Tweets by PredictemPicks</a> <script async src="https://platform.twitter.com/widgets.js" charset="utf-8"></script><!-- [et_pb_line_break_holder] --></div>