[et_pb_dcsbcm_divi_breadcrumbs_module hide_homebreadcrumb="off" homebreadcrumbtext="Home" separator="sep-raquo" hide_currentbreadcrumb="off" homebreadcrumborientation="left" _builder_version="3.8″ fontsbreadcrumbs_font="Lato||||||||" fontsbreadcrumbs_text_color="#000000″ fontsbreadcrumbs_font_size="15px" fontsbreadcrumbs_line_height="16px" fontsseperator_font="||||||||" fontsbreadcrumblinks_font="||||||||" fontsbreadcrumblinks_text_color="#2567cf" custom_margin="25px|||" custom_margin_phone="30px|||" custom_margin_last_edited="off|desktop" custom_css_main_element="font-family: Helvetica Regular;" global_module="3641″ saved_tabs="all"][/et_pb_dcsbcm_divi_breadcrumbs_module]
NFL Season Win Picks for Teams with New Coaches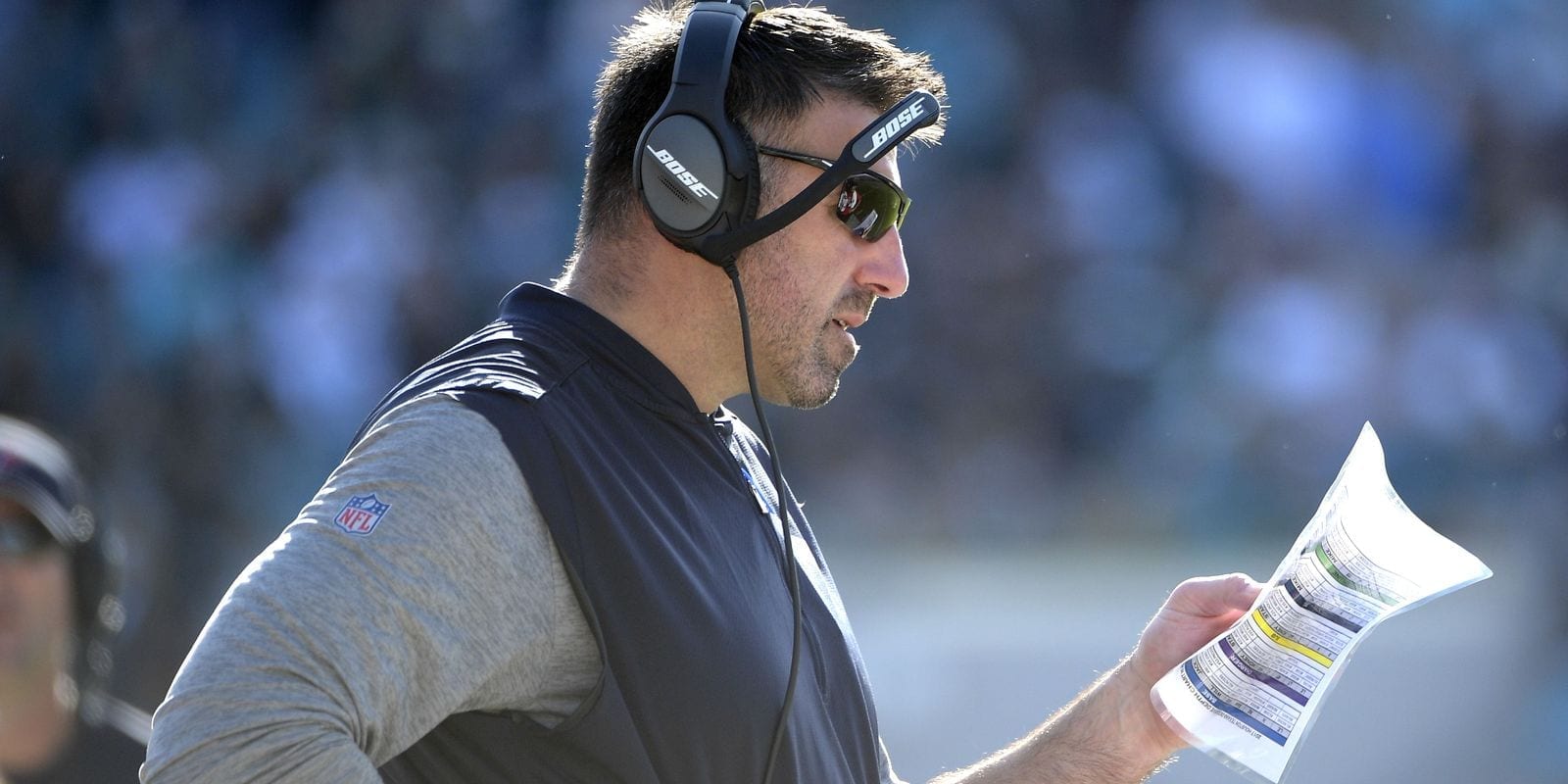 By Scott, NFL Handicapper, Predictem.com
For the 2018 NFL season, there are six new head coaches, with the Raiders, Bears, Lions, Colts, Titans, and Cardinals going in new directions with leadership. In the mix is one legendary ex-coach returning to his old team in John Gruden, along with five first-time NFL head coaches. Last season, there were also six new head coaches, with pretty good results. Three of those teams saw a marked improvement, with others on the right track. Things can manifest quickly or take more time in some cases. Let's take a look at this season's lineup of new faces at the helm and try to figure out how it will resonate in terms of wins and losses. Here are the six new head coaches in the NFL in the 2018 season:
John Gruden, Oakland Raiders, (Projected Total Wins: 8): After coaching the Raiders from 1998-2001, Gruden returns in an effort to get the Silver and Black back on the right track. After a 12-win season in 2016, injuries, underachievement, and other personnel issues led to a 6-win campaign last season. Derek Carr has missed just two games in his first four seasons, but they are diminished without him and he's been more injury-prone the last few seasons. They did, however, boost their backup corps. Maybe the line of scrimmage was boosted by a productive draft and some key free-agent pickups, in addition to some added firepower on offense. If so, look for Gruden to take the first steps in righting the ship in 2018. While it's somewhat of a simplistic contrarian view, this being the most high-profile coaching hire in recent memory might have sucked the value out of the "over." Projecting Gruden to be successful in this spot is likely the correct notion, though expectations that he will hit the ground in full-stride could be unrealistic. Eight wins is certainly doable, but I see this taking a bit of time for Gruden's handiwork to materialize. Here is Predictem's full analysis of Gruden and the Raiders Wins Over/Under. 
Matt Nagy, Chicago Bears, (Projected Total Wins: 6.5): There is a lot to like about the Bears and their future. Nothing against former coach John Fox, whose track record is pretty solid, but maybe his approach didn't quite gel with this team. In comes the former QBs coach and offensive coordinator for Andy Reid in Kansas City, as the 40-year old Nagy tries to snap the Bears out of a funk that has them looking at a 19-45 combined mark over their last four seasons, including a 5-11 record in 2017. Maybe Nagy's offensive know-how, less injuries, and some young players coming around can help. The Bears got some help for second-year QB Mitchell Trubisky, with Allen Robinson, Taylor Gabriel, Trey Burton, and Bennie Fowler coming into the fold. With a lot of talent on both sides of the ball, Nagy could very well help take the Bears over 6.5 wins this season.
Matt Patricia, Detroit Lions, (Projected Total Wins: 7.5): The Lions aren't really that far off. After two 9-7 seasons, the head coaching opening was filled by the 43-year old former defensive coordinator of the Patriots. He looks to take this team to the next level, as some tough breaks and untimely collapses have prevented them from accomplishing more over the last couple seasons. Still, it's not easy to say that the Lions have underachieved. The long-dormant run-game could get a boost with LeGarrette Blount and rookie Kerryon Johnson now in the fold. Patricia does have some ample pieces on defense with which to work. If that side of the ball starts to come around in a big way, the Lions could be contenders. While expecting a massive first-year spike for Patricia and the Lions in his first season could be asking too much, a reasonable start to this new era could be expected, making over 7.5 wins a wholly reasonable stance.
Frank Reich, Indianapolis Colts, (Projected Total Wins: 6.5): Three 11-5 seasons, followed by two straight 8-8 seasons bottomed out last season with a 5-11 mark for the Colts. It created a head coaching vacancy, filled by the 56-year old Frank Reich, the former Bills QB and offensive coordinator that helped the Eagles win the Super Bowl last season. The Colts seem to have one of the widest possible ranges in the league in terms of projected wins. If Andrew Luck stays healthy and some youngsters come around, Reich could be in a position to get this pointed in the right direction sooner than later. But the Colts' formula for success is one that can be easily-disrupted. Maybe Reich has the magic touch and can return the Colts to their position of a few seasons ago when they were a rising force in the AFC. A lot of this comes down to Luck's health. If Jacoby Brissett or rookie Brad Kaaya end up behind center, going over 6.5 wins would be tough, whereas the Colts should go at least 7-9 with a healthy Luck at quarterback.
Mike Vrabel, Tennessee Titans, (Projected Total Wins: 8): The former Pro Bowl linebacker gets his first head coaching gig on a Titans team that actually won a playoff game last season. In going 9-7 for the second straight season, the Titans evidently weren't happy with the progress, opening the door for Vrabel, who served as defensive coordinator for the Texans last season. This is a pivotal season for the Titans, a fork in the road-type year where they will either further their cases as rising conference forces or start to recede to the rest-of-the-pack. A defensive guy, Vrabel takes over a "D" that featured a really good front last season and a talented secondary that could come around. On offense, a boost will be needed to take the next step, though a lot of things will need to go right for that to occur. We tend to think getting to nine wins might be a stretch in 2018.
Steve Wilks, Arizona Cardinals, (Projected Total Wins: 5.5): Bruce Arians was shown the door two seasons after making the NFC title game. Actually, an 8-8 season from last year's bunch wasn't too bad—all things considered. Steve Wilks, 48, is now in the fold, coming off a 6-year run as one of the key members of the Carolina Panthers' defensive staff. One thing he hopes is to avoid the injury bug that has plagued this team in the last few seasons, especially last season. Rookie Josh Rosen and Sam Bradford are the new quarterbacks and a healthy David Johnson is key, as he nearly missed all of last season. There is a lot of young talent for Wilks to work with on "D." Health on offense looms as a big factor for this team. If Bradford can hang in there, Johnson stays healthy, and the defense starts to fulfill its potential, the "over" will be a cinch. And even if everything doesn't shake out wonderfully, a 6-win season could still be in the cards. We're going over 5.5 wins on this one.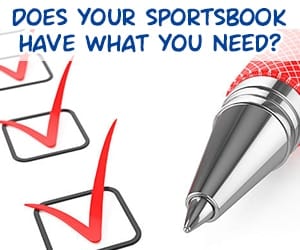 <div class="widget105"><!-- [et_pb_line_break_holder] --><h4 class="parlays">Best Parlays</h4><!-- [et_pb_line_break_holder] --><!-- [et_pb_line_break_holder] --><table id="parlay"><!-- [et_pb_line_break_holder] --> <tr><!-- [et_pb_line_break_holder] --> <th><span class="team"></span></th><!-- [et_pb_line_break_holder] --> <th>2 Team Parlay</th><!-- [et_pb_line_break_holder] --> <th>3 Team Parlay</th><!-- [et_pb_line_break_holder] --> <th>4 Team Parlay</th><!-- [et_pb_line_break_holder] --> </tr><!-- [et_pb_line_break_holder] --> <tr><!-- [et_pb_line_break_holder] --> <td><a href="https://affiliates.sportbet.com/tracking/Affiliate.aspx?idBook=2&mediaTypeID=220&AffUrlID=80&LandingPageID=55"><img src="https://www.predictem.com/wp-content/uploads/2018/06/sportbet-sm.png"></a></td><!-- [et_pb_line_break_holder] --> <td>2.74 to 1</td><!-- [et_pb_line_break_holder] --> <td>6.24 to 1</td><!-- [et_pb_line_break_holder] --> <td>13 to 1</td><!-- [et_pb_line_break_holder] --> </tr><!-- [et_pb_line_break_holder] --> <tr><!-- [et_pb_line_break_holder] --> <td><a href="https://record.bettingpartners.com/_5vfuDOH_H2wWPf2JTsWUjGNd7ZgqdRLk/1/"><img src="https://www.predictem.com/wp-content/uploads/2018/06/bovada_sm.png"></a></td><!-- [et_pb_line_break_holder] --> <td>2.64 to 1</td><!-- [et_pb_line_break_holder] --> <td>6 to 1</td><!-- [et_pb_line_break_holder] --> <td>12.3 to 1</td><!-- [et_pb_line_break_holder] --> </tr><!-- [et_pb_line_break_holder] --> <tr><!-- [et_pb_line_break_holder] --> <td><a href="https://record.webpartners.co/_jGZUKO3JWgwmunhzcKAZ62Nd7ZgqdRLk/1/"><img src="https://www.predictem.com/wp-content/uploads/2018/06/mybookie-sm.png"></a></td><!-- [et_pb_line_break_holder] --> <td>2.64 to 1</td><!-- [et_pb_line_break_holder] --> <td>6 to 1</td><!-- [et_pb_line_break_holder] --> <td>12 to 1</td><!-- [et_pb_line_break_holder] --> </tr><!-- [et_pb_line_break_holder] --></table><!-- [et_pb_line_break_holder] --><div class="widget-footer"><a href="https://www.predictem.com/best-sportsbooks/parlays-odds/">See all Sportsbook Parlays</a></div><!-- [et_pb_line_break_holder] --></div><!-- [et_pb_line_break_holder] --><!-- [et_pb_line_break_holder] --><!-- [et_pb_line_break_holder] --><style><!-- [et_pb_line_break_holder] --> #parlay {border-collapse: collapse;<!-- [et_pb_line_break_holder] --> width: 100%; border: 0px;<!-- [et_pb_line_break_holder] --> font-size: 14px!important;}<!-- [et_pb_line_break_holder] --> #parlay td, #parlay th {<!-- [et_pb_line_break_holder] --> border: 0px;<!-- [et_pb_line_break_holder] --> padding: 8px;<!-- [et_pb_line_break_holder] --> text-align: left;}<!-- [et_pb_line_break_holder] --> #parlay th {<!-- [et_pb_line_break_holder] --> padding-top: 5px;<!-- [et_pb_line_break_holder] --> padding-bottom: 5px;<!-- [et_pb_line_break_holder] --> font-weight: bold;<!-- [et_pb_line_break_holder] --> line-height: 14px;<!-- [et_pb_line_break_holder] --> text-align: center;<!-- [et_pb_line_break_holder] --> color: #000;}<!-- [et_pb_line_break_holder] --> #parlay tr {border-bottom: 1px solid #edeef0;}<!-- [et_pb_line_break_holder] --> .team {font-size: 16px;}<!-- [et_pb_line_break_holder] --></style>
<div style="width:340px; margin: 0 auto;"><!-- [et_pb_line_break_holder] --> <a class="twitter-timeline" data-width="340" data-height="500" data-link-color="#008156" href="https://twitter.com/PredictemPicks?ref_src=twsrc%5Etfw">Tweets by PredictemPicks</a> <script async src="https://platform.twitter.com/widgets.js" charset="utf-8"></script><!-- [et_pb_line_break_holder] --></div>