AFC Divisional Playoffs: Cincinnati Bengals vs. Buffalo Bills Pick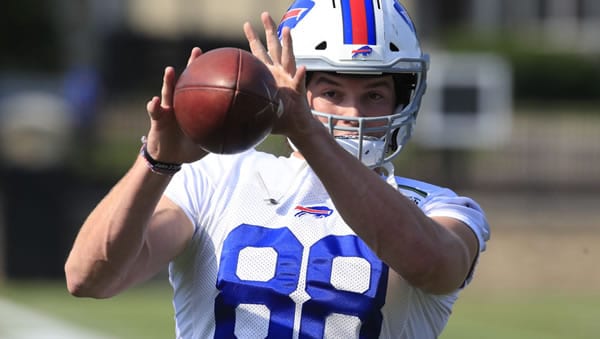 Cincinnati Bengals (13-4 SU, 12-4-1 ATS) vs. Buffalo Bills (14-3 SU, 8-8-1 ATS)
AFC Divisional Playoffs
Date/Time: Sunday, January 22, 2023 at 3PM EST
Where: Highmark Stadium, Buffalo, New York
TV: CBS
Point Spread: CIN +5/BUF -5 (BetNow – Deposit $250 and get $250 FREE with code PREDICTEM)
Over/Under Total: 48
The Cincinnati Bengals take on the Buffalo Bills on Sunday in the AFC Divisional round of the playoffs. This is a massive matchup, with the defending AFC champs taking on a Buffalo team many fancied to win the conference this season. It's a heavyweight showdown where the winner gets that much closer to punching their ticket to the big dance. Both teams took care of business in the Wild Card round. The Bills had a too-close-for-comfort win over the Dolphins, 34-31, while Cincinnati handled the Ravens, 24-17. Who can get it done this week in Buffalo?
X-Factors that Could Play a Role
When we hear about a late-January game in Buffalo, the mind goes right to weather. While nothing extreme is being forecasted, it's still early enough in the week to make it a bit of a question mark. And not that a little weather would torpedo the Bengals' chances, but if it's bad, that might better suit Josh Allen and the Bills. And it's just difficult to not mention what happened the last time these two teams met not too long ago when Damar Hamlin nearly lost his life. Thankfully, it appears the Buffalo safety is well on the road to recovery. Still, you have to wonder if Buffalo puts a little something extra on it with all the sentimentality at play.
Winnable Spot for the Bengals
Buffalo had a fine season. Still, with some losses in personnel over the course of the year, their defense might not be Super Bowl ready. There were some shaky sequences over the second half of the season, and just last week, we saw the "D" struggling to hold it together against a Miami offense led by rookie Skylar Thompson. When you're now facing the defending conference champions and winners of nine straight in the Bengals, those inadequacies might be more difficult to camouflage. There are weapons all over the field, with Joe Burrow slinging it to receivers Ja'Marr Chase, Tee Higgins, and Tyler Boyd, along with a stout run-game led by Joe Mixon. And if Buffalo's defense is in fact, sagging some, this is a spot where the doo-doo could really hit the fan.
The Cincy defense has allowed more than 23 points just once since week 11, and that was in a win over another AFC power in the Chiefs. We've seen their defense come together more lately, with a string of solid showings, though things could definitely change this week against one of the more premier offenses in the game. Still, with the Bengals in the midst of a long win-streak and being defending conference champions, there still seems to be this feeling that they're looking up at the Bills. I wouldn't be so sure about that. The Bengals may have done enough these last few seasons to warrant them as being more or less evenly-matched with the Bills. And maybe it'd be different if the Bills caught some personnel breaks on defense this season, but alas, they did not. You could say Buffalo is better, they're at home, and their offense has the highest ceiling in the league. But for what it's worth, Cincy got here in at least slightly better shape in terms of being totally intact.
More Picks: Get Loot's Dallas at San Francisco Divisional Round Spread Pick >>>
What Buffalo Needs to Do
They need to get the jump on the Bengals. They need that high-flying aerial package to surface and for it to do so regularly and early. While they tightened up over the course of the season, this would seem to be the way to get to Cincinnati, who has one of the better run defenses in the league. With Allen slinging it to Stefon Diggs, Gabe Davis, TE Dawson Knox, and a full cast of supporting contributors, this is the Bills' route to success. Sure, Allen can break off runs, and they could something from their backs, Darren Singletary or James Cook, but I'd look for a heavy dose of Buffalo aerials this week. And when the Bills dial it in, it can really be something to behold.
Perception vs. Reality
I think the point spread this week almost speaks to people getting married to preseason conceptions—the idea that this was Buffalo's year. And not much happened over the course of the season to take people off of that. And the way this sets up seems to bolster those thoughts, as the Bills are hosting this game against the Bengals. All these things sort of serve as a round-about way of saying the Bills are better. They had lower preseason odds, won more games, and booked homefield advantage for this one. But if we break it down in terms of what we've actually seen play out, I'm not so sure a defending conference champion Cincy team with nine straight wins should be low-rated in any postseason context.
Take the Points on the Road Dog
The Bills could put it all together, now facing a team that will truly crank up their urgency to a fever pitch. This isn't Miami with a third-stringer that could lead a team like Buffalo to being less-than-peak mentally. This is a spot where you'd assume they know they can't leave anything on the table. I'm just not sold on Buffalo being some slam-dunk conference powerhouse, at least not as long as teams like Cincy and KC are still in the mix. If I were a Buffalo fan, I might be feeling positive about a possible win, but from a betting standpoint, I can't help but think the value lies with the Bengals getting five points. I'll take the Bengals. (Note: To avoid confusion, Predictem Chief NFL Handicapper Kevin West is on the the opposite side of this one on our free picks page (Bills minus the points). Predictem's NFL writers/handicappers are contracted and sometimes have differing opinions than Kevin and Rich Crew.) 
Loot's Prediction to Cover the Point Spread: I'm betting on the Cincinnati Bengals plus 5 points. Bet your college basketball predictions for FREE this week by snagging a 50% real cash bonus at the web's best sportsbook, which has the BEST live wagering platform on the web! It's where we wager! —> Bovada Sportsbook!