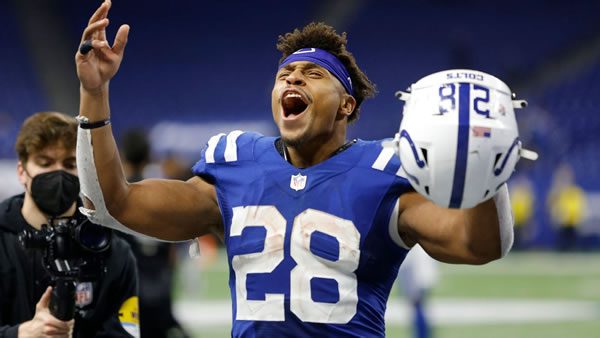 AFC South Winner Picks
A look at last season's standings shows an AFC South division that is among the more top-heavy divisions in the entire league. Atop you have the defending division champion Titans, a nine-win Colts team, and then the beleaguered Jaguars and Texans. For many, this boils down to a two-horse race, and with some offseason moves that might resonate, it is the Colts who enter 2022, a very chalky -125 favorite to take down the AFC South. But the two-time defending AFC South champion Titans, 23-10 over the last two seasons, loom at a nice value rate of +170 for those not quite buying into the Colts. Let's break down the AFC South and see what we can come up with. Odds courtesy of Bovada, home of the 50% bonus, best live wagering platform on the web and rebates on ALL of your bets; win, lose or draw!
Houston Texans (+3000)
Coming off a 13-loss season where not a lot went right, Houston turns to Lovie Smith for answers, hoping he can do in Houston what he did in Chicago years ago. It won't be easy with this roster. QB Davis Mills was surprising in spots, but his big aerial numbers are more a byproduct of the Texans being uncompetitive and playing from way behind than signs of a vital offense coming along in Houston. Other than the occasional spark from Brandin Cooks, the offensive production sources seem few, and not a ton was done in the offseason to remedy an offense that will be at a stark firepower deficit.
If looking to justify a stance on one of the biggest longshots on the board, you could say this division is one of the more up-in-the-air quartets of teams in the league. A few injuries here and there, and this division could descend into a free-for-all. Early first-rounder CB Derek Stingley, Jr. and second-round safety Jalen Pitre could help a secondary that sorely needs it, but it's frankly difficult stringing together a storyline where Houston ends up in first place when it's said and done.
Indianapolis Colts (-125)
The favorite to win the division this season, Indy looks to rebound from a 9-win season and their one-year Carson Wentz experiment. Again, they have another big name behind center in keeping with their annual QB rotation, and we'll see if Matt Ryan can revive his career with some better stuff around him. He will play behind a better line than what he's accustomed to, also able to bank on a game-changing back in Jonathan Taylor. He has nice targets with which to connect, and we'll see if he can still air it out with Indy's deeper threats on the outside.
The additions of Stephon Gilmore and Rodney McLeod bolster a secondary that can use some help, but better health on that side of the ball could result in a defensive upgrade this season. That includes LB Darius Leonard, one of the best linebackers in football. DeForest Buckner is one of the best interior D-linemen in the game. Their secondary could be better between the new arrivals and ball-hawk Kenny Moore being back there. Taylor is maybe the second-best back in the league. And unlike other teams you might toss down divisional bets on, they really only have one team to beat. An understandable pick.
Jacksonville Jaguars (+700)
Coming off an absolutely-miserable 2021 season with a 3-14 record, a +700 quote suggests a bit of an uptick in Trevor Lawrence's second season at the helm. New head coach Doug Pederson hopes to breathe some new life into this team, and there is some stuff to like. On defense, it's hard to not imagine first overall pick Travon Walker pairing with Josh Allen to have that defense playing on the edge the way they did several years back when the Pats needed a big comeback to keep the Jags out of the Super Bowl. First-round linebacker Devin Lloyd should combine with incoming Foyesade Okuokun to improve the middle, with the acquisitions of G Brandon Scherff, CB Darious Williams, and WR Christian Kirk helping address other areas.
It's questionable if enough was done to allow the Jags to make a quantum leap this season, and the answer is probably not. Look for Pederson to coax a better season where you start to see some measurable progress from Lawrence. With RB James Robinson coming back from an Achilles injury, a still-dicey front, and a collection of good role players without a real star among the bunch, it's hard to imagine a division-winning effort coming from this group. An "over" position on their total number of projected wins is one thing, but this seems a bit out of reach.
Tennessee Titans (+170)
The second choice on the board and the two-time defending division kingpins. A 12-win season last year with AJ Brown having a bad season, inconsistency from Tannehill, Derrick Henry out for a big chunk, and other things going wrong wasn't so bad. They're an overachieving bunch with head coach Mike Vrabel and were really able to stretch what they had last season, despite coming up short in the postseason. Losing AJ Brown to Philly is a setback, but first-rounder Treylon Burks and incoming Robert Woods could help stop the bleeding. A healthy Henry looms large, in addition to some depth built in his absence which could lead to a more reasonable workload for the star back.
It's hard to recall this team doing good enough last season to win home field throughout now falling apart when it looks like they might be in better shape. Sure, Tannehill could start falling flat, different prospects don't pan out, Henry gets hurt again, etc. But when looking at what they're going up against in this division, it's two teams with a combined seven wins from last season and a Colts team that needs some things to line up right for them to get pointed upwards again. At +170, that's not all bad.
Loot's Pick to Win the AFC South Division: Tennessee Titans at +170. Indianapolis looms large, but with one team to beat, having Henry for the whole season, and some more reliability aerially, Tennessee could top their 12-win total of last season, putting a lot of pressure on fellow AFC South teams to exceed that.
Be sure to also check out Loot's 2023 Super Bowl Predictions!