AFC West Division Winner Picks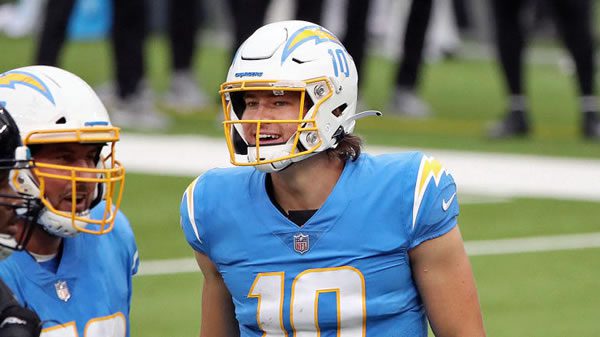 Predicting the AFC West Division Winner
Picking a winner in the AFC West presents some challenges not seen in other division races. First off, you can't really scratch anyone off, as you can make a salient case for all teams within this division. And when you start to consider all the personnel and coaching changes in the AFC West, there's a lot to keep track of in a division that seems more up-in-the-air than in recent seasons. Kansas City again took the division down in 2021, and, amazingly, they're going for their seventh straight division title this season. The Raiders compiled a valiant 10-win season amidst a season of turmoil. The Chargers were 9-8 in Brandon Staley's first season, and while Denver only won 7 games, a revamped and improved roster has many optimistic about their chances. Let's break down the AFC West! Odds courtesy of Bovada.
Denver Broncos (+260)
Nathaniel Hackett takes over a Denver team that has some optimism at the QB position for the first time since Manning left with the acquisition of Russell Wilson. One has to figure Wilson gets more out of a growing young Denver offense than his predecessors. With Jerry Jeudy, Courtland Sutton, Javonte Williams, Tim Patrick, KJ Hamler, Melvin Gordon, and others, there is artillery for Wilson to exploit. Some moves up-front should help, as well.
When watching Denver the last few years, it's hard not to notice the talent of offense. And if only there were someone who could bring it together, it seems like it's an offense ready to explode. And on defense, there are numerous young stars who could start showing their teeth more in '22. That includes CB Patrick Surtain, II., a player who could really come on this season. At the very least, they're in a position to maybe beat the Chiefs, something they haven't done since 2015. Winning the division seems like a lot to ask, and +275 is a bit paltry for a team to do a complete about-face and beat out everyone else in a tough AFC West.
Kansas City Chiefs (+175)
The 6-time defending division champions and hosts of the last four AFC title games, one should be hesitant in forecasting a fall from grace based on a few personnel losses. And sure, losing Tyreek Hill throws a different light on the whole division, including the Chiefs' fortunes. Travis Kelce will be 33 this season, and we'll see if Juju Smith-Schuster, rookie Skyy Moore, or Marquez Valdez-Scantling can at least help bridge the gap a little bit. We'll also see if Ronald Jones, II. can help a run-game with Clyde Edwards-Helaire that hasn't been scintillating the last few years. There was already a palpable dip in offensive effervescence before Hill left. But if anyone can make it work, it's Andy Reid and QB Patrick Mahomes.
Still, it's a daunting proposition when the Chiefs got worse, and every team around them in the division got better. That's reflected in the odds, with +175 being the best price you've seen in recent seasons for the Chiefs to just win the division. It's still hard to not register losing Hill a setback, and other than Kelce, there are a lot of iffy contributors on that side of the ball. This is a tough one to assess, as counting out the Chiefs hasn't paid off much lately in this context, but an ultra-tough schedule and the growth of the division makes one pause.
Las Vegas Raiders (+650)
I think it says something about the inner-makeup of the Raiders to soldier through the bad headlines and setbacks of last season to somehow cultivate a 10-win season out of the whole deal. You take a team with guts like that and now add top receiver Davante Adams to an already-vital passing attack while plunking in Chandler Jones along a D-line growing in strength, and the story starts writing itself. Add new head coach Josh McDaniels into the mix, and we could start seeing this offense really take off with other impactful players like Joshua Jacobs, Darren Waller, and Hunter Renfrow
It's not hard envisioning Derek Carr and this aerial attack running over some defenses this season. Looking at Carr's yardage totals over his career, the prospects of where he can take his game with Adams running loose is scary. And most of the pertinent pieces on both sides of the ball are young and rising, an amazing result after years of failed drafts under Gruden. Granted, this is a tough ask being in a super-difficult division with three teams projecting to be superior. It still seems like pretty good value for a team that came in second place last season with everything going amiss and now with all these improvements.
Los Angeles Chargers (+220)
A 9-8 season in 2021 was a nice start for new head coach Staley, and there is well-placed hope in Justin Herbert's third season. A lot hinges on his health, and while Herbert has been durable thus far, there are guys being depended on who have a history of injuries. If they get an even average run of breaks on the injury front, it's a roster that demands respect. Herbert will commandeer an offense that has everything in place—an impactful and versatile back in Austin Ekeler, two star receivers in Keenan Allen and Mike Williams, and a growing cast of other contributors. First-rounder G Zion Johnson adds a nice presence inside.
The additions of Khalil Mack and cornerback JC Jackson give this defense an embarrassment of riches if everyone stays healthy. Already stocked with stars like Derwin James and Joey Bosa, the Bolts also added other key pieces that could make everything come together. I think the ceiling is high for the Chargers, and if things click, +220 will look good by the season's end. But this is a tough division with no gimmes, and the rest of their schedule is brutal. Seems like a tough ask.
Loot's Pick to Win the AFC West Division: Las Vegas Raiders at +650. This is a spot where going out on a limb on a divisional bet can be justified. Winning this division might be the toughest in football, but it seems that there is a value component on a team that should be right in the mix. Bet your AFC West division winner prediction for FREE by taking advantage of a 100% REAL CASH bonus on your first deposit of $100 to $300 when you use bonus code PREDICT100 at MyBookie Sportsbook!