Baltimore Ravens vs. Cleveland Browns Pick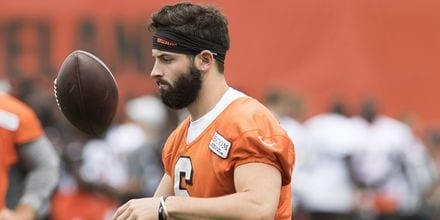 Baltimore Ravens (3-1 SU, 3-1 ATS) vs. Cleveland Browns (1-2-1 SU, 3-1 ATS)
When: October 7, 2018, 1:00 PM EST
Where: First Energy Stadium, Cleveland, Ohio
TV: CBS
BY: Rick Wise
Point Spread: BAL -3/CLE +3 (Opened at 3)
Over/Under: 47.5
Power Ratings: Ravens -3
Takeaways From Week 4
Jalen Ramsey was talking out of turn when in his scathing critique of NFL quarterbacks over the summer he said Joe Flacco "sucks." He's definitely experienced as many valleys as he has peaks in his career, but a Joe Flacco with time is among the league's elite at the position. Against the Steelers, he had so much time in the pocket that by the start of the second quarter the Ravens were already all but guaranteed to improve on their 11th-ranked passing game. Flacco finished 28-of-42 for 363 yards and two touchdowns and he faced so little pressure it seemed like the seven Mississippi blitz rule from touch football was in effect. He was sacked just twice.
Another positive to come out of the Ravens' 26-14 victory over Pittsburgh was how many Baltimore receivers got in on the action. Tight ends Maxx Williams, Nick Boyle and Mark Andrews combined for 10 receptions for 99 yards. New acquisition John Brown was the biggest story, though. He snagged 3 catches for 117 yards and 1 touchdown, including a 71-yarder.
Defensively, Baltimore held Pittsburgh to 284 yards and kept Antonio Brown in check. He finished with 5 catches for 62 yards and 1 touchdown. The defense also kept big Ben Roethlisberger bottled up in the second half. After going 19-of-29 for 224 yards and a touchdown in the first half, he was stymie in the second, completing just 8-of-18 for 50 yards and a touchdown.
For Cleveland, the biggest positive to come out of their heartbreaking 45-42 overtime loss to the Oakland Raiders Sunday is that they've actually been in every single one of their four games, and could easily be sitting atop the AFC North right now at 4-0. Instead, they're at the opposite end of things, tied with the Steelers for last place at 1-2-1. The Baker Mayfield thing is a close second. The dude is legit, although his first start may have been equal parts good and bad. He was responsible for four turnovers, two interceptions and two fumbles, but it was evident in many of his completions that the Browns made the right choice. He finished 21-of-41 for 295 yards, 2 touchdowns and 2 picks, the fifth-best performance in NFL history from a quarterback making his first start.
How the Public is Betting the Ravens/Browns Game
It's a bit surprising that 72 percent of bettors are backing the Ravens here. If Cleveland has shown us anything this season, it's that they're on the verge of a breakthrough and it's only a matter of a time before they start stringing some wins together. That said, at +3 this probably isn't the right time to start picking the Browns to cover, considering this Ravens defense is one of the best in the league and likely to provide Mayfield with his stiffest test to date.
The Historicals
Oddly enough, this rivalry only got started because then-Browns owner Art Modell decided to relocate his team to Baltimore in 1995. The NFL later reactivated the Browns in 1999 and then began one of the most heated rivalries in the league, with the two sides squaring off twice annually since. In that span, Baltimore has dominated the series 29-9, including 18 of the last 20 meetings, dating back to 2008.
Injury Concerns
The Ravens have a couple of injured key players, including TE Hayden who's been suffering from a foot injury that's kept him out since the start of the season. But according to the latest rumblings he should be ready to make his regular season debut Sunday against the Browns. Cornerback Anthony Averett (hamstring) has not practiced this week and is listed as questionable for Sunday. DT Willie Henry is suffering from an injury to his abdomen and has yet to take the field in 2018. He's not expected to play Sunday.
The Browns also have several key players out with injuries. LB James Burgess Jr. hasn't practiced this week after suffering a knee injury against Oakland and he's listed as out for Sunday's game. TE Seth DeValve is listed as questionable for Sunday after suffering a hamstring injury against the Raiders. CB Terrence Mitchell is out indefinitely after undergoing surgery Monday to repair a broken right wrist.
When the Ravens Have the Ball
Joe Flacco is proving so far this season that he just might be among the ten best quarterbacks in the NFL. He's currently 8th in the league in passing yards and has the Ravens raked 8th in passing offense. He's also got a shiny, new weapon in Jon Brown as his number one home run threat. The Ravens are pretty one dimensional, though. They're throwing the ball 61.9 percent of the time and running it 38.1 percent of the time. That won't change against a Browns team that's giving up an average of 278.2 passing yards a game.
When the Browns Have the Ball
It's gonna be fun to watch Baker Mayfield develop into a big-time quarterback each week, as he certainly has all the tools to do so. Through 4 games, Cleveland has been a fairly balanced offense, passing the ball 56 percent of the time versus running it 44 percent of the time. But as Mayfield gets more reps in and grows more comfortable with the offense, you can expect to see the ball in the air more. And that might start Sunday against the Ravens, who own the NFL's 4th-ranked rushing defense, giving up just 82.5 yards per game on the ground.
Betting Trends
Baltimore is 6-3 ATS in its last 9 games
Baltimore is 8-3 SU in its last 11 games
Baltimore is 4-1 ATS in its last 5 games on the road
Baltimore is 5-11 SU in its last 16 games on the road
The total has gone OVER in 6 of Baltimore's last 9 games on the road
Baltimore is 5-0 ATS in its last 5 games when playing Cleveland
Baltimore is 5-0 SU in its last 5 games when playing Cleveland
The total has gone UNDER in 10 of Baltimore's last 15 games when playing Cleveland
Baltimore is 9-1 ATS in its last 10 games when playing on the road against Cleveland
Baltimore is 9-1 SU in its last 10 games when playing on the road against Cleveland
Weather Report
It's expected to be 72 degrees and overcast on Sunday with a 22 percent chance of rain and humidity at 77 percent.
Rick Wise's Pick
This s a division game and that usually makes for a hotly-contested affair. But this could be where Baker Mayfield gets his welcome to the NFL care package, which is essentially a smack to the jawbone. The Ravens defense has done everything well to this point in the season except get to the quarterback. But they still managed to shutdown one of the league's most high-powered offenses Sunday in the Pittsburgh Steelers. They might not get Mayfield on the ground much but they'll still be giving him fits all day. Look for Baltimore to cover and the point total to go under 47.5 as a result of that stingy Ravens D.