Baltimore Ravens vs. Philadelphia Eagles Pick 10/18/20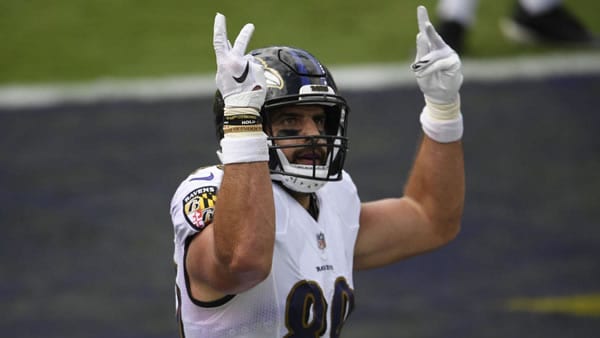 Baltimore Ravens (4-1 SU, 3-2 ATS) vs. Philadelphia Eagles (1-3-1 SU, 1-4 ATS)
Week 6 NFL
Date/Time: Sunday, October 18, 2020 at 1PM EDT
Where: Lincoln Financial Field, Philadelphia, Pennsylvania
TV: CBS
Point Spread: BAL -7.5/PHI +7.5 (MyBookie - FAT bonus alert! Deposit $300 and get $300 FREE! This is a real-cash-bonus!)
Over/Under Total: 46.5
The Baltimore Ravens come to Lincoln Financial Field to take on the Philadelphia Eagles on Sunday in week six. Baltimore continued their winning ways, and other than the Chiefs beating them a few weeks ago, they've been pretty dominant. On Sunday, they stuck it to the Bengals, 27-3, to go to 4-1. Philadelphia wasn't able to beat the Steelers on Sunday, nor did they cover the spread, but in losing to Pittsburgh, 38-29, coming off a win, they're starting to show a little life in their legs and could be tough at home in this spot.
Philly Getting Better
Losing by ten to Washington and then getting battered by the Rams was a rough way to open the season for the Eagles, and I think people ran with the story a little bit. In a subsequent tie with Cincy, a rousing road-win over San Francisco, and a capable loss to the unbeaten Steelers, the Eagles have started showing something. Sure, they've only covered one spread and remain a far cry from the Super Bowl team of a few seasons ago. But hanging in there against Pittsburgh for so long shows that maybe we overlooked some things they still do well.
On offense, there are fewer sources of optimism with the Eagles, but after having their high-point output last week, things are looking a bit better. Carson Wentz has yet to reclaim his top form, as his 60% completion percentage and 6/9 TD-to-INT ratio will attest. On Sunday, against a powerful Steelers' defense, we saw Wentz connecting magnificently with previously-anonymous receiver Travis Fulgham, who caught ten passes for 152 yards and a TD. Miles Sanders ran the ball well, Greg Ward caught a TD grab, and JJ Arcega-Whiteside hauled in a long pass. But it's a work-in-progress, with a lack of proven contributors and an offensive line that is without a lot of its previous manpower.
The Eagles' defense should get better as key guys like Vinny Curry, Darius Slay, Fletcher Cox, Avonte Maddox, and others start getting back on the field. Even with a lot of injuries, we've seen them play pretty well in spots this season. With just one win, it's not like a lot of people are taking notice. And in giving up a lot to the Rams and Steelers, it gives people license to write off a defense that isn't what it used to be. But if some guys file back into the rotation, they could start to show their teeth.
More Picks: Get Loot's Monday Night Football Pick ATS >>>
Baltimore a Solid Choice in This Spot?
Over the past season and change, Baltimore has been a popular choice for bettors who just assume their high-powered offense will win the day, especially against problem-ridden teams such as Philly. And when we look back over that time, they're pretty darn bankable, with a slew of lopsided road beatings having ensued since last season. Looking back, we see a lot of dominant performances on the road against teams that didn't appear to be that threatening. In other words, an out-of-conference road game against a weak-appearing team would normally be a game to forecast a down performance perhaps, but the recent past indicates that might not be the sharpest move with the Ravens. Sure, they have lost in the first round of the last two playoffs, and the Chiefs still appear to have their number. But in this context, they're pretty dangerous.
Lamar Jackson is cruising along nicely, and we'll see if the Philly "D" can handle him. He's the leading rusher on the team and has 9 TD throws against two picks. The O-line hasn't been that great in protecting Jackson, but they have aided in springing loose the run, and with Mark Ingram, Gus Edwards, and rookie JK Dobbins, they have a lot to wield on a compromised Philly run-defense. We've seen TE Mark Andrews becoming Jackson's favorite red-zone threat with five TD grabs already, while Marquise Brown has stepped up to take over the lead receiver role. There are a lot of things they can throw at this Philly defense.
Can Philly Offense Match Up?
It's not like there aren't any holes with the Baltimore defense. So far, teams have been able to throw against them with some success. But that's more a case of looking for something to be wrong. The truth is, with their playmaking potential, the Ravens can absorb their secondary only being so-so in terms of allowing yardage. And they really get a lot of turnovers and make a lot of big plays. But adding Calais Campbell and rookie Patrick Queen has given the front-seven new life, and they've been really rigid through five games. And even with them having allowed a bunch of points to the Chiefs in their week three loss, they still have allowed fewer points than any team in the league.
With the Eagles trying to work things out on offense and with their line in tatters from what they pictured in the preseason, it's fair to ask what can you righteously expect from the Philadelphia offense in this spot. But make no mistake, while most 1-3-1 teams would be struggling for tangible reasons to play for, the Eagles are still squarely in their division race, as all NFC East times are sideways. And the last few weeks have shown them playing accordingly with high effort.
Lay the Points
I can understand the drawbacks of this matchup for Baltimore, as it is a foreign location for them, against a team that might have turned the corner a little bit in the Eagles. I just can't help but notice some matchup components appear to shake out very unfavorably for Philadelphia. That O-line could be in big trouble against this Baltimore front. The Ravens secondary can really make life hard on errant quarterbacks. Then you have the vast gap in respective offensive firepower, and at the end of it all, it might be too much for Philly to keep this one close. I'll take the Ravens.
Loot's Prediction to Cover the Point Spread: I'm betting on the Baltimore Ravens minus 7.5 points. Note: You'll see us chirping non stop on the site, trying to get our readers to ditch their bookie and get signed up at BAS Sportsbook for reduced juice wagering. Most don't take the time to sit down and pencil out the advantages of betting on games at -105, compared to -110. The savings are ENORMOUS. Would you ever go to the store and buy something for five dollars more than the exact same product sitting right next to it? Of course not! Start betting smarter today by making the switch to BetAnySports! You'll be so glad you did!