Barking Dog: Chargers vs. Texans Pick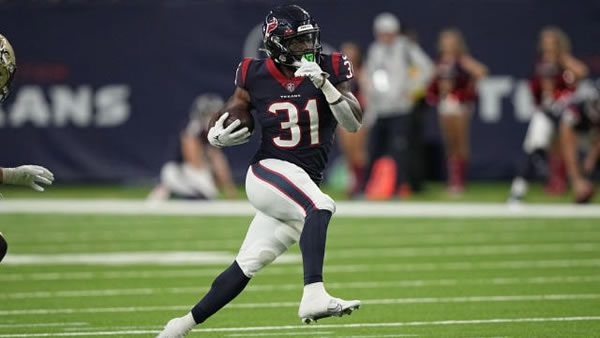 Los Angeles Chargers (1-2 SU, 2-1 ATS) vs. Houston Texans (0-2-1 SU, 2-0-1 ATS)
Week 4 NFL
Date/Time: Sunday, October 2, 2022 at 1PM EDT
Where: NRG Stadium, Houston, Texas
TV: CBS
Point Spread: LAC -4.5/HOU +4.5 (Bovada – The BEST sportsbook on the web! Check them out to see why!)
Over/Under Total: 44
The Los Angeles Chargers come to Texas to face the Houston Texans in AFC action from week four. Houston has lost both games since a plucky opening-week tie and on Sunday it was Chicago who nipped them at Soldier Field, 23-20. While the team takes little solace in this, bettors can rejoice in their three covered spreads in three tries so far this season. The Chargers, meanwhile, were handed a distressing 38-10 hammering at home by the Jaguars on Sunday. You want to extend them some credit with Justin Herbert hurting, but they face an important week at 1-2 where they need to right the ship. Can the Texans be plucky at home or will they be overwhelmed by superior firepower?
Main Issues for the Texans
The first thing they need is an off-key Chargers' team. If their opponent shows up in anything resembling top form, something they're maybe due to see happen, this won't be much of a contest. Not that the Texans are totally hopeless. It won't manifest on a weekly basis, but QB Davis Mills will throw a good game in there from time to time. Brandon Cooks can spring forth with a nice game. And maybe they found a rising commodity in RB Dameon Pierce who had 80 yards and a TD on Sunday. But the sources for real optimism on this offense are few. And unless going against defenses with major flaws, this group can grind to a halt behind that shaky line.
After faring well to open the season with what were supposed to be decent aerial offenses in Indy and Denver by allowing a combined 36 points in those two games, the pattern continued on Sunday as the Texans shut down the hapless Chicago pass-offense. But we also saw Bears' backup back Khalil Herbert go hog-wild on this defense and this is a week where the Bolts can get their run game turned up a click. But what seems to be a Houston secondary that is playing pretty well will be put to a steeper test this week.
Good Timing for Houston?
With an improved defensive line, this is a spot where the Texans can maybe go to work on a compromised Chargers' O-line that is already feeling the crunch from injuries. We're seeing them have trouble running the ball in spots, an equation that might not improve with LT Rashawn Slater lost for the season, along with C Corey Linsley also being questionable. It doesn't seem like Austin Ekeler is being put in the best spots to succeed. Herbert is putting up big yards, but the Chargers' offense hasn't really taken flight with just 53 total points in 3 games. Their vaunted pass-rush has cooled off some after a fast start. The Chargers might be urgent this week, but they aren't seeing things click well and maybe the Texans are in a better position that they otherwise would be.
Something Amiss with the Chargers?
On the surface, that would appear to be the case, especially offensively. If someone told you that Gerald Everett and DeAndre Carter would be their leading receivers through three games, you'd have thought they were crazy. Add into that equation Austin Ekeler's 80 rushing yards and there are a lot of things that look askew. Not that there's anything wrong with building depth and diversifying, but the roles are a little bit of a mish-mosh as they look to get to .500 through the first quarter of the season. The thing that's most concerning other than an uneven three-game patch is how the injury bug is already putting a hurt on this team. Herbert is hurting. Keenan Allen has missed time. The line is compromised. And now, the defense is under siege with Joey Bosa already out of action. Maybe they get corner Justin Jackson back this week. Needless to say, this represents a game where the Chargers need to show something or the alarm bells will really be sounding.
More Picks: Get Ted Walker's betting analysis and suggested wager for the Week 4 NE/GB gam'
Has the Bolts' Formula Been Disrupted?
Certain aspects of the Chargers' recipe for success has soured. It seems like Keenan Allen is old, Mike Williams is back to the one good game and 3-4 bad ones pattern, Ekeler can't run the ball, the O-line is bad again, the defensive front is compromised big-time without Bosa, and an injury-prone secondary is already getting hit. If some or all of those things turn out to be true, the Chargers might turn out to be vastly overrated and back to where they were a few years ago. And that's not the type of team where you want to be laying points on the road. It's not a given that even a diminished Chargers' team would even be something the Texans can take full advantage of, not to mention that it's far from established after a few bad games that the Chargers are going to recede to the rest of the pack.
Take the Points
I'm not sure the Chargers can just snap out of this one. They have legitimate issues that don't magically go away amidst the component of extra urgency. The winless Texans have an agenda of their own, namely to get a "W" to show something for what has been strong effort through three weeks. Against this Houston defense, this is certainly a spot where Herbert and the rest of this offense can shake it off and get cooking again. But with them suddenly being more-compromised along both lines of scrimmage and their other personnel issues, I think a more-intact Texans team can hang in there and cover the spread. I'll take the Texans at home.
Loot's Prediction to Cover the Point Spread: I'm betting on the Houston Texans plus 4.5 points. Bet your Week 4 NFL picks for FREE by taking advantage of a 100% real cash bonus up to $500 when you use promo code PREDICTEM at Betnow Sportsbook!