Bet the Home Dog: Dolphins vs. Bears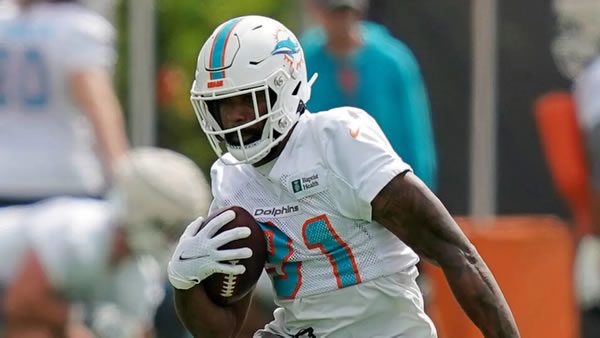 Miami Dolphins (5-3 SU, 4-4 ATS) vs. Chicago Bears (3-5 SU, 3-4-1 ATS)
Week 9 NFL
Date/Time: Sunday, November 6, 2022 at 1PM EST
Where: Soldier Field, Chicago, Illinois
TV: CBS
Point Spread: MIA -4.5/CHI +4.5 (Bovada – 50% bonus up to $250! Awesome live betting! FAT prop bet menu! FAST crypto payouts!)
Over/Under Total: 44.5
The Miami Dolphins take on the Chicago Bears on Sunday at Soldier Field in key Week 9 action. Miami continued to rebound with Tua Tagovailoa back, beating Detroit, 31-27, on Sunday to get to 5-3 as they try to keep afloat in a demanding AFC East. The Bears saw their "D" fall apart on Sunday in a 49-29 loss to the Cowboys. After two straight road games, however, they now return home where they've been better. Can Miami make it work at Soldier Field, or will the Bears hold down the fort? Let's break it down!
Are the Dolphins Back?
It's been a streaky first half of the season for Miami, largely determined by injuries. Three straight wins to open the season evaporated to three straight losses with Tua sidelined. Two wins with Tua back behind center show that the young QB has become the player they need this season. We saw him once again doing his thing on Sunday, and when that's happening, we see Tyreek Hill and Jaylen Waddle combine to be the most potent 1-2 WR punch in the league. With other good contributors on the ground and through the air, it's really a complete cast that should get better, with Tua getting more distance between him and those unfortunate concussions. But a lot of AFC offenses that are doing well have hit a wall when coming to Soldier Field over the years.
As we've seen this season already, the Miami "D" can lag behind the offense in terms of effectiveness. Aerially, we've seen them picked apart multiple times, and even if there is talent on the secondary and they can occasionally take a top receiver out of the game, overall, they've been pretty bad. That's a deficiency that one could figure would be brought to light less this week against a Chicago offense whose aerial upside has been minimal thus far in 2022. In fact, the thing the Bears can do well, which is run the ball, would appear to feed into what Miami does best on defense. This week we will see if the Miami run defense is the real thing or if they've just benefitted from opposing offenses thriving so well aerially.
Is the Chicago Offense Waking Up?
It's not something that people will be entertaining on the heels of a 20-point loss to Dallas. Still, Justin Fields is a bit more productive lately. Sunday saw two passing touchdowns and another on the ground. The week before that, in an eye-opening 33-14 pounding of New England on the road, Fields was good through the air and on the ground. Aerially, though, it's been mostly a struggle. Cole Kmet coming back will help, and Darnell Mooney could have some big games lying ahead, but it's been slim pickings. But between Fields and running backs David Montgomery and Khalil Herbert, they have a ton of juice on the ground. It's a unique and multi-pronged running approach that can set teams aback, even ones like the Dolphins, who have been rigid against the opposing run game for the most part.
Matchup Edges for Chicago
Not that the Dolphins can't run the ball. In fact, some recent Raheem Mostert performances, along with Chase Edmonds chipping in, has given Miami a different dimension upon which they can rely. But when Tua is rolling along well, they definitely favor going to the air, and this isn't an easy place to make that happen. Granted, this Chicago "D" didn't do much to keep Dak Prescott and Company from running wild last week, so maybe this isn't the best time to laud the Chicago defense. But at AT&T Stadium and at Soldier Field in possible weather are two different things. A stout and playmaking Chicago secondary, in addition to the setting and conditions, could make this less of a free-for-all than what we saw from Miami in Detroit last week.
More Picks: Get Jay's Gren Bay at Detroit Week 9 betting analysis and predictions >>>
Edges for Miami
Two straight road games through the black-and-blue division might not be the best spots for the Dolphins, but they're manageable. After delivering last week, albeit narrowly, they face some decent matchup components in this one. If Chicago can't approach a fraction of what Miami has experienced aerially so far this season, maybe the state of their leaky secondary won't surface this week. Maybe that front can curtain a Chicago run-game enough to render the Bears' offense muted, something that has happened more than once this season. At the end, Whatever Chicago throws at them defensively, the Dolphins have thrived against better. And while we haven't really seen a run-game flourish with Tua in there, this could be a week where he leans more on Mostert against a Chicago run defense that is among the worst in the league. That should open things up aerially, and while that's Chicago's strength on defense, they generally don't face multi-faceted passing-offenses like Miami's.
Take the Points
I could be wrong, but I don't recall too many Miami highlights on this field over the decades. Something tells me whatever high-wire offensive act Miami backers envision this week might not materialize. I think Miami might be forced to run the ball more and feed a bit into what the Bears are trying to do and with Chicago having more options in which to do it. Between the setting and this being Miami's second straight road game through the Midwest, I just suspect less offensive effervescence overall, allowing Chicago to hang in there and cover the spread. I'll take Chicago and the points.
Loot's Prediction to Cover the Point Spread: I'm betting on the Chicago Bears plus 4.5 points. Make the Bears +24.5 by adding them into a massive 20 point NFL teaser at Wagerweb Sportsbook!
10* CONF CHAMP TOTAL - 7-3 (70%) NFL PLAYOFFS
AAA Sports has hit BOTH their Wildcard Round and Divisional Round TOTAL OF THE YEAR, meaning you simply CAN NOT afford to miss out on their CONFERENCE CHAMPIONSHIP TOTALS WINNER! Now an ABSOLUTELY ELECTRIC 7-3 (70%) in the NFL Playoffs, this is TRULY the BIG PLAY that you've been waiting to just UNLOAD on!