Broncos vs. Raiders Against the Spread Pick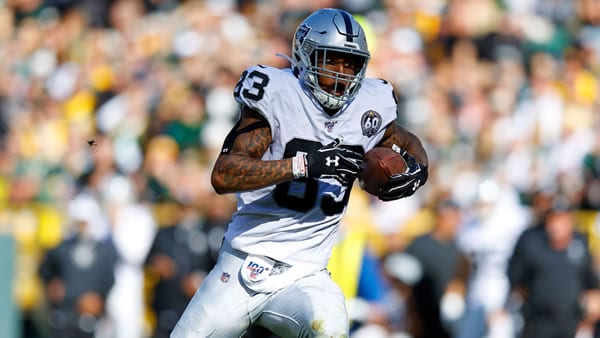 Denver Broncos (3-5 SU, 5-3 ATS) vs. Las Vegas Raiders (5-3 SU, 5-3 ATS)
Week 10 NFL
Date/Time: Sunday, November 15, 2020 at 4:05PM EST
Where: Allegiant Stadium, Las Vegas, Nevada
TV: CBS
Point Spread: DEN +5/LV -5 (Shop at the best sportsbooks)
Over/Under Total: 52
The Denver Broncos come to Sin City to battle the Las Vegas Raiders in an AFC West battle at Allegiant Stadium on Sunday. This could be a good game, despite their records being flipped, with the Raiders doing pretty well at 5-3, holding down the second spot in the division behind the Chiefs. Last Sunday, they beat the Chargers, 31-26, on the road in a hard-fought win where they had their hands full. This week, they're back home, awaiting a Broncos squad that is going into their second road game in a row. Last week, they came up short in a 34-27 loss to the Falcons, falling behind early and staging a late comeback bid that fell short. Who can get it done this week?
Reasons to Fear the Broncos
To their credit, they don't lay down when falling behind. The Broncos came from well off the pace the previous week to nip the Chargers at the wire in a big win before playing well late against Atlanta and at least making a run at it. A 27-6 lead in the fourth quarter looked bad, but they made it at least look better at the end. Still, with the combination of long spells of offensive futility, along with sequences of poor defensive play, they have been falling into some deep holes and aren't really built for flying up and down the field trying to keep pace or come back from big deficits.
There have still been some recent moments where we see Denver QB Drew Lock getting it together, making more use of a cast of weapons that has been slow to come around. Between the injuries to Lock and other key members of the offense, it's been hard to establish continuity. On Sunday, we saw the drafting of Jerry Jeudy really start to pay off, as he had 125 yards and a TD. Between Lock's useful legs, with Melvin Gordon and Phillip Lindsay, they can run the ball. With aerial weapons like TE Noah Fant, Tim Patrick, DaeSean Hamiton, and others, there are a lot of good players at the skill positions on this offense. We even saw rookie KJ Hamler start to deliver in the slot, with six catches and 75 yards. If this ever comes together, it could be scary.
More Picks: Get Loot's Chargers vs. Dolphins Week 10 Pick >>>
Why the Raiders are Dangerous in This Spot
Beyond all the individual weapons and how it matches up with Denver is a Raiders' team that seems to be developing a knack for delivering in a pinch. This type of crunch-time aptitude surfaced again on Sunday, with the defense making a game-saving defensive stand late. They're also developing a level of consistency that is the hallmark of a rising contender that might be for real. And when you're trying to cover spreads, a certain level of bankability, along with the tendency to come through late, goes a long way.
The Raiders have clearer identities continuing to form on both sides of the ball. They have a good accurate quarterback in Derek Carr, who has more late-game guts than he gets credit for. Joshua Jacobs is a real weapon, and you can see Gruden and the Raiders trying to make more of an impact with the run-game, with Jacobs leading the way along with some big help from Devontae Booker. The aerial crew might not be what they had in mind. Henry Ruggs, III. hasn't surfaced very often, and Darren Waller has been quiet in recent weeks. But between guys like Hunter Renfrow, Nelson Agholor, and whoever steps up, they've been making it work. Against the Broncos at home, one could expect a pretty big dose of the run this week.
On the other side of the ball, the Raiders are seeing some promising signs. For a while, between the injuries and what appeared to maybe be some wayward high draft picks on this side of the ball, along with a rough first three weeks of the season, morale for the Raiders' defense was a bit low. There is still some form-variance, including their 45-point allowance to Tampa a few weeks ago, but the last two weeks offer hope. First, in allowing just 6 points to Cleveland, they were really playing well across many areas. And they also held their own against a good Chargers' home-offense on Sunday, punctuated by the clutch play late. Carl Nassib and Maxx Crosby got to Justin Herbert, but generally, the playmaking on this side of the ball has been a bit suspect with just 8.5 sacks in 8 games. A continuing theme going back to last season is a lack of turnovers, as they have just 4 of them on the season. So as you can see, it's a mixed bag.
Intangibles
While the Las Vegas defense isn't very adept at getting turnovers, the Denver offense sometimes doesn't need much convincing from the other side to undermine their own efforts. With a lot of very young players getting a bulk of the touches, the mistakes are sometimes frequent, both with ball-handling miscues, in addition to penalties and other costly errors. And coming into Vegas after going into Atlanta presents other challenges for a young team that hasn't gotten over the hump as some may have suspected.
Lay the Points
The Broncos haven't shown it much in recent weeks, but they can play some defense, even if injuries have robbed them of some of their potential. I just suspect that even as they face a familiar foe, this week might not be the best time for a maiden voyage into a foreign stadium, playing a team that is hungry with a lot to play for. The Broncos are a team that can jump up and bite you on any given week, and even with all their issues and injuries, they've still managed to cover five of eight spreads. I just see this lining up badly for them, and I like the Raiders to win and cover at home this week.
Loot's Prediction to Cover the Point Spread: I'm betting on the Las Vegas Raiders minus 5 points.