Chicago Bears Under 7.5 Wins Is the Play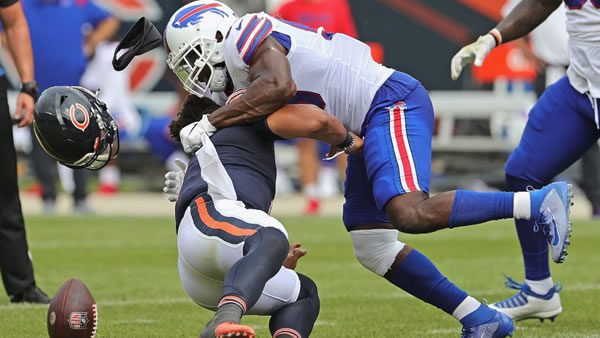 Da Bears slipped into the newly created 7th playoff spot in 2020, only to prove that the NFL didn't need seven teams and got smoked by the Saints to end their season. Chicago has been the picture of mediocrity the last two years, winning 16 of their 32 games, but Betanysports.eu is expecting some regression and has set the 2021 win total at 7.5. Let's look for that regression to be more severe for the Bears and Under 7.5 win tickets to cash. Here are three reasons.
The Offense Is a Mess
The Mitchel Trubisky era never took off in Chicago, so the Bears have turned the page to seek out a new offensive leader. Nick Foles was given a shot to save the day as he did in Philly – but that didn't work, and he now sits at the end of the bench. This year, Chicago has two options at signal-caller. Veteran game manager Andy Dalton and high upside Rookie Justin Fields. However, the Bears' offensive woes don't start behind center. They start on the O-line – which may be the worst in the league. Chicago didn't bring back their 2020 tackles – Bobbie Massie and Charles Leno Jr. – who were fair at best- and in their stead intended to go with Seattle cast off Germaine Ifedi and rookie second-round pick Teven Jenkins. As we sit in late August, Ifedi has not gotten off the PUP list while rehabilitating a hip injury, and Jenkins is on the shelf after having back surgery. Ifedi was horrible in Seattle before showing some improvement last year in the Windy City, but his ceiling is an average tackle, and in a desperation move, the Bears have signed Jason Peters to open the season at left tackle. Peters was one of the best tackles in the league for a decade but is a shell of his former self and shouldn't be counted on to play more than a couple of games before his body breaks down. Cody Whitehair and James Daniels are competent starting guards but aren't guys that can road grade in the running game or anchor a pass-blocking group. With no depth to speak of and injury issues coming into the season, the Bear line figures to get run over all-season making life difficult on whoever gets the nod at QB.
Dalton appears on track to open the season at QB. Dalton's career fizzled out in Cincy, so he moved on to back up Dak Prescott in Dallas last year, where he was pressed into work in October. Working with one of the league's best group of receivers, Ezekiel Elliot, at running back and a better offensive line than he'll have this year – Dalton managed only 14 TD passes against eight interceptions in 9 starts. Dalton will rely on Allen Robinson as his primary target and RB David Montgomery to move the chains. Robinson is a top 10 receiver but will constantly draw double teams, and Montgomery is a plodder that lacks explosiveness or the ability to run over defenders. Chicago was 23rd in points scored and 27th in yards per play in 2020, and there is no reason to believe with Dalton leading the charge, that will get better. Dalton can't throw the ball downfield, so Darnell Moody's speed won't help. Fields is the future in Chicago, and his ability to evade oncoming rushers may mask the subpar line, but Nagy insists on following some "unwritten rule" to keep the rookie on the bench. The offense will be dismal with Dalton leading the charge, and Fields will take some time to adapt to the professional game. Another year at the bottom of the league for the Bear offense is on tap.
More Picks: Indianapolis Colt Future Bets: Season Win O/U Pick >>>
The Defense Are Not Monsters
In 2018 it appeared there might be a new version of the Monsters of the Midway being created. Defensive coordinator Vic Fangio took a very solid squad, dropped in elite pass rush Khalil Mack, and the Bears D was striking fear in opposing offenses. Fangio moved on to coach the Broncos, and the Bear D has not been the same. Last year they were 14th in points allowed despite playing a relatively soft schedule, 26th in the league in takeaways, and only 17th in sacks. Mack had previously been considered the second-best defensive player in the league behind Aaron Donald, but he managed a pedestrian nine sacks last year. Robert Quinn came in to rush opposite of Mack but managed only two sacks in 13 games. The interior of the line didn't get pressure, so opposing QBs had plenty of time to find their targets. The line doesn't have any new faces to rush opposing passers, so it's up to Mack and Quinn to get home more, but there is no reason to expect that outcome.
The Bears' other top-shelf defensive players, linebacker Roquan Smith and Safety Eddie Jackson, also had down years in 2020. Jackson was a ball hawk in previously years but didn't have a pick last year and only forced three fumbles, while Smith dealt with some personal issues the caused a slow start to his 2020 campaign. There is no reason the pass rush should be expected to be better this year, and the secondary will not be as good. Kyle Fuller was a very solid CB for Chicago but left in free agency. He will be replaced by either nine-year vet Desmond Trufant or 2nd-year man Kindle Vildor. Jaylon Johnson played well as a rookie on the other side, but if the pass rush can't get pressure on opposing QBs, this secondary will get toasted. For some reason, there is a narrative that the Bear defense can be elite again, but the talent doesn't justify that expectation.
Nagy's Days Are Numbered
Matt Nagy finished 2020 on the hot seat despite making the playoffs for the 2nd time in his three-year stint as head coach. He managed to get another year primarily because GM Ryan Pace is sharing the hot seat with him, so both are in a win or leave town mode this season. Though Nagy has a 28-20 record over his three seasons, he came in with expectations of being an offensive guru in the Andy Reid mold. He tutored a number 2 overall pick for the last three years but couldn't develop Trubisky to run his offense and couldn't develop an offense that fit Trubisky's skills. Nagy has proven he is a play-caller but can't coordinate an offense and win with scheme.
Nagy's defense showed frustration last year that the offense left them on the field and will have the same frustration while Nagy chooses to play the 2nd best QB on the team. The Bears have three of their easiest five games – home against the Bengals and Lions and at the Raiders in the first five games, meaning the Bears best case would be having three wins with Dalton playing just good enough to keep Fields on the bench – rather than getting Fields ready for the tougher phase of the schedule starting in week 6. I look for Nagy's team to quit on him early this year and Nagy to not make it through the year. Teams don't win games when they won't play for their coach.
Play Under 7.5 Wins for Chicago
The wheels are coming off for the Bears this year, and Nagy, Dalton, and an overrated defense can't hold them on. They will not get to 8 wins. Question: If you went to the store and there were two identical items on the shelf, one for $110 and one for $105, which one are you going to buy? The cheaper one; of course! So why the hell would you ever consider sticking with a bookie charging you an extra $5 every time you bet when you could be wagering at -105 odds instead of -110? Be smart and make the switch to reduced juice wagering at the web's best priced odds sportsbook —> BetAnySports (10+ years with us; ZERO complaints!)
Football Betting Guide
New to football betting? NFL point spreads can be confusing at first, but our how to bet on football article help you bet like a seasoned pro! You'll also learn how to wager on teasers, parlays, over/unders, prop bets, futures and how point buying works.