Chicago Bears vs. Pittsburgh Steelers MNF Predictions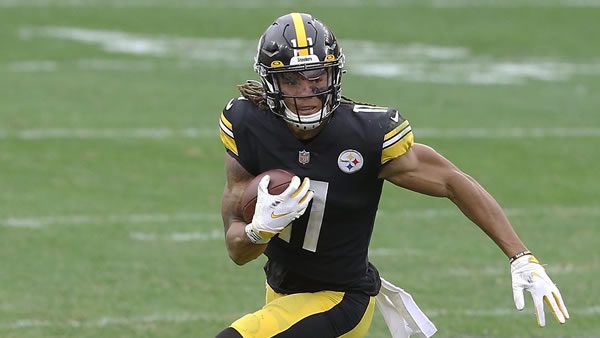 Chicago Bears (3-5 SU, 3-5 ATS) vs. Pittsburgh Steelers (4-3 SU, 3-4 ATS)
Date/Time: Monday, November 8, 8:15 EST
Where: Heinz Field, Pittsburgh
TV: ESPN
Point Spread: Chi +6.5/Pitt -6.5 (BetNow - Their 100% bonus from $100 to $1000 is the ULTIMATE bankroll booster! Simply the best real cash bonus offered by a legit online sportsbook!)
Over/Under Total: 40
Monday Night Football pits 2 of the most storied franchises in NFL history against each other, with the Chicago Bears visiting the Pittsburgh Steelers at Heinz Field in Steel City. The Bears have been spewing oil over the last month while the Steelers have somewhat steadied the ship, which has prompted BETANYSPORTS.EU to make the Steelers 6 .5 point favorites and set the game total at 40. Let's count on Chicago to keep the game close and take the Bears and the points. Here is the handicap.
This Will Be a Defensive Struggle
Chicago's defense hasn't been great this year but they should have success against the Steelers. They are 24th in opponent's yards per play and worse than that coming in at 27th in opponent's yards per pass attempt. Their rush defense has generally been better, but even that has shown issues the last couple weeks against San Francisco and Tampa Bay. Khalil Mack missed last week to rest his ailing foot after hobbling around the previous weeks, and the Bears hope to have him back this week. The Steeler offense should be just what the Bears need to get right. Mack and Robert Quinn have combined for 11.5 sacks and should be able to get some pressure on Ben Roethlisberger. The Bears have played pretty good defense early in games but have gotten worn out as the games go on. Playing against Pittsburgh's very vanilla offense should be the perfect recipe for Chicago to be able to shut down the running game then get after Roethlisberger. I look for a better performance from the Chicago D on Monday Night.
Pittsburgh's defensive has rounded into a very solid unit as the calendar has turned to November. They have allowed 16 points per game over the last 3 weeks in wins against the Broncos, Seahawks and Browns. None of them are the Chiefs or Bucs, but neither are the Bears. Pittsburgh now ranks 7th in the league in points allowed, and the key stat in shutting down the Bears, they have 19 sacks in their 7 games – so they will put pressure on Justin Fields. T.J. Watt leads the defense and will be looking to replicate Myles Garrett day against the Bears when he had 4 ½ sacks by himself in week 3. Pittsburgh has been leaning on their defense during this mini-winning streak and will be able to again this week. Pittsburgh's weakness is their passing defense that is 20th in opponent's yards per attempt. That shouldn't be an issue against a Bear team that can't put multiple completions together on a drive. Pittsburgh's challenge this week will be to shut down Justin Fields and keep him from hurting them on the ground, or extending a play and hitting on a bomb. Pittsburgh's team speed is nothing special, so this will be a big challenge for the Black and Gold
Don't miss any of my plays by visiting and bookmarking >>> NFL Picks
Both Offenses Are Painful to Watch
When you start listing out the worst offenses in the 2021 NFL, it doesn't take long to get to these 2 teams. Pittsburgh is averaging 18 points per game while the Bears rank 31st in this category averaging 15 points per game. Pittsburgh is 25th in the league averaging 5.2 yards per play while the Bears are dead last averaging 4.4 yards per play. Roethlisberger is holding back the Steeler offense. He can't move at all to extend plays, can't hold on to the ball long enough to let receiver routes develop and refuses to push the ball down the field. Najee Harris has been carrying the load in the backfield, doing noble work, but hasn't shown he is a game changer. He averages only 3.7 yards per carry, and on 128 rushes his long for the year is a meager 20 yards. Chase Claypool is the only playmaker on the Steelers, and Roethlisberger struggles to get him the ball in space. Pittsburgh has failed to top 20 point in 4 of their 7 games, and we should look for that to be 5 out of 8 games after Monday Night.
The Bears quarterback situation is just the opposite. Justin Fields is the athletic rookie that can make highlight reel plays and follow them up with typical rookie mistakes. Fields has been overwhelmed by opponent's pressure packages causing Chicago to max protect while simplifing the play book. Fields has started to show signs of getting more comfortable, and had his best game of the year last week. Against San Fran in week 8, Fields completed 70% of his passes and rushed for over 100 yards. The Bears scored 22 points, not enough to win or cover, but they did look like an NFL offense. Chicago converted 8 of 15 3rd downs, so things might finally be getting on the right track. Look for the Bears to continue to have limited success on offense. This week if they can score 20, which they should be able to do, they should cover the near touchdown spread and would have a chance to win the game.
This Is a Classic Steeler Let Down Spot
Mike Tomlin's Steelers have been favored in only 3 games this year, and have yet to cover a spread, including losing to both the Raiders and Bengals. Over the last 4 years, Pittsburgh is only 13-21 ATS as a favorite. They have won 3 straight games, 2 of which they were underdogs in, including a divisional rivalry game last week in Cleveland, but only covered the spread in the 2 they were Dogs in. Now they get a Bears team that has lost 3 in a row by at least 10 points, so it wouldn't be surprising to see the Steelers come out flat. Chicago has been a mess, but this team has beaten the Bengals and the Raiders earlier in the year, 2 teams that have beaten Pittsburgh this year. Chicago is certainly capable of beating Pittsburgh. In addition, Pittsburgh isn't good enough offensively to pull away, so Chicago should be able to at a minimum keep the game close.
Play the Bears +6.5
The Steelers really aren't good enough to be favored by 6½ points against anyone. With a low game total of 40 points will be at a premium and the 6.5 is even more valuable. Chicago will keep this game close and may even sneak out a win. Take the Bears and the points on MNF. You can make Chicago a +25.5 underdog by inserting them into a massive NFL teaser found at Wagerweb Sportsbook!
OSKEIM'S MONDAY NIGHT FOOTBALL GAME OF MONTH

Jeff Keim has PRODUCED 61% WINNERS over the last 60 days for a Net Profit of +$24,420! Now, Jeff is STEPPING OUT with his One and Only Monday Night Football Game of the Month backed by a 100% PERFECT angle! Jeff is on a RED-HOT 60% NFL run so you don't want to miss one of his STRONGEST moves of the ENTIRE season - a HUGE GAME OF MONTH PAYDAY on primetime television for your viewing pleasure! Go get it.