Cleveland Browns vs. Arizona Cardinals Pick 12/15/19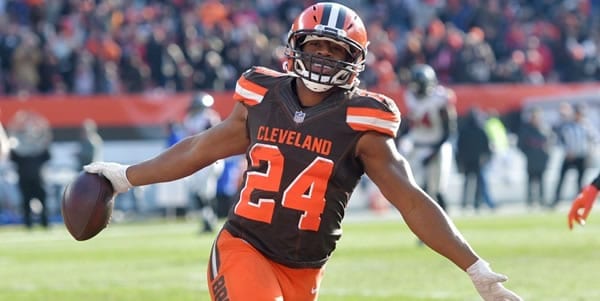 Cleveland Browns (6-7 SU, 5-7-1 ATS) vs. Arizona Cardinals (3-9-1 SU, 7-5-1 ATS)
NFL Week 15
Date/Time: Sunday, December 15, 2019 at 4:05PM EST
Where: State Farm Stadium, Glendale, Arizona
TV: CBS
Point Spread: CLE -2.5/ARI +2.5 (GTBets - 100% REAL CASH BONUS!)
Over/Under Total: 48
The Cleveland Browns head down to the southwest for a Week 15 battle with the Arizona Cardinals on Sunday. Arizona is looking for a positive development after yet another loss on Sunday. This time it was a 23-17 loss to the Steelers at home. In their third straight game at home, they look to make their mark this week. Standing in their way is a Browns' team that won their fourth game in five weeks on Sunday with a 27-19 win over the Bengals. Can they thrive in this cross-conference road trip or can the Cardinals put a good 60 minutes together and get the job done?
The Unique Perception on Arizona
It seems like Arizona gets a pass for being so bad. On the one hand, they are 7-5-1 against the spread, so it's not like they've been lousy at the windows. And the general vibe is that they're a rising team that has found their quarterback and is pretty good in some areas. The way people view the Cardinals is a little different than most teams with similar records. Teams with similar W-L records like Miami, Cincy, Jacksonville, Washington, the Giants, and Detroit are viewed more as failures than Arizona. But without a cover in three weeks and with six straight losses overall, maybe the wheels are coming off a bit.
What Cleveland is Doing Well and How it Will Register
I think the stench of the massive disappointment the Browns were this season could shield a more-rosy outlook the last month-plus. With two of their last four wins coming against the Steelers and Bills, they've been able to play well at a high level. They're the only team to beat the Steelers in the last few months, while also being the last team to beat Baltimore. Last week, they won and covered against Cincinnati, atoning for a rematch loss to the Steelers the previous week.
Against an Arizona secondary that has been torched more often than not this season, Cleveland looks to do damage. It's the worst secondary in the league. Even with Baker Mayfield having more picks than he does TDs, and with Odell Beckham hurting and waning, they still have some upside with Jarvis Landry and Kareem Hunt, who catches a lot of balls out of the backfield. Hunt and Nick Chubb are viable weapons Cleveland can use in this game against an Arizona run defense that isn't a ton better than their dilapidated secondary. While not thriving against some tougher defenses of late, this side of the ball could look good this weekend against an Arizona defense that has upended the entire Cardinals' operation.
In their last five games, the Browns have allowed a total of 86 points. That's not too bad at a time where some personnel issues came down to bear. Still, they wield a secondary against the rookie Arizona QB that is one of the best in the conference, despite all their other issues. They make a lot of plays, and on Sunday, we saw Denzel Ward return an interception for a TD. They're very disruptive, and with Arizona having trouble running the ball, issues in the pass-game could pose some problems. Cleveland can't be expected to be kept at that low of a point-total against this defense and Arizona will need to keep pace to be in the running to cover this number.
More Picks: Jags vs. Raiders Point Spread Pick >>>
Sunlight for Arizona?
Results aside, Kyler Murray is a dangerous player and will be a lot better after dealing with the struggles of a rookie season. Three picks on Sunday were costly in an otherwise close game with the Steelers, but he won't have it quite as hard this weekend at home against Cleveland's defense. He is the team's leading rusher, which may be more of an indictment on the Arizona ground-game than an endorsement of Murray. They are a bit strapped for offensive firepower, but Murray is doing okay for what he has at his disposal—no viable runners, no true number-one receiver, and a line that leaves a lot to be desired. You can at least see some good things developing at quarterback.
The bottom-line speaks loudest, but the Cardinals were at least hanging in there against a streaking Steelers' team, with turnovers their main undoing. They aren't getting embarrassed left and right, and any team that has been able to get any separation from Arizona are playoff-bound teams. At home against so-so teams, they're able to hold their own. And again, for them to go through this three-game home window without a win would be a hard pill to swallow. Sure, there are no playoff ramifications, but they're due and they probably really want this one.
More Matchup Issues for the Cardinals
Granted, the Browns lost a lot of fire in the pass-rush with the suspension of Garrett, but Arizona's line is not getting better, and they weren't any good, to begin with. Cleveland could be disruptive up-front, which will throw off Murray's timing as he tries to find openings in a Cleveland secondary that might not be there with his substandard receiving crew. And with three picks on Sunday, a similar showing this week would be costly against an opportunistic Browns' defense. In essence, we'll see if Arizona can find a way to compete despite being outmanned on both lines of scrimmage.
Lay the Number on the Road Favorite
Some hard football realities have come crashing down for the Cardinals in recent weeks and facing a hot Browns' team might not be in their wheelhouse right now. There are enough alarming matchup issues on both sides of the ball to elicit concerns even for the most-ardent Cleveland naysayers. And while there hasn't been much this season to make one too enthused about laying points on Cleveland on the road in a cross-conference matchup against a team that has done well against the spread, this appears to be a good spot. I see the Browns nipping the win and cover in Glendale on Sunday.
Loot's Pick to Cover the Point Spread: I'm betting on the Cleveland Browns minus 2.5 points. Bet this game and ALL your football bets at -105 odds (instead of the spendy -110 you're locked into) at the web's best sportsbook: 5Dimes!