Colts vs. Titans Analysis & Spread Pick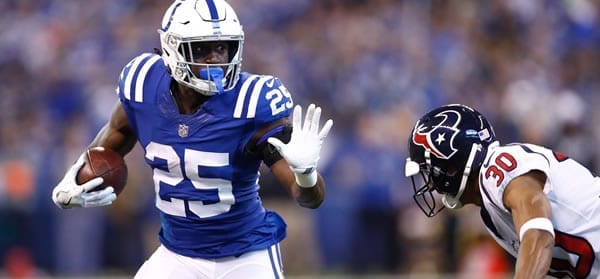 Indianapolis Colts (0-1 SU, 0-0-1 ATS) vs. Tennessee Titans (1-0 SU, 1-0 ATS)
NFL Football Week 2
Date/Time: Sunday - September 15th - 1:00pm EST
Where: Nissan Stadium - Nashville, TN
TV: CBS
Point Spread: IND +3/TEN -3 (Bookmaker)
Over/Under Total: 44.5
INDIANAPOLIS COLTS AND TENNESSEE TITANS MATCH-UP:
This coming Sunday at 1:00 pm we have an AFC South showdown between the 1-0 Tennessee Titans and the 0-1 Indianapolis Colts. Tennessee is coming off of a huge game over the highly hyped…, and yes, in MY opinion, they are nothing but hype, Cleveland Browns. The Colts, on the other hand, lost in week one to the Los Angeles Chargers 30-24 in a game that saw overtime and in a game that many feel the Colts were robbed. With that said, the bookmakers think this will be a great game seeing as how the Titans are a three-point favorite at home over the Colts. Being division foes, these two teams face off two times a year. Although the rosters on these teams have shifted and changed, especially with the random and sudden retirement of Andrew Luck for the Colts, based on history, Indy has a HUGE ADVANTAGE. The Colts have won eight of the last ten games straight up and in those ten games; they have covered the point spread seven times. In other words, the Colts have owned the Titans…but that could, and I say COULD change come Sunday.
HOW THE PUBLIC IS BETTING THE COLTS AND TITANS GAME:
I tell you what…When I say the public LOVES a pick, boy do they! As of midday Wednesday, 71% of the public betting action was on the Titans to cover the three-point spread at home over the Indianapolis Colts. Of course, being a division game with two AFC South teams, you expect a great game, but it looks to me like a majority of the degenerates out there like Tennessee. What scares me the most is so do I. I just have this gut feeling that Tennessee will not only win this game on Sunday, but they will DOMINATE. Anyone who follows my picks know that I love fading the public, but this is one of the sporadic cases where I feel Vegas screwed up. Tennessee will win this game by AT LEAST two touchdowns….write it down…bet it….take it to the bank!
WHY TENNESSEE WILL COVER THE SPREAD ON SUNDAY:
This article and prediction may sound like a completely random and casual fan, but I am being real here. Tennessee is going to DOMINATE THIS GAME! I promise you, the Titans will win, and it will not even be close. If you look back, I have said over the last couple of season that Tennessee is a team on the rise and they have been and continue to be one of the most underrated teams in all of the NFL. Against the Browns this past Sunday not only did they pick of Baker Mayfield three times, but they also held running back Nick Chubb to just 75 yards rushing. Not only did the Titans defense shut down the Cleveland offense, but the Tennessee offense was extremely successful against a team that many experts say has one of the most improved defenses in all of the league. Marcus Mariota threw three touchdown passes to go along with his 248 yards passing while Derrick Henry ran for a touchdown and another 84 yards on 14 carries. This Tennessee team is legit….I am telling you, these guys can play and they are my pick to win the AFC South. Yes…they are… Jacksonville sucks, Houston is all hype, and the Colts are trash….well maybe not trash but they have no shot this season. Tennessee is coming into their own, and they again prove they are a legit AFC South contender come Sunday.
More Picks: Browns vs Jet Week 2 Pick Against the Spread >>>
HOW THE GAME WILL PLAY OUT BETWEEN THE COLTS AND TITANS:
I genuinely do not want to sound redundant, but this game will not be close on Sunday. I do realize that one player does not make the team, even if that player was the franchise QB, but even with Andrew Luck I would take Tennessee in this game. I just feel like at some point, being a starting quarterback will become too much for Jacoby Brissett, and the Tennessee defense will force him to make mistakes. The only bright spot for the Colts to me is the running back play of Marlon Mack who ran for 174 yards on seven yards a carry this past weekend. However, the Titans defense is stout enough to stop Mack from having a vast game and force Brissett to win with his arm….he won't. The first half of this game will be close. I could see a 13-10 type first half, but as time goes on and as the Titans get rolling, it will get out of hand. I like Tennessee to win this game over the Colts by a score of 31-17 on their way to going 2-0 while they send Indy to 0-2.:
Bob's Pick to Cover the Point Spread: TAKE THE TENNESSEE TITANS AT HOME -3 AGAINST THE INDIANAPOLIS COLTS!
100% Free Play up to $1,000