MNF Pick: Cleveland Browns vs. New York Jets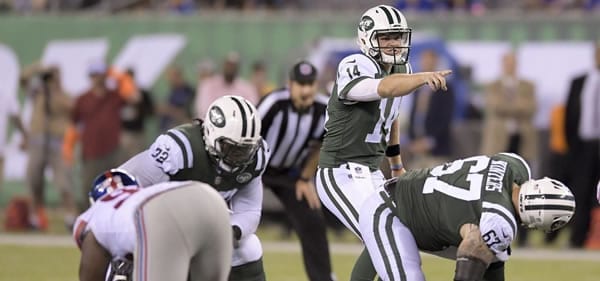 Cleveland Browns (0-1 SU, 0-1 ATS) vs. New York Jets (0-1 SU, 0-1 ATS)
NFL Week 2
Date/Time: Monday, September 16, 2019 at 8:15PM EDT
Where: MetLife Stadium, New Jersey
TV: ESPN
Point Spread: CLE -2.5/NYJ +2.5 (WagerWeb)
Over/Under Total: 46
Update: Sam Darnold has been listed as OUT with mono. Le'Veon Bell is questionable with a shoulder. 
The Cleveland Browns visit the New York Jets at MetLife Stadium for a week two Monday Night Football matchup. You have two teams here looking to make amends after a rough week one. The Jets seemed on their way to a sloppy, but routine win over the Bills, when a bad fourth quarter led to a hard 17-16 loss. For Cleveland, things may have somehow gone even worse. Hyped over the offseason after a slew of big-name pickups and a promising 2018, they fell flat on their faces at home in a 43-13 loss to the Titans. Which team can shake off the first week and move toward getting on the right track?
Can Jets Pick it Up After Collapsing in Week One?
It's a little demoralizing to fall apart late and give up a 16-0 lead in the second half for the Jets. With a new head coach in Adam Gase and the hope of a new season, it's a rough setback. With the addition of Le'Veon Bell and some more aerial artillery, there was hope on offense. The line looked to be improved with Ryan Kalil at center and Kelechi Osemele at guard. But on Sunday, the game stagnated, with no offensive scores from either team until midway through the third quarter. With all the new promise and Darnold in his second season and looking to improve, the offense managed eight points against Buffalo. A defensive score by the Jets was nice, but a failed extra-point cost them in the one-point loss. Cleveland has a lot to answer for defensively after their week one collapse, but if there were ever a week to get better, this might be it. Buffalo's defense is certainly heading in the right direction; I'm not sure they're one-score good.
More Picks: Jags vs. Texans Week 2 Pick Against the Spread >>>
Giving the Jets Some Leash
Darnold wasn't even that bad in week one, going 28-41 and a TD pass to Bell. He couldn't string together many first downs. Bell's Jets debut was lukewarm, with 60 yards on the ground and 32 more through the air, though he did get the one Jets score. Over time, one could expect the boosted O-line to start paying off, keeping Darnold better-protected and opening up better lanes for Bell to do his thing. Though it didn't amount to much, Jamison Crowder's 14 receptions were impressive. They didn't get much from Quincy Enunwa and Robby Anderson but should be moving ahead. After all, Cleveland didn't exactly distinguish themselves defensively in allowing a really good game from Marcus Mariota in week one.
The Jets have good and bad signs on defense. And the fact is, they are facing a lot this week, an offense that will be pining to showcase their wares better. CJ Mosley (questionable at time of print) picked off a pass and ran it back for a TD in his first game with the team, but injured his groin. Quinnen Williams, a top draft pick, also hurt his ankle. But for three quarters, they held the Bills at home to three points. The "D" forced four turnovers. Then with a bad quarter, a win was turned into an improbable loss. At the same time, they showed some upside, and maybe they can give a Cleveland offense that is looking to fire some trouble.
It Has to Get Better for Cleveland, Right?
Not to pile on, but it's hard to turn a losing franchise around, and when you start expecting them to thrive, it's sometimes asking for a lot. They will be better than they showed in week one and should still be considered a rising commodity in the league. Against another more-subtle, yet complete conference opponent, it just fell flat, and they would appear to have more to exploit on both sides of the ball here against the Jets. Also expect some pride to kick in, as losing to the Jets to fall to 0-2 to open the season would at least qualify as a mini-disaster, and it doesn't get much easier against the Rams next week. They need this.
Three picks from Baker Mayfield made a hard day that much more difficult for the Browns. One was returned for a TD. Mayfield was sacked five times and the run-game starring Nick Chubb never really got out of the blocks with them playing from behind so early. And in trying to play catch-up, the turnovers undermined the effort. An alarming 18 penalties just further tells the story of a sloppy effort. Mayfield had 285 yards and connected decently with a supposed huge 1-2 punch of Jarvis Landry and Odell Beckham, Jr., but it all just fell flat. But sloppiness can be overcome with a more-pointed headspace, and one should expect that this week.
The prognosis may not be as rosy on defense, where the Browns really laid an egg against the Titans. Mariota was able to operate cleanly for the most part. There was the sporadic pass-rush, with Myles Garrett leading the way with two sacks. But they gave up a lot of big plays. This week, the defensive front faces an easier test, and the secondary might be, as well. Suffice to say, any repeat of whatever they came up within week one would take them right out of this game. This defense is packed with either touted free agents or super-high draft picks, and they need to start doing their share, or it's going to undermine the entire season. They're going to have to find some answers for Le'Veon Bell (questionable at time of print) who will be looking to bust out in their home-opener. But I do expect them to play better. It can't get any worse.
Take the Home Favorite
In all truth, I thought the 2019 Browns were overvalued from the get-go. With the Rams next week, they are in an early-season pressure spot where they need to deliver. Not that the Jets won't be pushing hard to not fall to 0-2 in their home-opener. But what didn't work on Sunday will get over a little better in this spot for the Browns. The Cleveland "D" has to really deliver this week, as does the other side of the ball and I see both teams assuming their baseline level for this game, with the Browns just being a notch above. I'll take Cleveland.
Loot's Pick to Cover the Point Spread: I'm betting on the Cleveland Browns minus 2.5 points.
STOP LOSING TODAY! START WINNING WITH DOC'S TEAM OF PROFESSIONALS! GET A FREE NO STRINGS ATTACHED $60 FOR THIS WEEKEND'S GAMES!