Cowboys vs. Cardinals Pick – Barking Dog or Cowboys Blowout?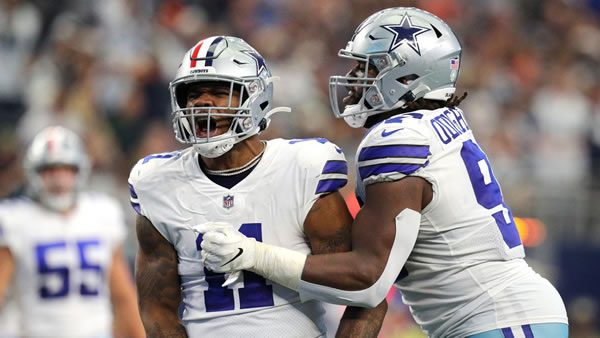 Dallas Cowboys (2-0 SU, 2-0 ATS) vs. Arizona Cardinals (0-2 SU, 2-0 ATS)
Week 3 NFL
Date/Time: Sunday, September 24, 2023 at 4:25PM EDT
Where: State Farm Stadium, Glendale, Arizona
TV: Fox
Point Spread: DAL -12/ARI +12 (Boost your bankroll with a fat 100% bonus!)
Money Line: Dallas -675, Arizona +460
Over/Under Total: 43.5
The Dallas Cowboys make the trip west to Glendale to take on the Arizona Cardinals in week 3 NFC action on Sunday. Through two weeks, it might be the Cowboys who have put up the best results in the league with a 40-0 opener against the Giants and their 30-10 win over the Jets last week. At 2-0, they now take on an Arizona bunch that hasn't quite been the easy pickings some thought, still winless, but having covered both of their spreads. Still, blowing a 28-7 lead to the Giants and getting nipped at the wire last week had to hurt. They've still shown they won't be bowled over easily, as the large-size favorites Dallas come into town. Will we see the Cowboys continue to romp, or can the Cardinals provide some resistance?
Is Dallas' Run Sustainable?
You could probably get away with saying the first two weeks have made the Cowboys look better than they are. The Rodgers injury has made the Jets easy pickings, and the Giants couldn't do anything right in week one. The Cowboys have been and will continue to rely on a difference-making defense that is not only stout but can make game-changing plays and score, as well. But despite two romps, the Cowboys have still scored just four total touchdowns, with the slew of defensive scores and field goals making things look more lopsided than they eventually will be, perhaps.
It's not like anything has really changed on a Dallas offense, other than the acquisition of Brandin Cooks (day-to-day) and Tony Pollard taking over the backfield with Ezekiel Elliott departing. They still have Dak Prescott, who has been efficient and not really prolific through two games. CeeDee Lamb looms as a real weapon. And the gem of the offense might be that really good offensive line. They have been able to sustain a lot of scoring drives, but they've been put in two favorable situations to shine so far this season. This could be another one.
Can the Cardinals Offer Some Resistance?
It would seem to be a fair assessment that the Cardinals have slightly surpassed expectations thus far despite an 0-2 start. Granted, coming close and not getting it done in two games against the Giants and Commanders isn't terribly encouraging, but maybe it is within the context of Arizona being projected to be perhaps the worst team in the league this season. They still might end up being that and took the bad setback of losing Budda Baker for the time being with a hamstring last week against the Giants.
While far from captivating, QB Joshua Dobbs is capable, completing nearly 70% of his throws thus far with no picks. He hasn't gotten a ton out of Marquise Brown, Rondale Moore, and other Arizona receivers, but he's connecting well with RB James Conner, while TE Zach Ertz remains a viable and often-utilized weapon. Dobbs can also fire off a good run from time to time. They were looking pretty good through 2 quarters and change against the Giants last week before hitting a wall.
But just as one was thinking that maybe the Arizona defense had been low-rated heading into the season, the wheels came off last week. In allowing 20 to Washington on the road in a difficult week one spot, followed by blanking the Giants last week in the first half, the Cardinals had to be feeling good about themselves until Daniel Jones and this Giants' offense just went haywire after not scoring a point through 6 quarters this season, piling on 31 second-half points to seal the deal. Watching them fall apart like that in the second half didn't really suggest that they would likely look very good the following week against an even more dangerous team in the Cowboys.
Who is More Likely to Cover the Spread?
It's a big one. If Dallas comes into this with some level of satisfaction having already settled into their system where they approach this lackadaisically, it's not hard to imagine Arizona seeing some of their offensive effervescence resonate into a couple of scores, while their defense is respectable enough to avoid getting bowled over. If Dallas isn't getting scoring help on the other side of the ball, a hard thing to bank on, have we really seen an offense geared to cover jumbo spreads on the road? The scores are certainly impressive thus far, but if the offense continues providing somewhat lukewarm results, doesn't that bode well for a potential Cardinals' cover this week?
In fairness, Dallas wasn't really being pressed in either game. There was no need to be out there taking risks on offense while nursing big leads. But still, with the stubborn case of mediocrity that seems to always plague Prescott, along with what seems like a narrow path to points with Pollard and Lamb being the main two weapons, it's not an offense that should elicit fear. Maybe Cooks steps up as a weapon, but they're without a structure in the aerial cast outside of Lamb while still looking for a consistent force at tight end. What they do have with Prescott, Pollard, Lamb, and that good line is still going to be enough in a lot of cases.
Lay the Points!
This is the biggest mismatch of the 2023 NFL season. Arizona's offensive line is going to get eaten alive by a vicious Cowboys defensive line. Arizona folded like a cheap tent on defense last week. That was a preview of what's to come every quarter in this week's matchup with the Pokes. I wouldn't be surprised if Dallas puts up a 50-burger on AZ Sunday!
Loot's Prediction to Cover the Point Spread: I'm betting on the Dallas Cowboys at -12 and projecting the game to cover before the first half is over!
We've got a new 100% bonus to offer our readers! Deposit $100 to $300 and get a dollar for dollar matching real cash bonus when you enter bonus code PREDICTEM at BetUS Sportsbook!