[et_pb_dcsbcm_divi_breadcrumbs_module hide_homebreadcrumb="off" homebreadcrumbtext="Home" separator="sep-raquo" hide_currentbreadcrumb="off" homebreadcrumborientation="left" _builder_version="3.8″ fontsbreadcrumbs_font="Lato||||||||" fontsbreadcrumbs_text_color="#000000″ fontsbreadcrumbs_font_size="15px" fontsbreadcrumbs_line_height="16px" fontsseperator_font="||||||||" fontsbreadcrumblinks_font="||||||||" fontsbreadcrumblinks_text_color="#2567cf" custom_margin="25px|||" custom_margin_phone="30px|||" custom_margin_last_edited="off|desktop" custom_css_main_element="font-family: Helvetica Regular;" disabled="on" global_module="3641″ saved_tabs="all"][/et_pb_dcsbcm_divi_breadcrumbs_module]
Denver Broncos vs. San Francisco 49ers Week 14 Pick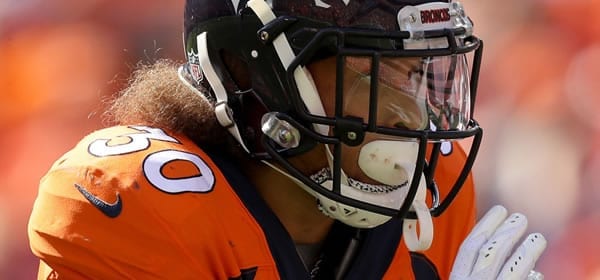 Denver Broncos (6-6 SU, 6-5-1 ATS) vs. San Francisco 49ers (2-10 SU, 3-9 ATS)
NFL Week 14
Date/Time: Sunday, December 9, 2018 at 4:05PM EST
Where: Levi's Stadium, Santa Clara. California
TV: CBS
Point Spread: DEN -5.5/SF +5.5
Over/Under Total: 43.5
The Denver Broncos come into the Bay Area for a week 14 showdown with the San Francisco 49ers on Sunday Night Football. San Francisco is home, coming off their third loss in a row—a 43-16 road-loss to the Seahawks last Sunday. At 2-10 and almost as bad against the spread, confidence is low and for a good reason. The Broncos, meanwhile, have breathed some new life into their season with three straight wins coming off the bye, including a 24-10 road-win on Sunday against the Bengals. At 6-6, they look to nose above .500 this week, once again on the road. I like them to win and cover the spread this week, continuing a nice run of success after some rocky passages.
Denver Sneaking Up on People
Three weeks ago, when the Broncos came off the bye, they were a forgotten team. In many ways, they still are despite their recent success. After tumbling badly after a 2-0 start, they were an easy team to dismiss. The formula for success had grown stale, Case Keenum was underwhelming as the new quarterback, and nothing was clicking. But then things changed, and we see a once-feared defense finding its teeth again, a burgeoning run-game starting to really resonate, and a team with a lot of spirit and a lot to play for.
Several things equal bad news for the 49ers. One is that the Broncos have been thriving away from home. In this recent three-game spurt, two of the wins came away from home, including one over the Chargers and the two-touchdown win over Cincy last week. And with San Francisco struggling on offense, the Broncos have allowed only 68 total points in their previous 4 games combined. And that was against teams like the Chargers, Steelers, and the Texans. So what can San Francisco hope for in this spot? Not to mention they will be playing a Denver team that suddenly has a new lease on life and could get over .500 and start creeping into the wild card picture.
Can the SF Defense Answer the Call?
As we see Denver starting to get a boost on their offense, how is SF holding up on defense? Unfortunately for them, it's not going so well. They were run on with gusto against the Seahawks last week and the week before, as well, seeing the best part of their defense starting to wane. After allowing the Seahawks to surpass their season-high in scoring by 12 points last week, where do they turn for answers? The previous two weeks, they gave up 27 each to the Bucs and the Giants. So you don't exactly have to be the Rams or Saints to put up points against San Fran lately. Prior to that, even with all their problems, they were hanging in there on the strength of their defense. Injuries, a lack of support on the other side of the ball, and the mental and physical rigors of a tough season have started to really add up on this side of the ball.
Against a faltering Frisco "D," Denver will look to unleash their run-game. Rookie running back Philip Lindsay has been on a big roll lately and had 157 yards and two TDs last week. Royce Freeman, another rookie, adds a nice accompaniment and together, has formed a big 1-2 punch out of the backfield. Lindsay's 65-yard TD run on Sunday was big and shows that Denver now has some big-play ability. Case Keenum has not been lighting up the world at quarterback, but his competent and clutch play has been a big part of this recent Denver surge. At the end of the day, how the Niners' defense holds up against this run will play a huge role in the outcome of this game. I don't think they're going to hold up very well.
Denver Defense Looking Like Their Old Selves
The 49ers' offense was getting on a little roll before their bye-week. And in the last two weeks since, they've put up an anemic 25 points. That doesn't bode well when about to face a Denver defense that has been looking really sharp in recent weeks. Von Miller is a massive difference-maker, and the field has been balanced a bit with rookie Bradley Chubb also getting after it. Both men got to the quarterback on Sunday and have a combined 22.5 sacks on the season. The Denver pass-defense has been playing better, and even when they're not stout, they make a lot of plays. Justin Simmons has three picks this season, with other DBs making plays. They have guys on this side of the ball that can change the complexion of a game. San Francisco quarterback Nick Mullens has thrown 5 picks in the last three games, and with the SF offensive line not protecting their quarterback well, one wonders if the Denver defense could punish the Niners this week.
Hope for the Niners?
With what we have seen league-wide this season, San Francisco getting a cover at home this week would not register as any kind of real surprise. Some teams like Denver go on a little run and then fall flat just when you think they've turned it around. They've been streaky that way this season, winning their first two, losing 6 of 7, and then winning three straight. And they have drastically switched form when the team they were playing didn't seem to be the suitable dance-partner to bring that about, so who knows?
Injuries have rendered the 49ers a diminished force on both sides of the ball. Against Seattle, Mullens did throw for 414 yards, and he has shown glimpses of being able to move the ball well through the air. Their run game is effective when it materializes with Matt Breida leading the way. Rookie back Jeff Wilson, Jr. has been making noise out of the backfield and had 61 yards rushing and 73 yards receiving on Sunday. Against Seattle, receiver Dante Pettis had 129 yards and a pair of TD receptions and is starting to show that picking him high in the draft maybe wasn't a mistake. Still, they managed just 16 points with all this production against the Seahawks, but it shows that through adversity, they're still able to move forward and have different sources of hope.
Lay the Points on the Road Favorite
This could be a tricky spot to be taking the Broncos. They sort of show the signs of a team that switches form just as everyone becomes accustomed to it, however, they're playing. They're far from ironclad in other words and on the road in an out-of-conference context might not be their wheelhouse as a betting selection. I just see the combination of a blossoming run-game and defense going off well against a 49ers' team this week, with the extra urgency in light of being back in the picture getting them over the hump for the big road-cover.
Loot's Pick to Cover the Point Spread: I'm betting on the Denver Broncos minus 5.5 points. If your sportsbook isn't offering this game at -5.5 then you need to add a few more to shop lines. Check out our list of the top sportsbooks graded by category to fine the best fit for your wagering style.
<div class="widget105"><!-- [et_pb_line_break_holder] --><h4 class="parlays">Best Sportsbooks for Parlays</h4><!-- [et_pb_line_break_holder] --><!-- [et_pb_line_break_holder] --><table id="parlay"><!-- [et_pb_line_break_holder] --> <tr><!-- [et_pb_line_break_holder] --> <th><span class="team"></span></th><!-- [et_pb_line_break_holder] --> <th>2 Team Parlay</th><!-- [et_pb_line_break_holder] --> <th>3 Team Parlay</th><!-- [et_pb_line_break_holder] --> <th>4 Team Parlay</th><!-- [et_pb_line_break_holder] --> </tr><!-- [et_pb_line_break_holder] --> <tr><!-- [et_pb_line_break_holder] --> <td><a href="https://www.predictem.com/out/SportbetP"><img src="https://www.predictem.com/wp-content/uploads/2018/06/sportbet-sm.png"></a></td><!-- [et_pb_line_break_holder] --> <td>2.74 to 1</td><!-- [et_pb_line_break_holder] --> <td>6.24 to 1</td><!-- [et_pb_line_break_holder] --> <td>13 to 1</td><!-- [et_pb_line_break_holder] --> </tr><!-- [et_pb_line_break_holder] --> <tr><!-- [et_pb_line_break_holder] --> <td><a href="https://www.predictem.com/out/BovadaP"><img src="https://www.predictem.com/wp-content/uploads/2018/06/bovada_sm.png"></a></td><!-- [et_pb_line_break_holder] --> <td>2.64 to 1</td><!-- [et_pb_line_break_holder] --> <td>6 to 1</td><!-- [et_pb_line_break_holder] --> <td>12.3 to 1</td><!-- [et_pb_line_break_holder] --> </tr><!-- [et_pb_line_break_holder] --> <tr><!-- [et_pb_line_break_holder] --> <td><a href="https://www.predictem.com/out/MybookieP"><img src="https://www.predictem.com/wp-content/uploads/2018/06/mybookie-sm.png"></a></td><!-- [et_pb_line_break_holder] --> <td>2.64 to 1</td><!-- [et_pb_line_break_holder] --> <td>6 to 1</td><!-- [et_pb_line_break_holder] --> <td>12 to 1</td><!-- [et_pb_line_break_holder] --> </tr><!-- [et_pb_line_break_holder] --></table><!-- [et_pb_line_break_holder] --><div class="widget-footer"><a href="https://www.predictem.com/best-sportsbooks/parlays-odds/">See all Sportsbook Parlays</a></div><!-- [et_pb_line_break_holder] --></div><!-- [et_pb_line_break_holder] --><!-- [et_pb_line_break_holder] --><!-- [et_pb_line_break_holder] --><style><!-- [et_pb_line_break_holder] --> #parlay {border-collapse: collapse;<!-- [et_pb_line_break_holder] --> width: 100%; border: 0px;<!-- [et_pb_line_break_holder] --> font-size: 14px!important;}<!-- [et_pb_line_break_holder] --> #parlay td, #parlay th {<!-- [et_pb_line_break_holder] --> border: 0px;<!-- [et_pb_line_break_holder] --> padding: 8px;<!-- [et_pb_line_break_holder] --> text-align: left;}<!-- [et_pb_line_break_holder] --> #parlay th {<!-- [et_pb_line_break_holder] --> padding-top: 5px;<!-- [et_pb_line_break_holder] --> padding-bottom: 5px;<!-- [et_pb_line_break_holder] --> font-weight: bold;<!-- [et_pb_line_break_holder] --> line-height: 14px;<!-- [et_pb_line_break_holder] --> text-align: center;<!-- [et_pb_line_break_holder] --> color: #000;}<!-- [et_pb_line_break_holder] --> #parlay tr {border-bottom: 1px solid #edeef0;}<!-- [et_pb_line_break_holder] --> .team {font-size: 16px;}<!-- [et_pb_line_break_holder] --></style>
<div class="clickable CTA" style="margin: 0 auto; background: #fff; border-radius: 10px; text-align: center; padding: 10px 20px 20px 20px;"><!-- [et_pb_line_break_holder] --> <img src="https://www.predictem.com/wp-content/uploads/2018/05/mybookie-logo.png" alt="MyBookieer" class="cta-image" /><!-- [et_pb_line_break_holder] --> <p style="margin-top: 5px; font-size: 22px; line-height: 30px;"><!-- [et_pb_line_break_holder] --> $1,000 Free Play Offer<!-- [et_pb_line_break_holder] --> </p><!-- [et_pb_line_break_holder] --> <hr class="cta-divider"><!-- [et_pb_line_break_holder] --> <p style="padding-bottom: 20px; font-size: 15px; line-height: 20px"><!-- [et_pb_line_break_holder] --> $1,000 Football Sign Up Bonus<br>Free Play - 15X Rollover<!-- [et_pb_line_break_holder] --> </p><!-- [et_pb_line_break_holder] --> <a href="https://www.predictem.com/out/Mybookie" rel="nofollow" target="_blank"><button class="et_pb_button" style="color: #fff; cursor: pointer; width: 90%;"><!-- [et_pb_line_break_holder] --> Bet Here<!-- [et_pb_line_break_holder] --> </button></a><!-- [et_pb_line_break_holder] --></div>