Eagles vs. Broncos Predictions Against the Spread 11/14/21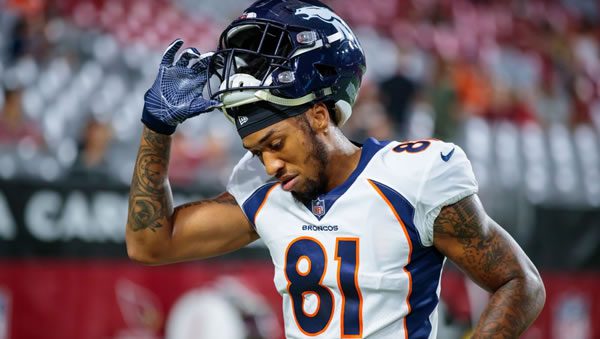 Philadelphia Eagles (3-6 SU, 3-6 ATS) vs. Denver Broncos (5-4 SU, 5-4 ATS)
Date/Time: Sunday, Nov 14, 4:25 PM EST
Where: Mile High Stadium, Denver
TV: FOX
Point Spread: Phil +2.5 / Den -2.5
Over/Under Total: 45.5
This week, the Philadelphia Eagles travel to Mile High Stadium for an NFL Week 10 clash with the Denver Broncos. BETANYSPORTS (Home of -105 odds!) has made the Broncos field goal favorites and set the over/under at 44.5. Let's lay three and take the Broncos this week. Here are three reasons.
Denver Takes Care of Bad Teams
The Broncos come into Week 10 as a very streaky team. They opened the season against three bad teams and won all 3. Then they played four playoff-contending teams and went 0-4, and now they have won their last two against Washington and Dallas. They have beaten the four sub .500 teams they have played by a total of 57 points. None of the games have even been close. Teddy Bridgewater has led a very efficient and balanced offense that is ranking 12th in yards per pass attempt and 9th in rushing yards. The return of Jerry Jeudy has not paid big dividends in the stat sheet, but Jeudy has given Bridgewater another big target he can trust to make catches in traffic. Denver has a solid 1-2 punch in the backfield with Melvin Gordon and Javonte Williams, who are both capable of moving the sticks and breaking a long run on any play. Bridgewater has been sacked 26 times, but if the Broncos front can keep him clean this week, he will have a lot of success.
The Eagles defense, especially the back seven, is really a mess. They allow opponents to complete a league worse 75% of their passes and have registered only six interceptions and 17 sacks. Last week Justin Herbert and the Chargers completed 32 of 38 passes, with two touchdowns while not getting sacked or throwing a pick. Philly has been better against the run, ranking 6th, allowing only 4 yards per carry, but they have been very erratic. When they have fallen behind in games – which has been often in 2021- their defense wears out and can't stop the run. They have a top-shelf D-Line, but the Eagles have to win time of possession, or the D-Line turns into pumpkins in the second half. Look for Denver to sustain drives, Teddy B to take advantage of the Eagles secondary, and Denver to score early and often, then let their running game milk away the game clock.
Philly Can't Compete With Good Teams
The Eagles have three wins on the season, the Falcons in Week 1 and the Panthers and Lions. They have played five teams that currently have winning records, and they are 0-5 with an average loss of 10 points. Eagle coach Nick Sirianni has been overmatched playing against good teams and coaches, and he will be again this week. The offense for the first part of the season was let QB Jalen Hurts run RPOs, and defenses would basically make him pass. Hurts is a one-read and run QB, which might work in college, but it doesn't work in the NFL. He is completing only 61% of his passes. All of this combine to create a team close to the bottom of the league averaging just 210 passing yards per game. Philly has come out and tried to be more dedicated to the run, including over 200 rushing yards in their blowout win against Detroit in Week 8, then 39 rushes for 176 yards last week against the Chargers. Denver allows less than 100 yards per game to opponents on the ground, so it will be tough sledding for the Philly backs this week, and I doubt they will stay committed to the ground attack.
The Broncos defense has an excellent group of cornerbacks that should be able to shut down the Eagle receivers. Patrick Surtain II and Kyle Fuller will man the outside and can handle anyone Philly puts on the field. Fuller has been up and down this year but played better last week as Denver held the Cowboy passing attack to just over 200 yards. Denver will be able to focus on stopping the run and, most importantly, keeping Hurts from escaping the pocket for significant gains. Denver shipped out stud pass rusher Von Miller before the Cowboy game in week 9, then proceeded to put up their best performance of the year. Look for another strong outing from Denver's D this week and another sub-par week from Hurts and the Eagle offense.
More Picks: Seattle at Green Bay Week 10 Odds & Predictions >>>
There Is Line Value on Denver
I don't understand why this line is only 3 points (now -2.5 on Friday). Denver has one of the best home-field advantages in the league – Mile High Stadium is as loud as it gets, and the altitude causes problems for opponents, especially defenses that can't get off the field. The home field should be worth close to 3 points, meaning the line implies these teams are even. No Way. Denver may struggle against elite teams, but they are better than doormat teams like Philly. Denver should also be the hungrier team this week. The AFC playoffs are wide open, and even their division is open for the taking as we enter week 10. All four AFC West teams have five wins, and though we may rank Denver at the bottom of the pack, it's been a strange year, and anything can happen. The Eagles, on the other hand, are close to throwing in the towel. It's apparent Hurts isn't the answer. The players know their coaches are overmatched, and the veterans are guys that have won super bowls and can see they aren't even making the playoffs this year. This game should be at least Denver -4.
Lay the Points and Play Denver
Let's count on the Broncos taking care of business against a weaker team and covering the short spread. Play Denver –2.5 at Mile High this week. Bet your Week 10 NFL picks FREE by taking advantage of a 100% REAL CASH bonus on your first deposit of $100 to $300 at MyBookie Sportsbook! (Must use bonus code PREDICT100 during signup process).
SUNDAY NFC SOUTH GAME OF YEAR *80% 10* RECORD

Talk about consistent! Ben Burns just wrapped up ANOTHER WINNING MONTH. He's produced profits in six of the past seven months. He was 83-52 (+$17,652) last December and an 8-2/80% RECORD with his "top rated" NFL plays led the charge. If you liked the Giants last week, or the Vikings the week before, you're going to LOVE this BEHEMOTH. Do NOT wait!