[et_pb_dcsbcm_divi_breadcrumbs_module hide_homebreadcrumb="off" homebreadcrumbtext="Home" separator="sep-raquo" hide_currentbreadcrumb="off" homebreadcrumborientation="left" _builder_version="3.8″ fontsbreadcrumbs_font="Lato||||||||" fontsbreadcrumbs_text_color="#000000″ fontsbreadcrumbs_font_size="15px" fontsbreadcrumbs_line_height="16px" fontsseperator_font="||||||||" fontsbreadcrumblinks_font="||||||||" fontsbreadcrumblinks_text_color="#2567cf" custom_margin="25px|||" custom_margin_phone="30px|||" custom_margin_last_edited="off|desktop" custom_css_main_element="font-family: Helvetica Regular;" disabled="on" global_module="3641″ saved_tabs="all"][/et_pb_dcsbcm_divi_breadcrumbs_module]
Philadelphia Eagles vs. Los Angeles Rams Pick – Week 15 Sunday Night Football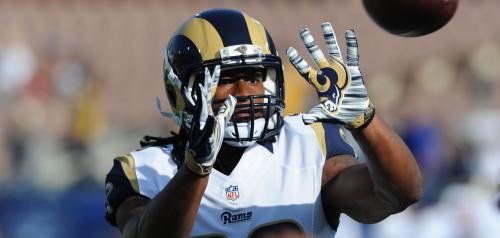 Philadelphia Eagles (6-7 SU, 4-9 ATS) vs. Los Angeles Rams (11-2 SU, 5-7-1 ATS)
NFL Week 15
Date/Time: Sunday, December 16, 2018 at 8:20PM EST
Where: Los Angeles Memorial Coliseum, Los Angeles, California
TV: NBC
By Loot Levinson, Expert Football Handicapper, Predictem.com
Point Spread: PHI +9/LAR -9 (Update: Line at -13 on game day)
Over/Under Total: 53.5 (Game day update: Total down to 52)
The Philadelphia Eagles come out to the Coliseum to take on the Los Angeles Rams on Sunday Night Football. This game features last year's champs against a team some are picking to be the champions this season. But the Rams need to get back on the right track after a season-worst performance. This is their second straight Sunday Night Football appearance, following a 15-6 road loss to the upstart Bears last week. In come the Eagles, licking their wounds after losing their biggest game of the season last week in overtime to the Cowboys, 29-23. It was a painful loss. They could be catching the Rams at the wrong time and I see the Rams getting the win and cover at home this week.
Wrong Time to Catch the Rams Sleeping
Normally, seeing a better team struggle is a cause for hope. For the Eagles, however, it may have been better for them if the Rams beat the Bears last week. Considering the time of season and how the Rams petered-out last season, one can sense that the urgency will be high this week for this home-game. We see the Eagles' defense only a shadow of their former selves and against an irritated high-powered Rams' offense, it could equal trouble this week. The Eagles were game last week, fighting hard to drive down the field and get the game to overtime. But as has been the case most of the season, the "D" was not clutch late. With the Rams in atonement-mode this week, it could be a troublesome spot for the defending Super Bowl champions. Making it worse is that the badness of the season is something that is probably registering hard in the Eagles' locker-room right now.
The Eagles: A Familiar Story
A team following a championship year with a letdown season is hardly uncommon. It just hasn't happened for the Eagles this season. They lost a lot of pieces from last season. Injuries have taken their toll on both sides of the ball. Their top guys haven't delivered like they were supposed to. Whatever formula led to them winning rings last season just didn't fire in 2018. And while no one on the team would talk this way, if you told them they'd win the Bowl one year then not make the playoffs the next, it's a deal they probably would have taken.
Can the Philly "D" Find Answers?
Again, the Eagles showed some moxie against a surging Dallas team last week, getting the game to OT. But their defense is just not what it was. Injuries figure into that equation, but reasons are less-compelling than results. Last week, they were run over left and right. Ezekiel Elliott was over 100 on the ground. Dak Prescott put up a ludicrous 455 yards. In their last five games, they've yielded 139 combined points. This week, they're facing a high-powered offense that struggled across all areas last week and will be looking to get better this week. After Jared Goff threw four picks last week, with Todd Gurley gaining no foothold, it's hard to see them not getting back on the right track this week. I see Gurley feasting on this demoralized Philly front, with Goff reconnecting with his pair of 1000-yard receivers—Brandin Cooks and Robert Woods.
Rams' Shortcomings as a Betting Choice
On one hand, you see the Rams and their offense and it would seem to make them an attractive betting option, but it hasn't been the case with just five covers this season. Sometimes, these super high-powered offenses don't really turn over for whatever reason. And when that happens, there isn't usually a Plan B. This season, the shortcomings of the Rams' defense has been a major roadblock to them cashing out more winners. Luke Donald is a massive piece of manpower and has come through big in 2018. Their secondary makes a lot of plays and getting Aqib Talib makes them a bit stouter, as they've been burnt a lot this season. We just haven't seen what looked to be a fearsome defense really become that yet this season. In reality, they are at least slightly below-average. But even with the lack of covers, with only one since October 21, their defense has shown some life by allowing only a combined 31 points in their last two games.
Other Factors Stacking Up Against Philly
There aren't many road-trips longer than Philly to LA. That's probably not what the doctor ordered after they went into Texas last week for a drawn-out demoralizing overtime loss to the Cowboys. Sure, they have the heart of champions, but it's somehow difficult to picture them being shot from a cannon this week. Their run-game has been in the dumps, top receivers Alshon Jeffery and Nelson Agholor go quiet for long periods, and the line is a shadow of last season's front. Carson Wentz' numbers are solid and Zach Ertz is as productive a tight end as there is in the conference, but there seems to be a disconnect this season. In a game with everything on the line against the Cowboys, they couldn't get on the board until past the midway point of the third quarter. Hats off for the nice spurt to get it to OT, but it shows how much they've fallen this season.
Lay the Points on the Home Favorite
We've clearly seen this season that trying to time things according to logic doesn't go very far in this league. But this seems to be lining up for a conclusive Rams' win on Sunday Night Football. This could be the wrong week for a Philadelphia defense that hasn't been clutch to be facing this offense. Neither team had a good time of it last week, but whereas it may have buried the Eagles, it could give the Rams more urgency. I see that resonating on Sunday night, as LA gets the win and cover at home.
Loot's Pick to Cover the Point Spread: I'm betting on the Los Angeles Rams minus 9 points.