Houston Texans vs. Denver Broncos Pick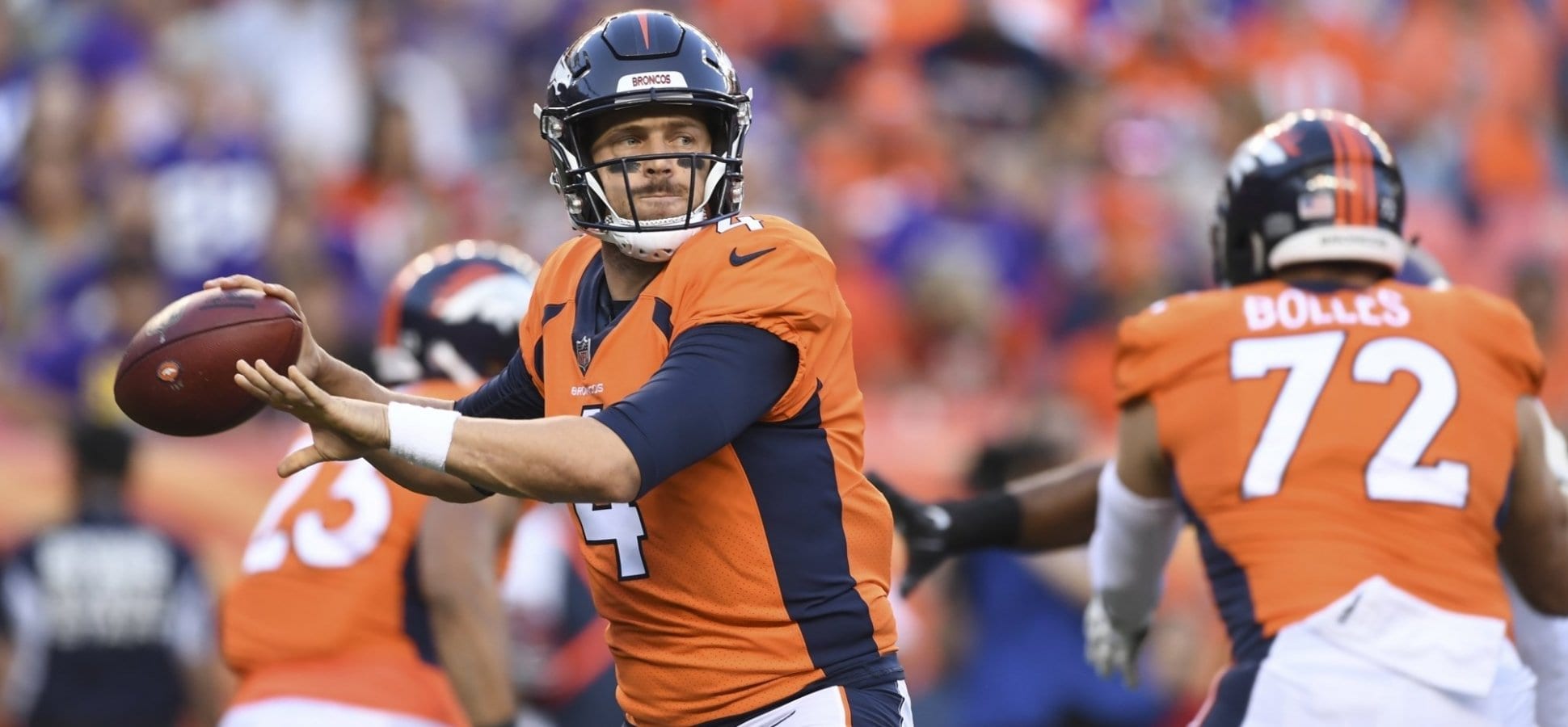 Houston Texans (5-3 SU, 3-5 ATS) vs. Denver Broncos (3-5 SU, 3-4-1 ATS)
NFL Football Week 9
Date and Time: Sunday, November 4th, 4:05pm EST
Where:Broncos Stadium at Mile High - Denver, CO
TV: CBS
By: Bob Clark, NFL Football Handicapper, Predictem.com
Point Spread: HOU +1/DEN -1
Over/Under Total: 46.5
POWER RATINGS – WEEK 9: DENVER BRONCOS -4
Rams vs Saints Pick & Prediction
TAKEAWAYS FROM WEEK 8:
After watching these two teams in week eight, I came to a few conclusions. First off, the Houston Texans are good…real good. After starting 0-3, things looked grim for Houston but now they have won five in a row and find themselves in first place in the AFC South Division. Deshaun Watson is heating up and the Houston defense is also starting to come into its own. Even during the 0-3 start, Houston was competitive in all three losses with every game being one score or less in difference. The way the landscape of the AFC has been so far, this team could potentially be an AFC Title contender. They still need a little work and to polish some areas up, but I am starting to like what I am seeing from this group. As for the Denver Broncos, I cannot really get a read on them. From what I am seeing, they are ready to unload and rebuild. Case in point… before Tuesday's trade deadline, they dealt wide out, Demaryius Thomas, to who….the Houston Texans. This move made it very apparent which team wants to win now and which team is ready to look towards future drafts. With that being said, this Denver team is still somewhat alive, well mathematically I mean. At 3-5, the Broncos are third place in the AFC West and have no real shot of catching the 7-1 Kansas City Chiefs. It is hard to say exactly what the problem is with Denver, I think the truth is, they are just an average team. They will finish this season more than likely somewhere between 6-10 and 8-8, that is unless they start to tank.
HOW THE PUBLIC IS BETTING HOUSTON AND DENVER:
This great run that Houston has gone on has made the public fall in love with them. As of Tuesday afternoon, 61% of the public documented action liked Houston to cover the spread on the road. As for the total points, the public thinks that this game will stay below the 46.5 posted total with 53% of the documented action on the under.
THE HISTORICALS:
These two teams have only played six times in their history. Houston being an expansion team in the early 2000's is what has caused this. In those six games, Denver is 4-2 straight up against Houston and as for the point spreads, the records are the same with the outright winner covering the spread each time. The last time these two faced off was in October of 2016 and Denver won that game 27-9.
INURY CONCERNS:
Both teams have numerous guys who are questionable this weekend.
Denver's Injured List Includes:
LB - Brandon Marshall who is questionable with a knee injury.
CB - Bradley Roby who is questionable with an ankle injury.
T - Jared Veldheer who is questionable with a knee injury.
WR - Dae'Sean Hamilton who is questionable with a knee injury.
Houston's Injured List Includes:
CB - Jonathan Joseph is questionable with an ankle injury.
WR - Keke Coutee is questionable with a knee injry.
TE - Ryan Griffin is questionable with an undisclosed illness
LB - Zach Cunningham is out 3-4 weeks with a knee injury.
WHEN HOUSTON HAS THE BALL:
I can see Houston coming out in this game trying to establish the run early. I can foresee a heavy dose of Lamar Miller and some designed runs for Deshaun Watson as well. Houston is averaging 123 yards per game on the ground while Denver is allowing opponents 135 per game rushing. The run game which should be a success for the Texans will open up things more for Deshaun Watson and the passing game. Just last week against Miami, Watson threw for 239 yards and five touchdowns…on just 20 passes. Yes, you read that right: Five TDs on 20 pass attempts. Not only has Houston improved on offense each week, I am sure Demaryius Thomas is licking his chops hoping to catch some passes against the team that just traded him this week.
WHEN DENVER HAS THE BALL:
Just like Houston, the Denver Broncos will come out and try to establish a run game to get things going. Denver is ranked 7th in the NFL in rushing yards and would like to use this to shorten this game and keep the Houston offense off of the field. Denver has a decent scoring defense and if they can just grind this game out and keep it low scoring, I can see them being successful. We all learned Case Keenum can throw the ball from last season, but I just do not see that being the game plan going into Sunday against Houston.
BETTING TRENDS:
Am I falling for a trap line? How in the world is Denver favored this Sunday against Houston? On paper and on the eye test I like Houston and I like Houston a lot this weekend. I have been in this situation many times where I thought a line was too good to be true, but in this case, take Houston and bet them HARD. Due to the small history between these two teams, there not many head to head trends and more times than not, historical trends mean NOTHING. I will say this and this is that Denver has not played well as of late, they appear to be giving up, and they have gone 0-5 ATS in their last five games played in November. Take Houston.
WEATHER REPORT:
This Sunday in Denver, it will be a cool day with a low of 35 degrees and a high of 51. There is a 10% chance of rain but most reports show that by game time it will be clear and mostly sunny. The weather should make no impact on this game.
Bob's Pick to Cover the Point Spread: TAKE THE HOUSTON TEXANS PLUS THE POINT OVER DENVER