Houston Texans vs. San Francisco 49ers Point Spread – Free Pick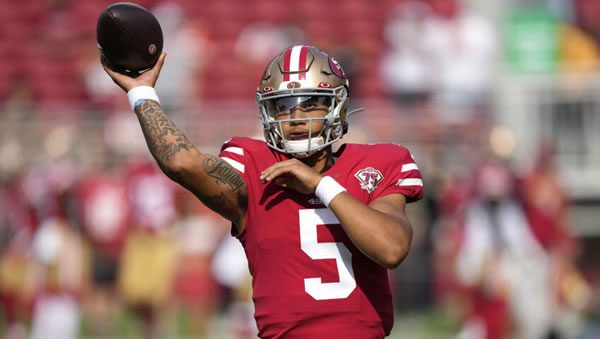 Houston Texans (4-11 SU, 7-8 ATS) vs. San Francisco 49ers (8-7 SU, 7-8 ATS)
Week 17 NFL
Date/Time: Sunday, January 2, 2022 at 4:05PM EST
Where: Levi's Stadium, Santa Clara, California
TV: CBS
Point Spread: HOU +12/SF -12 (Betanysports – Do yourself a favor and sign up here. They offer you the ability to bet on games at -105 odds instead of -110. This saves you a TON of money!)
Over/Under Total: 44
The Houston Texans come to Levi's Stadium for a week 17 showdown with the San Francisco 49ers on Sunday. San Francisco came up on the short end of a 20-17 game in Nashville against the Titans last week. At 8-7, they look to pick up a win to keep their postseason hopes well alive. It might not be the cinch it was earlier in the season, as the Texans have come alive a bit. On Sunday, Houston scored their second win in a row with a 41-29 win over the Chargers. Who can get the cover in Santa Clara on Sunday?
Personnel Concerns
As of press time, a lot still needs to be worked out, first with existing concerns and then anything else that might pop up throughout the week. Those entertaining a position on this game would be advised to keep abreast of all the developments. Key on the list this week is the San Francisco quarterback situation, with Jimmy Garoppolo suffering a fractured thumb. It's undecided if he will go on Sunday, but it seems as of now, the odds at least slightly favor the possibility that it will be rookie first-rounder Trey Lance back in action this week.
Obviously, having a top-end first round draft pick makes their backup QB situation less-dire than other teams in the same situation. And Lance has already gotten his feet wet this season, with extended play in two games with other injuries to Garoppolo this season. Thing is that in a low-key kind of way, Garoppolo's efficient passing and gutty play has been a big part of what allowed SF to win 5 of their last 7 games. Lance has endless potential, but the offense does quite an identity-shift with him behind center. The run-potential, especially if Eli Mitchell gets back in there, could catch a big boost. But aerially, the outlook might not be as rosy.
Is Houston a Legitimate Danger
At first glance, the proposition of the Niners getting well this week at home against the Texans could strike one as a slam-dunk proposition. But it's important to note that at this time of the season, playing hard and still being into it mentally is a golden virtue. There are teams with a lot more to play for only showing a fraction of the fire the Texans have been showing lately. They play really hard for David Culley and beating a Chargers team that had a lot of stake, in addition to a previous win over the Titans shows they're not completely lost within this context.
A few things are actually starting to come together for the Texans. A run-defense that was the worst in the league has become slightly less of a laughingstock. It's still a major matchup concern in this game, especially with Lance giving the San Francisco run-game a boost. But we've seen them really tame some aerial offenses lately, as the Texans are seeing a pass-rush resonate, in addition to stouter play in the secondary. It's far from the breezy day it was for opposing offenses earlier this season against this Houston group. Make no mistake, this "D" is exploitable. But maybe against a personnel-strapped SF offense, we can continue to see good results from this unit.
Houston QB Davis Mills has started seeing better results. The occasional spurt from Rex Burkhead in the backfield certainly helps, as running the ball has been a sore-spot on this offense all season. The young QB, who is still developing experience, is showing a more-bankable aerial flair as of late. It's all relative, but consecutive games with multiple TD throws and just two interceptions in his last six games attests to his growth. Getting Brandin Cooks back could be big, as their number-one receiver has been putting forth some better showings lately.
More Picks: Cash in on Ted Walker's Vikings vs. Packers Predicted Spread Winner >>>
Matchup Issues for Houston
Perhaps these concerns should be taken with a grain of salt, being that Houston has turned things around to the point where you don't want to over-account for their earlier failings. Still, a lot of things don't appear to shake out in their favor. Jimmy Garoppolo possibly being out makes them more run-heavy, which isn't up Houston's alley. And Houston's aerial-heavy offense feeds into a San Francisco defense where pass-defense is their strength, having quelled far-better quarterbacks already this season. Even if Cooks returns, it's a part of their team that might not fire as it has the last several weeks. Against a San Francisco defense that has been stingy in seemingly harder spots, Mills and this Houston offense could be against it this week.
Take the Points
If it's Trey Lance behind center for the 49ers, it's not easy to picture them exploding offensively to the extent that they'd be ideal as this big a favorite over a Houston team showing a lot of life. That doesn't mean the 49ers won't win or that there isn't a possibility that their desperation and urgency resonates in the form of a conclusive walloping. I sense Houston will hit the scoreboard with semi-regularity, making a San Fran offense that is relying on the run less than an appetizing choice at this quote. Again, this game will bear watching as different personnel tidbits come down. Barring anything massive occurring, I sense the Texans can keep this one in the ballpark and cover the spread this week.
Loot's Prediction to Cover the Point Spread: I'm betting on the Houston Texans plus 12 points. Did you know that you can make the Texans a +32 underdog by inserting them in a 20 point NFL teaser only found at Wagerweb Sportsbook?
10* GAME OF MONTH **INSANE 75% NFL PLAYOFFS!
AAA Sports has gone 5-1 (83%) with their NFL Playoff picks over the L2 rounds and overall they enter the Super Bowl having gone an INSANE 75% (9-3!) with ALL of their NFL Playoff releases! AAA Sports is playing with HOUSE MONEY in BOTH the NFL and College Football this season and they're UNLOADING MASSIVELY in this year's Super Bowl with BOTH SIDE and TOTAL! BE THERE!