Indianapolis Colts vs. Las Vegas Raiders Point Spread, Analysis, Best Bet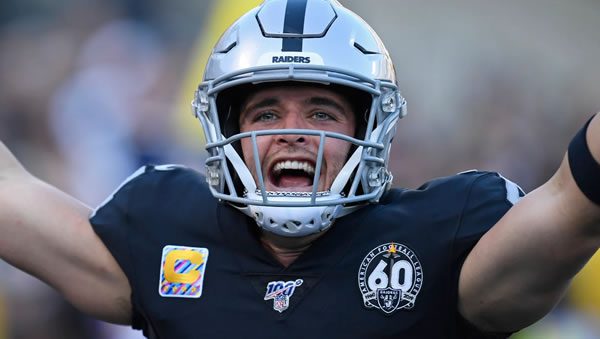 Indianapolis Colts (3-5-1 SU, 3-6 ATS) vs. Las Vegas Raiders (2-6 SU, 3-5 ATS)
Week 10 NFL
Date/Time: Sunday, November 13, 2022 at 4:05PM EST
Where: Allegiant Stadium, Las Vegas, Nevada
TV: CBS
Point Spread: IND +6.5/OAK -6.5 (Bovada – 50% bonus! Rebates on ALL your wagers; win or lose! HUGE amount of prop bet offerings! FAST cyrpo payouts! What more could you ask for? It's where we bet!)
Over/Under Total: 42.5
The Indianapolis Colts take on the Las Vegas Raiders at Allegiant Stadium on Sunday afternoon in AFC action. Both teams hit week ten in a crisis situation. Following an inept showing in a 28-3 loss to the Patriots on Sunday, the Colts canned Frank Reich, with former Colts offensive line standout Jeff Saturday now assuming the interim role. This would be a spot where you'd figure the Raiders could capitalize, but they find themselves in awful shape, getting shut out a few weeks ago by New Orleans before blowing it big-time against the Jaguars on Sunday in a 27-20 defeat. Who can spin out of this funk, at least enough to get us a cover on Sunday?
More Likely Candidate to Spring to Life?
In this spot, one would almost be tempted to say it's the Raiders. A mid-season coaching firing is a damning indictment for the Colts. At the same time, we've seen teams bounce back from that with some initial energy. It's hard to say as of press-time what direction Saturday will take this, but it's been pretty rough with Sam Ehlinger behind center. With Jonathan Taylor, Michael Pittman, and young receiving talent, this offense should be faring better, but alas, they can't get good play at QB. It still seems like whereas Reich was locked in with Ehlinger after proclaiming the switch was for good, Saturday may be more open to the return of Matt Ryan if Ehlinger continues struggling. Either way, it's a sad state of affairs and Sunday represented one of the more futile offensive showings we have seen in recent Colts memory.
The Raiders are a strange study in that they've been very extreme the last several seasons in either being a team that thrives late or caves in when it's crunch-time. This season, unfortunately, they have assumed the role of the latter, giving up three leads of 17 or greater points through 8 games. It's quite the reversal from the gutty team that overcame so much last season. Other than the lingering injury concerns of TE Darren Waller, they've actually had it relatively easy on the injury front overall, not facing a slew of off-the-field issues and still, it has fallen completely flat. But other than their uncanny ability to blow it late and their shutout loss to the Saints, they are at least a team that has shown recent glimpses of life, with a patch of games where they were among the more consistently-vital offenses in the conference, riding the hot hand of RB Joshua Jacobs, with Davante Adams adding some timely production, along with some other side pieces. Between the lack of clutch on the other side of the ball, some inconsistent play from QB Derek Carr, disappearing acts from guys like Hunter Renfrow, and Waller not being on the field, we're seeing the recipe truly sour in Las Vegas.
10* CONF CHAMP TOTAL - 7-3 (70%) NFL PLAYOFFS
AAA Sports has hit BOTH their Wildcard Round and Divisional Round TOTAL OF THE YEAR, meaning you simply CAN NOT afford to miss out on their CONFERENCE CHAMPIONSHIP TOTALS WINNER! Now an ABSOLUTELY ELECTRIC 7-3 (70%) in the NFL Playoffs, this is TRULY the BIG PLAY that you've been waiting to just UNLOAD on!
Hope for Indy?
With 29 combined points of scoring in the last three games, the Colts' offense is really sputtering. Again, you wonder if they will flip the script a little bit. The Raiders have been weak against the pass and Ryan offers more upside aerially, though they're apparently sticking with Ehlinger. You'd also want to see about the status of Taylor. He has gotten off to a really bad start, something you can say about the whole offense, largely courtesy of an offensive line that hasn't just taken a step back, but has fallen off a cliff. One would still have to think that there is some of that first game mojo following a firing. In a lot of spots, seeing things bottom out like doesn't make things rosier, but against a struggling team where you're desperate to find an angle to justify some separation between two tough choices, that first game after getting rid of a suffering head coach angle could have some juice.
If the Colts stick with Ehlinger as it appears they will in a signal that would almost convey that exploring his potential is more important than this season, we could see an offense that struggles to keep pace. And nothing against back-up Deon Jackson, but it's been a real struggle running behind this O-line and at least Taylor gives them a weapon on the ground that can open up other aspects of the offense, namely Pittman and the aerial-attack. And lately, the Raiders' secondary has really been suspect, especially late in games for some reason. Is this a spot where the Indy aerial offense can kick things back into gear at least a little bit? Or after failing to convert even one of 14 third down opportunities on Sunday and now being on the road for the second straight week, is this a bad week to be optimistic about this bunch?
More Picks: Get Loot's Cards vs. Rams Week 10 recommended bet >>>
Lay the Points on the Home Favorite
The Raiders are clearly in peril, with the hopelessness of the season likely beginning to resonate in a way that doesn't help a team's headspace. At the same time, with the Raiders being at home and against this defense, it still seems like a spot where they can maybe get some things cooking, albeit against a Colts "D" that hasn't been too shabby, especially with an offense that has really been leaving them out to dry lately. I just sense a higher number of routes to offensive success that are more readily-available for the Raiders this week, with the Colts perhaps simply not able to keep pace. I'll take the Raiders this week.
Loot's Prediction to Cover the Point Spread: I'm betting on the Las Vegas Raiders minus points. Bet your Week Ten NFL predictions for FREE by scoring a 100% real cash bonus up to $500 when you enter bonus code PREDICTEM on the "Special Offers" page after you've made your deposit at Everygame Sportsbook, the oldest betting site on the internet! ROCK SOLID!