Jacksonville Jaguars vs. Kansas City Chiefs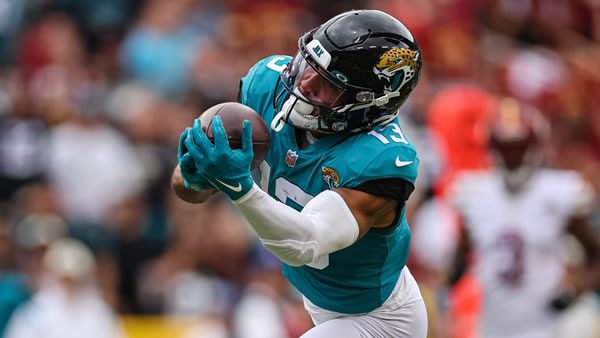 Jacksonville Jaguars (10-8 SU, 9-8-1 ATS) vs. Kansas City Chiefs (14-3 SU, 5-11-1 ATS)
AFC Divisional Playoffs
Date/Time: Saturday, January 21, 2023 at 4:30PM EST
Where: Geha Field at Arrowhead Stadium, Kansas City, Missouri
TV: NBC
Point Spread: JAC +8.5/KC -8.5 (Bovada – Home of the most NFL props on the web!)
Over/Under Total: 52
The Jacksonville Jaguars take on the Kansas City Chiefs in the AFC Divisional Round of the playoffs on Saturday. Kansas City has been reaping the rewards of their top seed in the AFC, getting a bye and now hosting the Jags at Arrowhead Stadium. Last Saturday, the Jaguars emerged from a game where they seemed all but dead, falling behind 27-0 to the Chargers before roaring back to nip the Bolts at the wire, 31-30. Can they build on the inertia of that last-second playoff win, or will there be a coming-down-to-earth this week at Arrowhead?
A Look Back at Part I
The Chiefs beat the Jaguars, 27-17, in week ten. It would be understandable for those looking to blow off that game, but it was in this same building, for what it's worth. The Jags were perhaps still in that midseason funk they had, not the same team we've seen for parts of the last six weeks. As has been the Chiefs' wont this season, it was a little closer than it should have been, as KC took their foot off the gas after taking a big early lead, but the Jags were never really in the game. Trevor Lawrence had a decent game, connecting well with Christian Kirk for two TDs, but they didn't run the ball well and got off to a slow start. Mahomes, meanwhile, connected with four different pass-catchers for touchdowns, while they also got good production from the run game.
10* CONF CHAMP TOTAL - 7-3 (70%) NFL PLAYOFFS
AAA Sports has hit BOTH their Wildcard Round and Divisional Round TOTAL OF THE YEAR, meaning you simply CAN NOT afford to miss out on their CONFERENCE CHAMPIONSHIP TOTALS WINNER! Now an ABSOLUTELY ELECTRIC 7-3 (70%) in the NFL Playoffs, this is TRULY the BIG PLAY that you've been waiting to just UNLOAD on!
Jaguars: An Imperfect Contender
The win over the Chargers on Saturday gives the Jaguars six straight wins heading into this. The way they needed consecutive miracles in their last two weeks, however, has shown their weaknesses. They can really hit some low floors as a team, seeing their offense grind to a halt against a Tennessee defense that had been getting picked apart before almost seeing things go off the rails early against the Chargers, with four quick picks from Trevor Lawrence in the first half. Usually, that would be the beginning of the end, but the Jaguars pulled it off.
On one hand, what we've seen from the Jags the last few weeks should scare potential Jacksonville backers this week in light of this far less-forgiving spot. Against a broken Titans team and a Chargers squad that is perpetually blowing it, their shortcomings and failings were things they were able to overcome. Against Kansas City, a Jacksonville defense that is on vacation for a half or an offense that stalls out for many consecutive drives would be devastating. But still, you almost would rather have a team that while imperfect, has a certain element of magic. With Lawrence throwing four TDs after looking like he was going to have the worst playoff debut in history, maybe he's showing the beginnings of that playoff flair for big things. This is a team that has been operating with zero margin for error for nearly two months, and they're making it work.
More Picks: Get Loot's Giants at Eagles Divisional Round analysis and pick >>>
Trying to Sum Up the Chiefs
A lot of what you think of the Jaguars' chances this week ends up coming down to what you think of the Chiefs. Are they still the AFC superpower, as their number-one seed would suggest? Or are they a reduced version of what they once were? I think the less spelled-out aerial roles and the long run of non-covers this season might have some people confused. While it's true that their receiver corps lack that real standout star, and they're not adept at running the ball more often than not, has it really registered in their bottom line? I think their lack of blowouts comes down to a team that knows they can cruise to this spot before turning it on for the postseason. In other words, any apathy the Chiefs may have shown in regular season spots this season might be a false compass for this year's postseason approach.
Even with the Chiefs not going all-out in every quarter of every game, they still had the league's most vital aerial offense, along with the top overall offense. Last time they went against this Jacksonville defense, Mahomes threw four TDs, with it looking less-than-urgent. Now they're in the postseason, looking to make a statement and free of the more-dismissive feeling they may have been feeling in week ten. They have Mahomes and Kelce, who are used to traveling this road, in addition to a slew of receivers who all have a chance to forge a postseason legacy. And just because we don't know who it might be on a given day with the Chiefs, they always seem to find somebody.
Lay the Points
With five covers on the season, those backing the Chiefs ATS have mostly been striking out this year. I'd expect to see at least a slight shift in their sensibilities starting now, looking to make a push into the postseason. And with the contenders in this conference, it's going to need to be a big push where they hit a high gear they start building towards now. And not that there is a smoke-and-mirrors aspect to the Jaguars' success, but they've had a lot of things go right, and when that tide shifts, it can sometimes be to an extreme degree. I see the Jacksonville mojo falling flat this week, with a thorough home win for the Chiefs on Saturday.
Loot's Prediction to Cover the Point Spread: I'm betting on the Kansas City Chiefs minus 8.5 points. (Deposit $100 and get $100 FREE with bonus code PREDICT100 at MyBookie Sportsbook!)