Kansas City Chiefs vs. Cincinnati Bengals Pick 1/2/22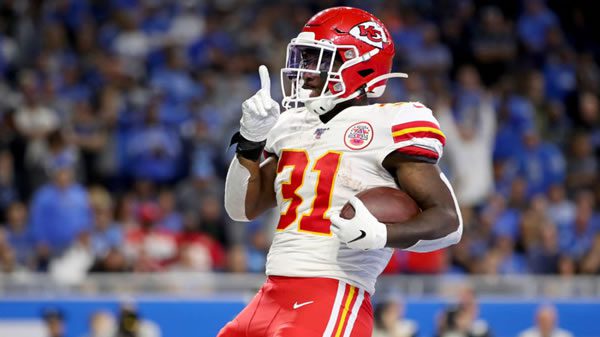 Kansas City Chiefs (11-4 SU, 8-7 ATS) vs. Cincinnati Bengals (9-6 SU, 8-7 ATS)
Date/Time: Sunday, January 2, 1:00 PM EST
Where: Paul Brown Stadium, Cincinnati
TV: CBS
Point Spread: KC -4.5 / Cin +4.5
Over/Under Total: 49
Andy Reid and the Chiefs will roll into Cincinnati Sunday to take on Zac Taylor and his Bengals in a battle of AFC division leaders.
BETANYSPORTS.EU
has made the Chiefs 4.5 point road favorites and set the game total at 49. Both of these teams are getting better as the season winds down, so we would like to bet on both teams, but let's get on board with the team and coach that has been here before and buy a Chiefs ticket. Here is the handicap.
Mahomes Is Primed for a Playoff Run
The demise of the Chiefs was well documented about two months ago, with Reid's squad being broken beyond repair and needing time to figure it out. Fast forward to week 17, and now the Chiefs hold the AFC No.1 seed, winning eight games in a row and covering the spread in 6 straight, all as favorites. Patrick Mahomes has led KC to 40 points per game over the last three contests, and the Chiefs rank 4th in points per game and 6th in yards per play on the season. The product on the field hasn't always been pretty, but Reid has his offense finding ways to put points on the board. Last week stud tight end Travis Kelce was sidelined and the Tyreek Hill ineffective, but it didn't stop Mahomes from completing 76% of his passes and hitting Byron Pringle for two scores and Mecole Hardman for another. Clyde Edward-Helaire left the game with an injury and will not make the trip to Cincy, so Darrell Williams and Derrick Gore will have to fill the gap in the backfield. The Chiefs have become more patient on offense as teams have taken away the big plays and will have to do the same this week. Kelce should be back, and Hill should be primed to rebound against a potential playoff opponent. Look for Reid to get the passing game started early with Kelce and find some ways to get Hill the ball in space. Mahomes has eight touchdowns and only one pick over the last three games, and look for him to build on those numbers this week. Cincy's defense has had strong performances but is really a middle-of-the-road unit. They rank 14th in points allowed, 15th in yards per play, and what will matter this week, 17th in passing yards per attempt at 7.2 yards. Cincy has made opposing quarterbacks uncomfortable in the pocket and ranks 7th in the league with 41 sacks. Pro-bowler Trey Hendrickson leads the attack with 14 sacks while Sam Hubbard and Larry Ogunjobi have seven each. The Bengals can get pressure while only rushing four, that is a must against Mahomes. It's the back seven that will be challenged this week. Recently Jimmy Garoppolo, Justin Herbert, and even journeyman Josh Johnson have had success against the Bengal pass defense. Last week Johnson threw for over 300 yards, with the majority of the yards going to tight end Mark Andrews. If Cincy couldn't contain Johnson to Andrews, how will they stack up against Mahomes to Kelce. Look for Andy Reid to exploit Cincinnati's pass defense this week and the Chiefs to put at least 28 points on the board.
Cincy and Burrow Are Not Quite Ready for Prime Time
This will be the biggest game played by a Bengal team in multiple years. Cincy has far exceeded expectations this year and only needs to win this week or the week 18 season finale in Cleveland to be crowned AFC North division champs. Burrow has recovered from his 2020 season-ending knee surgery and has proven worthy of the first overall draft pick last year. He is completing 70% of his passes and has thrown for 30 touchdowns against only 14 picks this year. He leads an offense that is 7th in points scored and yards per play and best in the league at 8.7 yards per passing attempt. Receivers Tee Higgens and Ja'Marr Chase are proving to be one of the best-receiving tandems around, and Joe Mixon is a true three-down workhorse running back. Cincy's problems has been playing their best in the big games. Sure they lit up the Ravens second-string defense last week, but they managed only 15 against Denver 2 weeks ago and turned the ball over six times in the two games before that (both losses) against San Francisco and the Chargers. Just when the Bengals look like they are ready to join the elite offenses in the league, they lay an egg. Their offensive line is better than expected but has allowed 47 sacks which can kill a drive or cause Burrow to make bad decisions toss a pick.
The Chief defense gets a lot of credit for the team's second-half resurgence, and their passing defense has led the charge. Opposing offenses have averaged only 220 passing yards in the last five games. With the Chiefs offense scoring more and getting out to leads, Defensive Coordinator Steve Spagnuolo's unit have been playing from ahead, where he can dial up exotic blitzes and pressure opposing QBs. This has led to 24 takeaways for the Chiefs D in their last ten games. Sunday KC will bring blitz packages that Burrow and his offensive line have never seen before. Look for Burrow to add to the Chief's turnover success, killing drives and giving Mahomes some short fields. Cincy could have some success running the ball, but even if the game is close, Zac Taylor will know he has to light up the scoreboard and will probably not stay dedicated to the run. This plays into the Chiefs' defense hands and could cause Burrow to make some mistakes.
More Picks: Get the Zman's Giants vs. Bears Recommended Wager >>>
Reid or Taylor???
Among those exceeding expectations for the Bengals, Taylor may be the biggest surprise. He has led his team to season sweeps of both the Steelers and Ravens, but can he outcoach one of the league's best this week? Reid has guided the Chiefs to back-to-back Super Bowl appearances, while Taylor's nine wins are three more than he totaled in his previous two years. The Chiefs are playing to lock up the number 1 seed and a bye in the first round of the playoffs, while the Bengals are trying to win their division, but a win next week would accomplish the task. Reid and the Chiefs know the value of that bye week to start the playoffs and have kept their focus while winning their last eight games. Cincy lost to the Jets in week eight after their first shellacking of Baltimore, then was lethargic, committing four turnovers against the Chargers after blowing out the Steelers in week 12. I'm expecting another letdown by the inexperienced Bengals in a game that they need their best team effort to compete.
Lay the Points With the Road Dog
It's hard to lay 4.5 points on the road against a division leader in the NFL, but when you get Andy Reid and Patrick Mahomes, it makes it a lot easier. Lay the points this week with the Chiefs.
10* GAME OF MONTH **INSANE 75% NFL PLAYOFFS!
AAA Sports has gone 5-1 (83%) with their NFL Playoff picks over the L2 rounds and overall they enter the Super Bowl having gone an INSANE 75% (9-3!) with ALL of their NFL Playoff releases! AAA Sports is playing with HOUSE MONEY in BOTH the NFL and College Football this season and they're UNLOADING MASSIVELY in this year's Super Bowl with BOTH SIDE and TOTAL! BE THERE!