Lay the Points: New York Jets vs. Seattle Seahawks Pick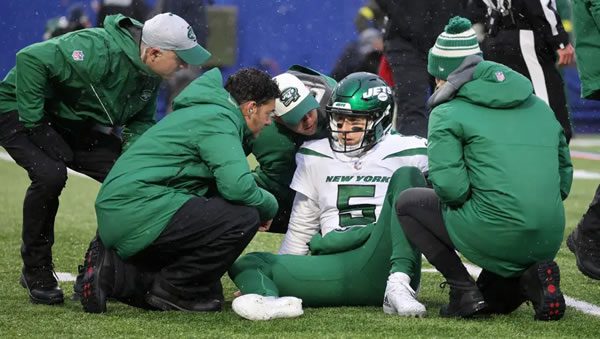 New York Jets (7-8 SU, 8-7 ATS) vs. Seattle Seahawks (7-8 SU, 6-9 ATS)
Week 17 NFL
Date/Time: Sunday, January 1, 2023 at 4:05PM EST
Where: Lumen Field, Seattle, Washington
TV: Fox
Point Spread: NYJ -2.5/SEA +2.5 (Bovada – Deposit $100 to $500 and get a fat 50% real cash bonus! No promo code needed!)
Over/Under Total: 42.5
The New York Jets come to Lumen Field for a big week 17 showdown with the Seattle Seahawks. While both teams are still in it, last week showed they might be able to respond to the urgency. The Jets dropped an ugly 19-3 affair to the Jags on Thursday Night Football, their fourth straight loss in a season that showed some promise not long ago. They look to get on the right track against another struggling team in the Seahawks, who dumped their third straight on Sunday in a 24-10 loss to the Chiefs on the road last week. Who can breathe some life into their hopes this week in Seattle?
Examining the Ramifications
Things looked bad for the Jets when they were beaten by the Jaguars on Thursday, but with some other AFC teams losing over the weekend, it made their playoff chances a little better. They now need to win their last two games and have the Patriots either lose this week against Miami or next week against Buffalo. For a team that has won twice in two months, that's not half-bad. Seattle's road to the playoffs also requires them to win both of their last two games but also have Green Bay or Washington lose one of their final two games. In other words, both teams still have something to play for.
10* CONF CHAMP TOTAL - 7-3 (70%) NFL PLAYOFFS
AAA Sports has hit BOTH their Wildcard Round and Divisional Round TOTAL OF THE YEAR, meaning you simply CAN NOT afford to miss out on their CONFERENCE CHAMPIONSHIP TOTALS WINNER! Now an ABSOLUTELY ELECTRIC 7-3 (70%) in the NFL Playoffs, this is TRULY the BIG PLAY that you've been waiting to just UNLOAD on!
Good Spot for the Jets?
It's a long road-trip, but the word is that there shouldn't be any precipitation, so at least the Jets will be insulated from the weather. With QB Mike White looking to start, the Jets will have the guy most likely to extract production from this offense. White is far from automatic but more than capable of creating production with the weapons he has on the air and on the ground. He has already established a nice connection with top Jets receiver Garrett Wilson while showing he can bring others more into the offensive fold. With Seattle's defense having shown waning levels of resistance over the second half of the season, this could be a critical aspect of this game. While the Jets have taken their lumps with three straight losses, White returning offers some hope.
Is it Over for Seattle?
They deserve credit for making a run this season against all odds. They got a good season out of QB Geno Smith while camouflaging some of their weaknesses along both lines of scrimmage and with a defense that really isn't up to par. But things have started to unravel slowly as the season carried on. We're now looking at a win over the Rams as their only good moment in their last six games. They've scored a combined 23 points in their last two games. The run-game has stopped delivering, hampered by a line whose form has sagged. Beyond that is just the eye-test. A team that had a lot of fire has shown less energy overall. It's almost like they are the team everyone expected to see this season, but it just started later than expected. The team we saw in the first half of the season is no longer present.
More Picks: Get Loot's spread bet for the sattle of Los Angeles 1/1/23 >>>
Who Can Get it Cooking Again?
It would be understandable if people felt the Jets were the team more likely to spring back to life. First is the return of White, who has been a source of energy for this team. Those around him seem to respond to his presence. It at least offers a boost potential for the Jets' offense. In addition, the Jets' defense, a unit that really grew in strength over the season, is still doing its thing, even with the offense hanging them out to dry more often than not in recent weeks. With more support from a Mike White-led offense, this "D" could really show its fangs this week against a suffering Seattle offensive line. Injuries have taken a toll, but this might not be one of the tougher matchups this Jets defense has faced in recent weeks.
For Seattle, it's more-iffy whether they can find another gear. You don't want to really go overboard in knocking a team that, at one point, was completely surpassing expectations. That inner-resource can resurface with the margin of error now down to nil. But it's more of the same, with no returning pieces offering promise or anything of the like. They just need to take this same machine that has been spitting oil for weeks and hope to get it back into working order one way or another. It's just that the sources of hope aren't too numerous, other than the component of urgency. With different aspects of the team across all areas having depreciated, along with costly injuries, you wonder what realistic answers there are for Seattle this week.
Lay the Number on the Road Favorite
Not to sell Seattle or the difficulty of this road-trip short, but I think the Jets are the more-likely team to bounce back from recent trouble. In the end, you have two teams on a slide, neither of which has been able to respond to late-season urgency as their playoff hopes fade more with each passing week. So maybe playing the urgency card with these teams is the wrong route to take. I think the return of White and the quality of the defense he will face this week offers enough promise, as does the possibility that the Jets' defense can keep Geno and Company under control. I'm going with the Jets in this one.
Loot's Prediction to Cover the Point Spread: I'm betting on the New York Jets minus 2.5 points. Kick 2023 off right with free bowl game and Week 17 NFL bets! Deposit $100 to $300 and use promo code PREDICT100 and you'll receive a massive 100% real cash bonus at MyBookie Sportsbook!