Lions vs. Cardinals Pick – Week 3 Odds Analysis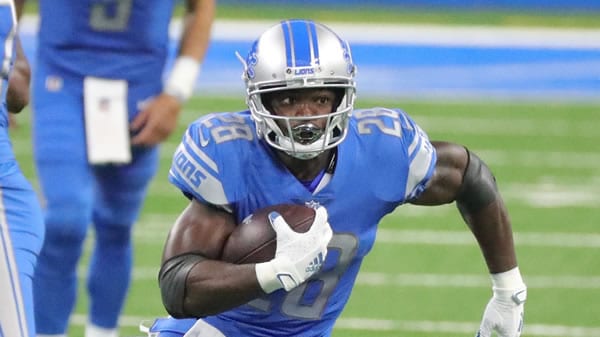 Detroit Lions (0-2 SU, 0-2 ATS) vs. Arizona Cardinals (2-0 SU, 2-0 ATS)
Week 3 NFL
Date/Time: Sunday, September 27, 2020 at 4:25PM EDT
Where: State Farm Stadium, Glendale, Arizona
TV: Fox
Point Spread: DET +6/ARI -6 (BetAnySports - Home of -105 Odds!)
Over/Under Total: 54.5
The Detroit Lions come to State Farm Stadium on Sunday for a week three NFC showdown with the Arizona Cardinals. Detroit looks to get their first win of the season after losing to the Bears and the Packers in their first two weeks of action. It won't be easy on the road against a Cardinals' team that has started fast at 2-0. A week one road-win over the 49ers was followed on Sunday with a 30-15 win over Washington in their home-opener. They remain at home and look to push it to 3-0 with a win over the Lions. Who can cover the spread this week in Glendale?
Never as Bad/Good as it Seems
On paper, you have a 2-0 team in Arizona that scored an upset and won lopsidedly at home taking on an 0-2 team in the Lions coming off a sound beating on Sunday. It paints an image. Week three can be a tricky time to be running with stories. Many two-game windows occur within the frame of a season, and we shouldn't lock in any perceptions based on that, so why do it at the beginning of the season. That's especially the case when there was a truncated preseason, and teams are still finding their bearings.
Arizona has looked good and has rightly been pegged as a rising team. But edging the Niners and beating Washington at home alone does not signal a revival. It shows they're on the right track, but does not suggest that they're ready to be consistent winners or that they're completely bankable, even in winnable spots such as these. A lot of young teams on their way up fall flat without reason, so let's not get carried away on our praise of Arizona.
It's not easy to sugar-coat Detroit's failings in the first two weeks. They gave up a double-digit lead in the fourth quarter to the Bears in week one, which was pretty bad. And in Sunday's 42-21 loss to the Packers, they got off to a 14-3 lead before going into the tank for the rest of the afternoon. Still, they were good enough to lead both games by double-digits, so it's not like they just got thumped out of the gate in both games. Falling apart in the second half isn't a good sign. Neither is a defense that gets worse as the game wears on. But they've at least shown signs of being competitive, making one wonder what it will look like when they put it all together. And you have to figure urgency is starting to resonate with head coach Matt Patricia already on the hot-seat.
Ways Detroit Can Thrive in This Spot
Detroit wields a three-headed running attack, with Adrian Peterson, Kerryon Johnson, and rookie D'Andre Swift. They don't always fire but can do damage in a spot like this against an Arizona defense that has been leaky against the run this season through two games. It's an area that Detroit can maybe exploit. And with Matthew Stafford still able to move the ball up and down the field, he has a lot of aerial weapons with different sizes and skills, with TE TJ Hockenson, Marvin Jones, along with rookies Swift and Quintez Cephus who are coming alive in this offense. Getting WR Kenny Golladay back should give the offense a boost. Stafford doesn't have any stars on this offense, perhaps, but he has a lot of capable guys. They should be able to run the ball and stick to it if they don't fall behind. It would open up a varied aerial attack that could exploit an Arizona defense that might look better than they are after catching an off-key Frisco offense in week one, followed by a dysfunctional Washington road offense last Sunday. I suspect Detroit might have something different to throw at this "D."
More Picks: 49ers vs. Giants ATS Prediction
What Makes Arizona an Attractive Pick
When you have one team getting a lot out of what it has like the Cardinals, it's just not easy to take a position on an incoming team that isn't feeling good and hasn't shown a ton of fight in either game. The Lions melted both weeks after building up leads, a commentary not so much on the Xs and Os part of the game, but making one worry about their level of fighting spirit. With Arizona, you have a team that went through the necessary trials of youth and are now experiencing some well-earned success, and it might be hard to separate them from this momentum they fought so hard to get.
Early flashes of success for the Detroit defense faded into the night in both of their games. Some additions could pay off, like top pick Jeff Okudah, Danny Shelton, Jamie Collins, and Duron Harmon. But Patricia reuniting with a slew of former Patriots standouts on defense hasn't really resonated. First, they gave up a late furious comeback to the Bears with Mitchell Trubisky suddenly looking like Patrick Mahomes, before getting bounced around in the last three quarters by Green Bay last week. With Kyler Murray running the ball well with Kenyan Drake while working with a receiving corps that now boasts of DeAndre Hopkins, this is a home-spot where this Arizona offense can thrive.
Take the Points on the Road Dog
A lot of matchup components don't shake out entirely well for the Lions. And they can't afford to melt away in the second half, or Arizona could make this ugly. I just have this sneaking suspicion that between Detroit running the ball and keeping the defense off the field in stretches, along with Stafford's variety of aerial weaponry, they'll be able to hang in there. I see the Lions keeping this one in the ballpark and covering the spread on Sunday.
Loot's Prediction to Cover the Point Spread: I'm betting on the Detroit Lions plus 6 points.
Football Betting Guide
New to football betting? NFL point spreads can be confusing at first, but our how to bet on football article help you bet like a seasoned pro! You'll also learn how to wager on teasers, parlays, over/unders, prop bets, futures and how point buying works.