Los Angeles Chargers vs. Arizona Cardinals Odds, Analysis, Prediction 11/27/22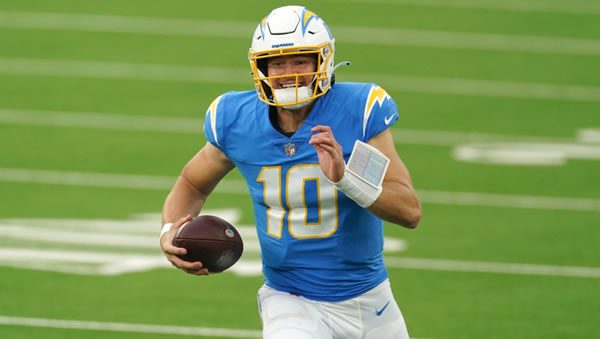 Los Angeles Chargers (5-5 SU, 7-3 ATS) vs. Arizona Cardinals (4-7 SU, 5-6 ATS)
Week 12 NFL
Date/Time: Sunday, November 27, 2022 at 4:05PM EST
Where: State Farm Stadium, Glendale, Arizona
TV: CBS
Point Spread: LAC -4.5/ARI +4.5 (Bovada – You gotta check these guys out if you live bet sports! Most live wagering platforms are junk. They have a seemless one that works fast and offers TONS of games; all on one page!)
Over/Under Total: 47.5
The Los Angeles Chargers battle the Arizona Cardinals at State Farm Stadium in week 12 action from Glendale. Things have gotten away from the Cardinals, as a 38-10 MNF loss to the 49ers dropped them to 4-7, and it might be curtains for the Cardinals this season with little having gone their way. The Chargers are also dealing with some issues, with a heart-sinking 30-27 loss to the Chiefs last week dropping them to 5-5. With two straight losses and things getting away from them, they really need a win this week. Who can get it done in Arizona on Sunday?
Gauging Arizona's Morale
Despite a win over the Rams a few weeks ago, the Cardinals have generally not been able to respond to the urgency of a season getting away from them. Monday's 38-10 loss to San Francisco seemed to be the culmination of all the frustration and lost hopes of the 2022 season. A team that lifted itself off the mat and gave strong hints of impending contender status has seen the whole formula fall flat this season. They have the normal excuses, as injuries have actually been a legit obstacle to establishing consistency. But the guys upon which their hopes are built just haven't been very good—from QB Kyler Murray to head coach Kliff Kingsbury. Granted, not having Murray the last two weeks hasn't helped, but it's not like they were lighting the world on fire with him in there, either.
Not that the Chargers are flying high after dropping two straight, but you wonder where the Cardinals are mentally after landing in this week 12 spot with a big old thud. Granted, these are pros, and no one wants to put out a bad tape on themselves. But when you spend several seasons jockeying for contender status, and when things are supposed to crescendo, they go right into the toilet, it's a bitter pill to swallow. At some point, you go from thinking they're going to maybe turn it around to thinking there's a chance it could start to get worse. And in a must-win spot on MNF, they went into the tank. Coming off the short week to face a Chargers' team that has to win and is still somewhat on-point and going for it, it just doesn't shape up into the most appetizing spot, even if the questionable Murray does return.
10* GRAND-DADDY OF THEM ALL TOTAL - +$40K!
Putting Things in Context
The Chargers have put themselves in a tough position, losing two straight to fall to .500 with the Chiefs now out of reach and the Bolts reduced to tracking down a wild card spot. This wasn't really the plan for a Chargers team many people fancied heading into the season. It hasn't been easy, with their receiver crew banged up for the bulk of the year. They have experienced setbacks on both sides of the ball from injuries, and finding continuity has been elusive. Austin Ekeler has been a playmaker on occasion, but they aren't running the ball well and are almost worse at defending the run, with their defense oftentimes being victimized by the opposing ground game in a major way.
At the same time, the Chargers have been in pretty tough. On the road against the Niners a few weeks back, they lost by 6 to a team that shortly after would pummel the Cardinals on MNF. Then last week, the Bolts scored a TD with under two minutes left to take the lead, only to see Mahomes march down the field and connect with Travis Kelce with 30 seconds left for the go-ahead TD. So they're playing teams that are in good form pretty tough. This week, they are not playing a team in any kind of good form. Could that result in having some of the things the Chargers do well stick more this week? I'd say that's a distinct possibility. What came close to toppling the Niners and Chiefs would almost certainly be enough in this spot.
More Picks: Get Loot's Raiders at Seahawks Week 12 Recommended Wager >>>
Chargers: More Primed to Deliver?
Playing the urgency game can be a dangerous proposition. Football often times doesn't come down to which team has a more compelling reason to win. I just sense that there are certain times when you can see teams cross certain thresholds on the urgency fulcrum when there might be a small edge to be had where there otherwise would not be. The Chargers know if they want to make this season any kind of success, they have to start winning now. Combine that with a Cardinals team that is being forced to acknowledge that this season is basically over already, and I think it sets up for a spot where things like overall spirit, urgency, and having a clear agenda can actually matter.
Lay the Number on the Road Favorite
The Chargers put themselves in this position and are typically not that great in the role of a favorite trying to cover. They can play down to the level of their opponent, fall flat, or just underperform across all levels without notice or real reason. Arizona is down, but they're not out, and if a Cardinals team surfaces in its higher-end level of form and gets Murray back and he plays well, this could go badly for the Chargers. I just sense things aren't going to get a ton better for the Cardinals, while the Chargers have been playing well enough despite not winning for a few weeks, at least well enough to get the measure of the Cardinals this week. I'll take the Chargers.
Loot's Prediction to Cover the Point Spread: I'm betting on the Los Angeles Chargers minus 4.5 points. Bet your Week 12 NFL football predictions for FREE by scoring a 100% real cash bonus up to $500 at when you use bonus code PREDICTEM at Betnow Sportsbook!