Los Angeles Chargers vs. San Francisco 49ers Betting Insight & Predictions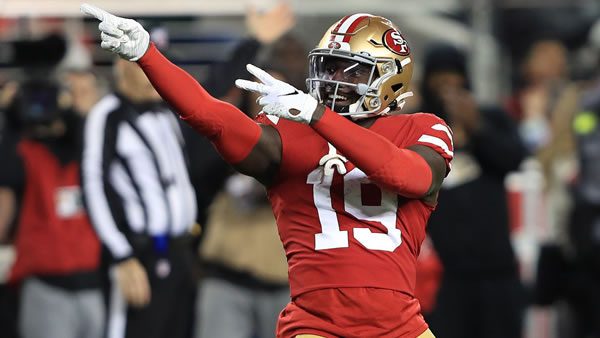 Los Angeles Chargers (5-3 SU, 5-3 ATS) vs. San Francisco 49ers (4-4 SU, 4-4 ATS)
Week 10 NFL
Date/Time: Sunday Night Football, November 13, 2022, at 8:20 PM EST
Where: Levi's Stadium, Santa Clara, California
TV: NBC
Point Spread: LAC +7/SF -7 (GTBets – They'll give you a 125% bonus up to $400 if you use bonus code PREDICTEM. This is a special bonus you they gave us to offer to our readers that you won't find anywhere else! It's the best bonus on the web!)
Over/Under Total: 46.5
The Los Angeles Chargers take on the San Francisco 49ers at Levi's Stadium on Sunday Night Football. It's a critical game for both teams, each of whom has shown flashes without really putting it all together. The 49ers are coming off a bye, which followed them getting back to .500 with a thorough 31-14 win over the Rams on the road. Now nice and dug in at home, they await a Chargers' squad that narrowly averted defeat at the hands of the Falcons on Sunday, using a couple of late field goals to win their fourth out of their last five games, 20-17. Who can deliver us the cover on SNF?
Time to Start Watching Out for the Niners?
There is cause for both optimism and pessimism. The week off can't hurt a team that is once again being served a big dose of misfortune on the injury front. They've seen both sides of the ball really take a beating in this area. But with guys like Deebo Samuel and Arik Armstead, among others, closer to being healthy, maybe we will see some of these guys more fully back in the rotation and making a difference. The cause for major optimism is Christian McCaffrey. After a table-setting performance a few weeks ago, he really came to life against the Rams, throwing, catching, and running in a TD. Giving this Niners' offense some real extra life could really go a long way.
After being put in some tough spots to start the season, along with some tough opposition, perhaps the Niners have been made to look worse than they are. Combine that with the injuries, and it's not crazy to think the Niners are a top candidate for a bit of a second-half reversal. It was a rough patch leading to the acquisition of McCaffrey, as the injury crunch threatened to once again bury this talented, well-coached team. A two-touchdown loss to the Falcons and a blowout loss to the Chiefs had them looking as ragged as they had been in a while, so the first full game by CMC and a 17-point road win against the Rams, along with a bye week, would seem to set up well for the 49ers at home this week.
Getting a Read on the Chargers
There are definitely some mixed signals with this bunch. On the one hand, we haven't really seen the whole Chargers machine really click this season. Now, like the Niners, they're dealing with injury issues, and those are really hurting them offensively. The fact is that despite the production they get from a versatile running back in Austin Ekeler, they can't really run the ball well consistently. Depending on aerial production is hard when QB Justin Herbert is missing his two top guys, Keenan Allen and Mike Williams. Not that they don't have nice secondary aerial pieces with guys like WR Josh Palmer and TE Gerald Everett, but it's hard without the top weapons. We again see Allen is questionable, but getting him on the field seems like a real crapshoot most weeks lately. On defense, we keep hearing about all the talent, and while that's true, and they can make a lot of big plays, injuries have also reared their ugly head on this side of the ball. Against the pass in terms of rigidity, they're barely above average. And you know Kyle Shanahan is looking to unleash CMC on a Chargers' run defense that has been among the worst in the league.
At the same time, it might take some by surprise that the win on Sunday over Atlanta was their fourth in five games, not exactly suggesting a suffering team. There have been some highly-visible and upsetting losses, as the Bolts took an inexplicable loss at home to the Jags, 38-10, while also getting smacked around at home a few weeks ago against Seattle. Some of these wins, like their one against Atlanta last week, are not impressive. But winning is winning, and they're doing it amidst a hail of adversity, fighting their way to 5-3 and still being right in this thing.
Matchup Issues for the Chargers
Gutsiness aside, the Chargers face some real issues against this SF defense. How well the Niners are stocked after the bye bears some watching leading up to game time. But it's a dicey proposition whether the Chargers can really run the ball this week. It's been a struggle all year, and going against this SF run "D" would be a strange time for that to improve. And with the issues at receiver, one wonders if a Chargers' offense not at full power can hang in there, even if they have their own version of McCaffrey with a pass-catching back in Ekeler. However, it will be the 49ers which should be able to run the ball, and whereas it would normally be the Bolts with the strong edge in the aerial category, the Niners could be the ones more apt to make things happen through the air this week.
Take the Points
For me, it comes down to value. While McCaffrey gives this offense new life, and guys should be back in the fold, I'm not quite ready to embrace the Niners at this number. This isn't the Colts coming into town. With Justin Herbert, Ekeler, and the talent at receiver they have, I don't see this being a slam dunk for this still-compromised 49ers' defense this week. The thought of the Niners running the ball down the Chargers' throat seems to be on the table, but I think the Chargers can get just enough big plays on both sides of the ball to keep this one close and get out of Levi's Stadium with the cover on Sunday night. I'll take the Chargers and the points.
Loot's Prediction to Cover the Point Spread: I'm betting on the Los Angeles Chargers plus 7 points. Bet your Week 11 college football predictions for FREE by taking advantage of a 100% REAL CASH bonus up to $500 at one of the oldest and best bookies on the web —> Betnow Sportsbook!
BIG AL's 89% NFC GAME OF THE MONTH!