Miami Dolphins vs. Las Vegas Raiders Pick ATS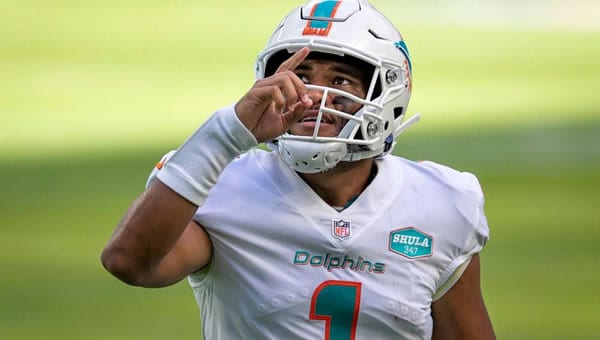 Miami Dolphins (9-5 SU, 11-3 ATS) vs. Las Vegas Raiders (7-7 SU, 7-7 ATS)
Week 16 NFL
Date/Time: Saturday, December 26, 2020 at 8:15PM EST
Where: Allegiant Stadium, Las Vegas, Nevada
TV: NFL Network
Point Spread: MIA -2.5/LV +2.5 (BAS <— You can bet games here at -105 instead of -110!)
Over/Under Total: 47
The Miami Dolphins come to Allegiant Stadium in Vegas for a week 16 AFC showdown with the Las Vegas Raiders. Last week saw the Dolphins show their class in a 22-12 win over the Patriots, giving their playoff cause more credence moving forward. Meanwhile, the Raiders lost on Thursday to the Chargers, 30-27, at home to fall to 7-7 and put their playoff hopes in peril. Now in their third straight game at home, can the Raiders breathe some life into their sagging sails, or will Miami continue to build on their postseason cause?
Can the Raiders Be Resuscitated?
Looking at the last month and change, it doesn't seem to be in the cards. There was a close loss to the Chiefs, which was their best game recently. Then they lost by 37 to the Falcons and needed a miracle to not become the first team the Jets beat this year the following week. Then in consecutive games at home, with a ton on the line, they get smoked by the Colts and fail to come up with the right answers to beat a 4-9 Chargers team that hadn't won a division game since 2018. Just awful.
So now, the urgency is supposed to kick in? The situation has been urgent for a number of weeks now, and the Raiders have basically come up snake-eyes. One could maybe reason that given this two-week window to salvage their season; maybe something kicks in. But it is what it is—a team that showed flashes of being a real contender that was unable to follow through. It's not really that uncommon of a story. The Raiders have some things in place that are worth building on. They're also a very flawed team where every decision hasn't been the right one. Add in the component of non-stop injuries across all areas, and it just didn't work this season.
Still, it's not really over. It's just hard to find a path to the playoffs for the Raiders when the Dolphins, Browns, Ravens, and Colts all have a better record. Beating Miami here and hoping for the best, maybe there's an outside shot. But seeing how they've responded to urgency when the playoffs were still doable doesn't elicit much hope. Seeing Marcus Mariota step in as well as he did last week was promising, as Derek Carr's effectiveness behind center had started to wane. A late pick did spoil the otherwise-fine performance, but there was more life on offense. However, that defense continues to plummet, and it's not all their fault, with the unending series of injuries.
More Picks: Bucs at Lions Week 16 Pick >>>
Why Miami Might Be Hard To Stop
Last week, we saw in many ways what separated these two teams. With the Raiders finding a way to lose to the Chargers last week, Miami battled resourcefully against the Patriots, overcoming a deficit in the first half and then pulling away for the uncontested win. The offense is one without stars, but with rookie Tua Tagovailoa getting better and an increasingly-stingy defense, one can sort of see how the Miami formula for success can take hold. You have to be leery of these fast-rising teams that develop into contenders way ahead of schedule. It's especially true when it's not that easy to identify why they're good. They have a rising force at quarterback, but he hasn't been prolific yet. And his toolbox is filled with what basically consists of role-guys. Their "D" is ranked 18th against the pass and 19th against the run. On paper, they don't really stack up as a contender. But what is on paper doesn't always add up.
If you take away the points the Chiefs scored on Miami in a 32-27 loss a few weeks back, they have given up 32 total points in their last three games. Despite their rankings, only one other team allows fewer points than the Dolphins, who give up only 18.4 points a game on average. They are very disruptive, which should manifest against a hurting Raiders' O-line, with Emmanuel Ogbah, Jerome Baker, Kyle Van Noy, and Shaq Lawson getting to the QB with regularity. And with ball-hawks like Xavien Howard and his nine picks, no team has taken the ball away more than Miami this season.
, indeed, the Miami offense will likely be a roadblock to enormous success, at least this season. Guys like DeVante Parker and TE Mike Gesicki are nice weapons, but as your leading pass-catchers, leave a bit to be desired. They haven't gotten anyone to really make a splash at running back, though Salvon Ahmed's sudden 122-yard performance with a TD on Sunday was promising. It's just fair to say that they lag behind the other side of the ball in terms of firepower. But Tua takes good care of the ball. They don't typically undermine their own efforts. It seems like the Miami brain-trust is giving him more leash with passing weeks, so we'll see if they can get better. With that defense, though, they don't necessarily need to be great.
Take the Road Team
The thought of the Raiders coming to this point of the season and losing three straight at home may have been unthinkable six weeks ago, but if nothing could prod their sense of urgency to kick in before now, why would it suddenly occur? With their offense, maybe they catch the Miami "D" on an off-day and win a footrace. Maybe Mariota in there gives them new life. I just think the Dolphins are a team that is on the opposite end of the crescendo, and at this time in the season, being a positively-moving football product counts for a lot. I see Miami continuing their winning ways this week in Vegas.
Loot's Prediction to Cover the Point Spread: I'll bet on the Miami Dolphins minus 2,5 points. Bet your Week 16 NFL picks FREE by taking advantage of a 100% real cash bonus on your first deposit of $100 to $1000 at BetNow Sportsbook!