Miami Dolphins vs. Minnesota Vikings Pick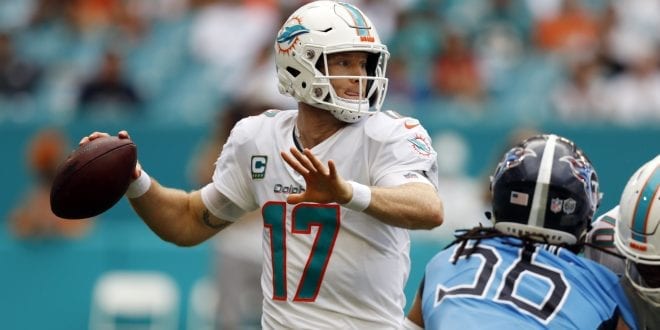 Miami Dolphins (7-6 SU, 8-5 ATS) vs. Minnesota Vikings (6-6-1 SU, 6-6-1 ATS)
NFL Week 15
Date/Time: Sunday, December 16, 2018 at 1PM EST
Where: U.S. Bank Stadium, Minneapolis, Minnesota
TV: CBS
By Loot Levinson, Expert Football Handicapper, Predictem.com
Point Spread: MIA -7/MIN +7
Over/Under Total: 43.5
The Miami Dolphins come to U.S. Bank Stadium for a week 15 matchup with the Minnesota Vikings. This is a big game for both teams, each of whom are clinging to their playoff hopes with no real margin for error. By now, everyone knows what happened to the Dolphins last week, with a wild play with multiple laterals allowing the Dolphins to beat the Patriots by a single point. The Vikings didn't have it so well on Monday Night Football, falling on the road to Seattle, 21-7. I like the Vikings to cover the spread on Sunday. Let's break this one down.
Miami Easy to Forget
The Dolphins made a lot of headlines with their circus-like last-second win over the Patriots last week. There is still this low-profile vibe to the Dolphins, who are in the wild card race at 7-6. In losing 6 of eight games after a promising 3-0 start, they fell off of most people's radar screens. But this is really a huge game for them. A win here means they would just have to beat the Bills and Jags to close out the season and probably get in the postseason. While their midseason slump shows that there are issues on this team, fighting back from it with two straight wins and the way they won last Sunday shows a lot of heart. When a team starts well, sees it all go to pot, and then somehow manages to turn it around, you can't undersell that team.
Miami Getting Better
The Dolphins have looked a bit better since getting Ryan Tannehill back at quarterback. He's been playing well and some people forget with all the time he's missed with injuries, but he was a force on the rise before missing all the time he has missed. Running back Frank Gore is a wonder, still very productive at his age. With Danny Amendola, Kenny Stills, Kenyan Drake, and others, he has some weapons with which he can use. There are no stars on this offense, perhaps, but more of a committee approach. It can be effective in the right spots. We'll see if this out-of-conference spot far away from home is one of them.
This could be a spot where the Minnesota offense has more success. The Miami defense is hardly stout and that equation gets worse away from home—and they're far from home this week. There are good players across all phases, but too many holes. They are bad against the run and not much better against the pass. The pass-rush is pretty lackluster most weeks, which would really go a long way against a Minnesota offensive line that has been leaky of late. But what they do well is make plays against the opposing aerial attack. With 19 interceptions, they can change the complexion of games. But in giving up 358 yards to Brady last week, they showed their overall resistance isn't quite where their playmaking is.
What's Wrong with Minnesota?
Their issues are multifold. As we see, their defense is good. But even that part of their game has sagged from last season. They can still get after the passer and make big plays, but their overall stoutness has waned from last season. A big part of that is an offense that isn't the same from 2017, when they stressed not turning the ball over and were able to control the clock with a strong run-game. Now, a rudderless offense seems to have resonated with the defense, which simply isn't as effective. Their offensive coordinator just got sacked and that says all you need to know about where they are on that side of the ball.
On MNF, we saw a Minnesota offense with very little spark. The results this season for big-money Kirk Cousins have been mixed at best. This offense has taken a step back under his stewardship. It's not only his fault. We see an offensive line that struggles to keep a clean pocket and isn't much better as of late in springing loose the run-game. They are at a critical point in the season and in the last two games, they have combined for just 17 points. The late score against Seattle was a last ditch garbage TD. The offense has grounded to a halt. Four TDs have gone the other way this season. Dalvin Cook's return hasn't manifested into much production. Stefon Diggs and Adam Thielen (questionable) haven't really gelled under Cousins. It's a big mess. Against a more-manageable Miami defense following two straight road-losses and now at home, maybe we will see better this weekend. It just doesn't feel like it after it took them until deep in the third quarter to cross the 50-yard line on Monday.
Different Results This Week?
It's important to consider that the last few weeks may have painted these teams in lights that we will not see this week. Minnesota is back at home and it's not that easy for AFC teams to play in Minneapolis. The Vikings looked pretty lousy the past few weeks, though a lot of teams would look similar when on the road against the Patriots and Seahawks. The 'Fins, meanwhile, just had two straight home games in sunny Miami. They relied on a miracle to beat the Pats, which followed a 4-point win over lowly Buffalo. So when we think of how often things change in this league without notice, we have some food-for-thought here and it could come into play.
Lay the Points on the Home Favorite
Based on the last few weeks, taking Minnesota might feel weird. At home against a defense that has a lot of flaws, however, I see things shaking out a lot better this weekend. Both teams have their backs against the wall. It's hard to envision Miami traveling well in this spot and their "D" has been a notch worse away from home. I picture a tight game, with the Minnesota defense keeping a lid on Miami, as the Vikings' offense gets enough big plays to get the win and cover.
Loot's Pick to Cover the Point Spread: I'm betting on the Minnesota Vikings minus 7 points.