Seattle Seahawks vs. San Francisco 49ers Pick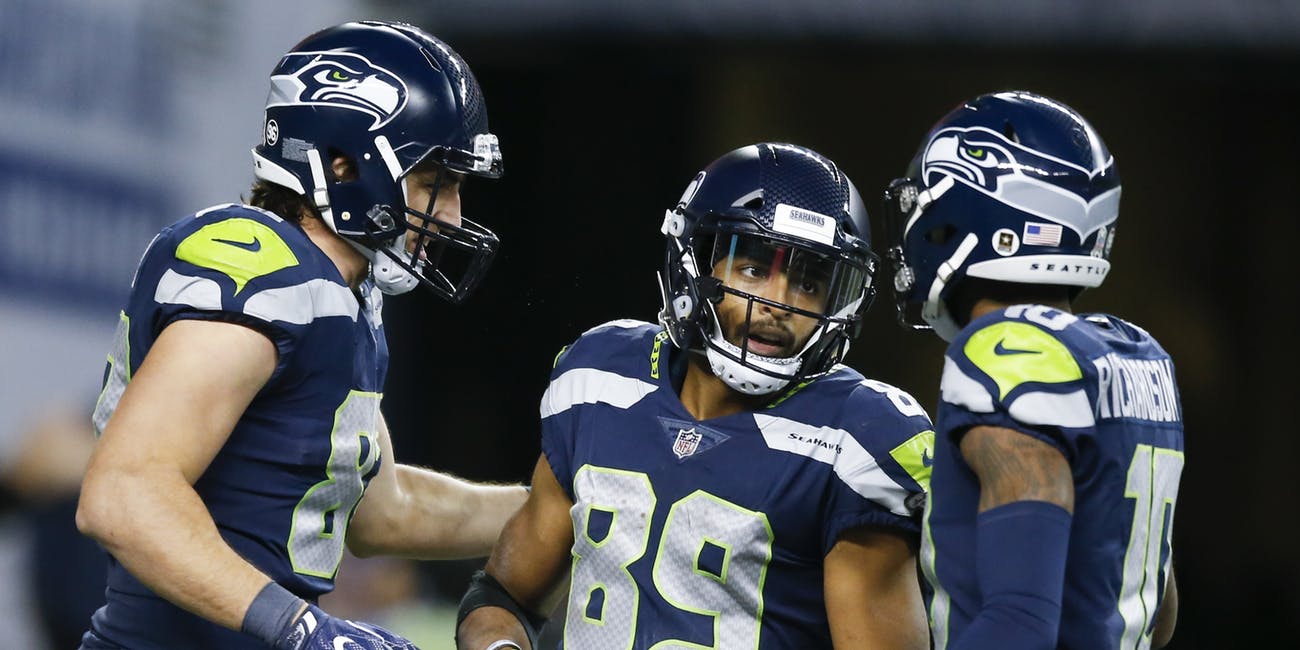 Seattle Seahawks (8-5 SU, 8-3-2 ATS) vs. San Francisco 49ers (3-10 SU, 4-9 ATS)
NFL Week 15
Date/Time: Sunday, December 16, 2018 at 4:05PM EST
Where: Levi's Stadium, Santa Clara, California
TV: Fox
By Loot Levinson, Expert Football Handicapper, Predictem.com
Point Spread: SEA -5.5/SF +5.5
Over/Under Total: 44
Note: Before betting our pick or even your own pick. Make sure you are getting the bonuses or promos you deserve. Whether that means telling your local bookies that you want -105 odds or a rebate, or using only sportsbooks that have big bonus or other promotions, do your homework before betting. Half of the formula in sports betting is who you bet on and the other have is HOW you bet. More on this later…
The Seattle Seahawks come down south to the Bay Area for a week 15 NFC West showdown with the San Francisco 49ers. On MNF, the Seahawks won their fourth game in a row and are now 8-5 with big hopes for a wild card spot. The 49ers have no such hopes at 3-10, but showed last week with a win over the Broncos that they can make life hard on teams trying to make something happen. At home again and with Seattle on the short week, they look for another win this week. I like the Seahawks to emerge from San Fran with the win and cover in this one.
Will Sequel Be Different?
As divisional rivals, these teams already played. With it being just two weeks ago, it appears to be pretty pertinent to this matchup. But still, San Fran showed last week with the surprising win over the Broncos that their results don't always make much sense. In Seattle, the Seahawks really laid it to the Niners, 43-16. It was a bizarre game, at least when looking at the numbers. Usually you don't see a team lose by 27 when they have way more yardage and first downs than their opponent. Nick Mullens threw for 414 yards and still, they weren't close! A pick-six, some big Seattle returns, and Russell Wilson completing 4 TD passes tilted things in the Seahawks' favor.
Niners Showing Spark
The 49ers put up a lot of production against the Seahawks the first time around, peeling off huge chunks of yardage. Some mistakes undercut their efforts, but it's a good sign nonetheless. Last week, Mullens continued putting up big numbers, with 332 yards, connecting massively with emerging tight end George Kittle, who had 210 yards receiving, including an 85-yard reception. WR Dante Pettis caught a TD pass and his rise in recent weeks has given this offense a new dimension. Jeff Wilson has come on some, as the 49ers have been forced to dig deep at RB. Matt Breida (questionable) being back would be big for this offense. They looked bad for a lot of the season after losing Garoppolo, but seem to have found some new life. It's been hard, as injuries have really put a hurting on both sides of the ball. Again, they put up a lot of production against the Seahawks a few weeks ago. Maybe they can do a better job of converting it into points this week.
The Niners could rise to the occasion in the form of a spoiler. Now, they can do it to a division rival. Things haven't gone their way in terms of catching breaks. A look at the 49ers injury report shows more talent than what is actually on the field. But they're showing why a lot of people liked them to begin the season. They have a lot of heart. There are teams with losing records that don't have that, but as bad as things have gone, you see a San Francisco team still trying to work things out. And when all the key pieces return, they will have the depth to go with it. A lot of guys who weren't supposed to be out there are playing and they sometimes get pretty good results.
Seattle on a Roll
Winners of four straight, the Seahawks are playing with a lot of fire. Whatever they've been doing really came off well against the 49ers. Russell Wilson only completed 11 passes, but 4 of them went for touchdowns. Seattle also found some success running the ball, with Chris Carson and Rashaad Penny gaining a lot of yards on the ground and making an imprint on the game. On MNF against the Vikes, the Seahawks ran it well again and it's hard to envision them not having success this week in that area.
Again, the Seattle defense wasn't all that successful last time they played the 49ers. Still, with 23 total points allowed in the last two games, they are playing well. The youth movement on the Seattle defense might be ahead of the curve. Frank Clark is a massive pass-rush threat on the line and in the last game, Bobby Wagner was huge with a sack and an interception return for a TD. Also getting to the QB was Jarran Reed. The secondary has some issues, but Tre Flowers, Justin Coleman, Shaquil Griffin, Tedric Thompson, and Bradley McDougald make a lot of plays. The full scope of their playmaking was on display against the 49ers a few weeks ago and they look for it surface again this week.
The Fallacy of Urgency
The element of urgency doesn't always register as expected. If it did, you could just bet on the team that needs to win more and clean up. As we know, it doesn't work that way. First of all, the point spread puts a crimp into that notion, as teams aren't trying to win by certain margins, but just trying to win. Last week, the Niners appeared to have little to play for, while the 6-6 Broncos had fought hard to get to .500 and had a golden chance to forge their way into the wild card race. Then you look at the scores and see the Niners up 20-0 in the first half. Simply wanting it more only goes so far in this league. Seattle might have more to play for, but that doesn't always mean they're the right pick. I just think it happens to be the correct move this week.
Lay the Points on the Road Favorite
San Francisco's performance last week notwithstanding, I think they have major matchup issues across the board with the Seahawks this season. Even as everything went so well last time against the Seahawks a few weeks ago, they couldn't come within 27 points. I see the Seahawks making some adjustments on defense, with this being a lower-scoring game than the first time around. I still see the Seahawks getting some separation and emerging from San Francisco with the cover on Sunday.
Loot's Pick to Cover the Point Spread: I'm betting on the Seattle Seahawks minus 5.5 points.