[et_pb_dcsbcm_divi_breadcrumbs_module hide_homebreadcrumb="off" homebreadcrumbtext="Home" separator="sep-raquo" hide_currentbreadcrumb="off" homebreadcrumborientation="left" _builder_version="3.8″ fontsbreadcrumbs_font="Lato||||||||" fontsbreadcrumbs_text_color="#000000″ fontsbreadcrumbs_font_size="15px" fontsbreadcrumbs_line_height="16px" fontsseperator_font="||||||||" fontsbreadcrumblinks_font="||||||||" fontsbreadcrumblinks_text_color="#2567cf" custom_margin="25px|||" custom_margin_phone="30px|||" custom_margin_last_edited="off|desktop" custom_css_main_element="font-family: Helvetica Regular;" disabled="on" global_module="3641″ saved_tabs="all"][/et_pb_dcsbcm_divi_breadcrumbs_module]
Cleveland Browns vs. Denver Broncos Pick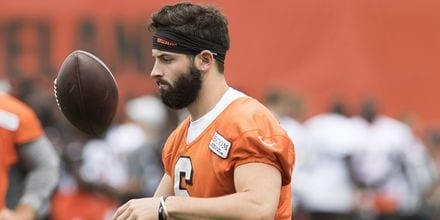 Cleveland Browns (5-7-1 SU, 8-5 ATS) vs. Denver Broncos (6-7 SU, 6-6-1 ATS)
NFL Week 15
Date/Time: Saturday, December 15, 2018 at 8:20PM EST
Where: Broncos Stadium at Mile High, Denver, Colorado
TV: NFL
By Loot Levinson, Expert Football Handicapper, Predictem.com
Point Spread: CLE +3/DEN -3
Over/Under Total: 44.5
The Cleveland Browns take on the Denver Broncos at Mile High in week 15 AFC action in a Saturday Night Football matchup. Most sportsbooks have denver favoed by a FG. As each team has 7 losses, the postseason seems out of the question in a crowded AFC wild card picture, but these are two teams that are playing hard, trying to set the table for the future. And both have done well in some regards toward that end, especially the 5-win Browns who have found wins a lot easier to come by than the last few seasons. On Sunday, a win over the Panthers was their third win in four games. On Sunday, the Broncos faltered to the Niners after a nice run of wins that got them back to .500. I like them getting back on the right track on Saturday with the big win and cover at Mile High.
TIRED OF YOUR CREDIT CARD NOT WORKING AT SPORTSBOOKS? IT WILL AT BOVADA + GET A 50% CASH BONUS!
Teams with a Lot in Common
Other than similar W-L records, these teams share a lot of traits. We see both teams playing with a lot of variance this season. Each squad enters this game with three out of four wins, but they have clearly shown that trying to pin them down has been difficult. You don't know what you're getting from week to week, as is to be expected with teams trying to snap out of a funk. Each team is relying on a young rookie run-game, with Denver rookie Phillip Lindsay and Cleveland rookie Nick Chubb becoming major parts of their respective offenses. Both defenses also have playmakers, without really being complete enough to really string together too much success. Despite losing records, both teams have positive turnover ratios, with the Browns being plus ten and the Broncos being plus eight on the season. Each team has also gotten a nice upgrade at the QB position, with rookie Baker Mayfield clearly the "man" for the Browns, while Case Keenum has been a nice upgrade for the Broncos who have suffered at the position in recent seasons.
Both Defenses Facing Matchup Concerns
Both defenses are pretty bad overall. On one hand, they have some playmaking. Denver has a tremendous 1-2 pass-rushing punch with Von Miller and rookie Bradley Chubb combining for a massive 25.5 sacks already this season. But they are porous overall against both the run and pass. With Mayfield airing it out and Nick Chubb having run for TDs in five straight games, the Denver defense should be pushed. After all, last week, with a lot on the line, this Broncos "D" gave up 332 yards to Nick Mullens through the air, 90 to Jeff Wilson on the ground, and a preposterous 210 yards to SF tight end George Kittle. With a good young QB in Mayfield, a growing run-game, and aerial targets like Jarvis Landry, Antonio Callaway, TE David Njoku, and others, it will put the Denver "D" to the test.
Cleveland also has some defensive playmaking ability, but is handcuffed by a unit that is far-from-stout. They've been playing better over the past month, facing offenses that bring more to the table than the Broncos. Myles Garrett is one of the better young pass-rushers in the biz. Denzel Ward (questionable) and Damarious Randall can make plays in the secondary, but they are exploitable. It's just not clear what the Broncos can do about it. With all their top receiving talent out, they are extremely thin in that area, led by Courtland Sutton (questionable) and whoever else might turn up. And maybe receivers like Tim Patrick can thrive against a deficient Cleveland secondary. But what has given the Denver offense a boost at times this season has been Keenum, along with a nice rookie combo punch at running back with Lindsay and Royce Freeman.
The Headspace Factor
Cleveland has to be feeling better about things. And it's not just because they're coming off a win, while Denver laid an egg at Frisco last week in a game where a win would have had them in the wild card spot. It showed Denver can't really respond to urgency. Against a bad team like San Francisco, they fell behind 20-0 in the first half, as the Niners ran wild on their defense. And not scoring until deep in the third quarter was a major letdown. For that to happen in a game they needed has to be a hard pill to swallow.
Contrarily, the Browns are seeing some good things start to manifest, while learning how to close out games. It's unusual for a team to have so much optimism around it in a season where their head coach and offensive coordinator were both canned in the middle of the year. But the Browns have worked hard to achieve the feeling they have now. A road-win against Denver would pump even more wind in their sails. In this league, momentum counts for a lot and it's not always easy to separate a team from a good feeling when they had to work so hard for it.
Saints vs Cowboys: How to bet your Sportsbook
Intangibles
For a young QB like Mayfield, Denver does some things that can rattle a young QB. Chubb and Miller getting after quarterbacks with gusto looms as a factor, as does a Denver secondary that can still make plays. It's not the same as when Denver was a top team, but even so-so Broncos team is still a handful at home. There are a ton of players on the Browns roster that haven't even played in the altitude on Mile High. It could give this game a different look. Sure, Denver looked lousy last week, but in an out-of-context road game in San Francisco. What happened to them could happen to Cleveland this week.
Lay the Points on the Home Favorite
Granted, the Cleveland momentum and Denver's depleted aerial game loom as concerns for potential Broncos backers in this game. And the Denver defense can be leaky, with Cleveland having the tools to exploit that. But at home, I see the Broncos run-game having a big say against Cleveland's porous run-defense, while Keenum should be able to move the ball aerially against a Browns' pass-defense that is ranked second-last in the league. Keenum is hardly electric, but I see his understated approach and emphasis on game-management playing off well with the Browns' defense this week at home, as the Broncos notch the win and cover at home.
Loot's Pick to Cover the Point Spread: I'm betting on the Denver Broncos minus 3 points.